Nouar: "You Look Good Enough To Eat!" at Jonathan LeVine Gallery
Juxtapoz // Friday, 13 Feb 2009
1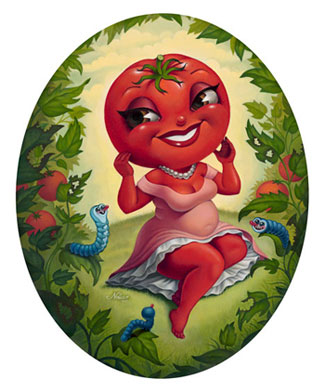 Nouar
You Look Good Enough To Eat!
Solo Exhibition

February 21st—March 21st, 2009
Opening Reception: Saturday, February 21st, 7pm—9pm
You Look Good Enough To Eat!, a solo exhibition of new works by Los Angeles based artist Nouar comes to Jonathan Levine Gallery next Saturday, February 21st, 2009.

For the artist's second solo show at the gallery, she has created a collection of original oil and acrylic paintings on wood panel, which will be incorporated into a site-specific installation.

You Look Good Enough to Eat! expands upon Nouar's character-based aesthetic. A feast for the eyes in the most literal sense, her highly stylized, crisply rendered figures depict a variety of edible subjects, personified and bursting with life.

The artist's work is reminiscent of—and inspired by—vintage imagery that encompasses post-WWII era animation, packaging and advertising art, particularly of the food industry. Paintings in this show are tied together by theme, and presented in a vibrantly appetizing color palette. The tasty treats wear big smiles and are often accompanied by hand-lettered type to create delightful works.

The messages in Nouar's paintings parallel the aberrations and accidental humor found in advertising imagery, intertwined with the artist's darker personal narratives.

While humorous and inviting on the surface, her subjects convey multiple levels of meaning and connotation. Anthropomorphized and sometimes ambiguous in nature, Nouar's characters invite the viewer to become engaged in their off-kilter world.

In the artist's own words: "developing mascots with happy cartoon faces on merchandise encourages consumers to feel comfortable... I have always been completely fascinated by our massive consumer culture and often feel everything around us is a commercial, constantly manipulating us into desiring things we don't really have a need for, or shouldn't want in the first place."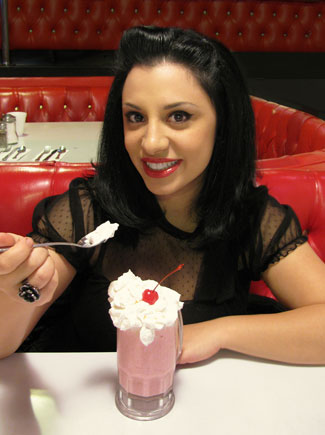 ABOUT THE ARTIST

Nouar was born in Tehran, Iran, during the height of the nation's political turmoil of the early 1980's. Her family narrowly fled the country, migrating to Germany first, before ending up in the United States.

Nouar's father was an artist and her mother was a schoolteacher, both parents nurtured their daughter's interest in the arts, which developed at an early age. Her childhood was filled with books and creative materials that helped shape her creativity.

In 2004, Nouar graduated from Art Center College of Design in Pasadena, California. She has since worked in many artistic facets, including work as a background painter in the television animation industry, and as a freelance illustrator. As a painter, her love of animation, food and vintage ephemera, coupled with darker personal narratives continually act as an inspiration for her work.
More on Nouar at www.noirnouar.com