Nike iD x T.Magic Air Force One MX iD
Juxtapoz // Saturday, 11 Jul 2009
1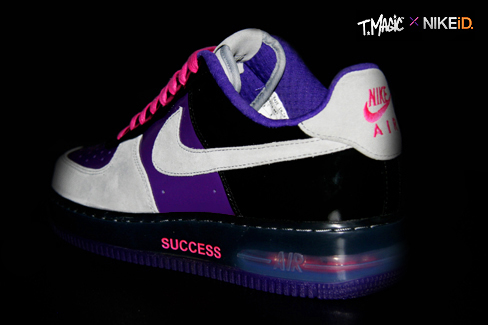 UK based artist and entrepreneur T.Magic recently collaborated with Nike iD, to introduce the new Air Force One MX iD to its London studio.
The choice of colors and materials were inspired by one of the artist's principal affirmations, "Success Is My Destiny."
On color choice, T. Magic says, "Purple is an aspirational color symbolizing magic, mystery and royalty. Being the combination of red and blue, the warmest and coolest colors, I believe purple to be the ideal hue for success."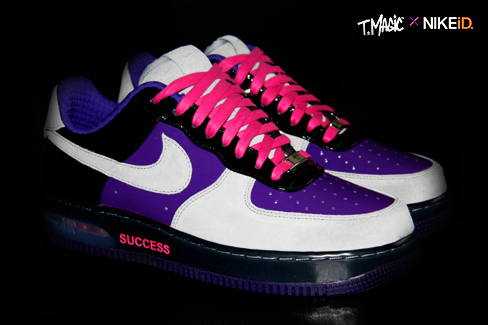 With full customization options, T.Magic's unique touch brings together applications of luxurious material from suede and patent leather to a transparent sole (with 'Success' engraved on the side) and visible airbags.
To mark this unique occasion, there will only be a limited run of 25 packs (sneakers along with a special "Success Is My Destiny" t-shirt) made available worldwide for sneaker connoisseurs.
The pack will be available exclusively via www.tmagicworld.com and priced at £175. (or $284 for those of you on our side of the pond).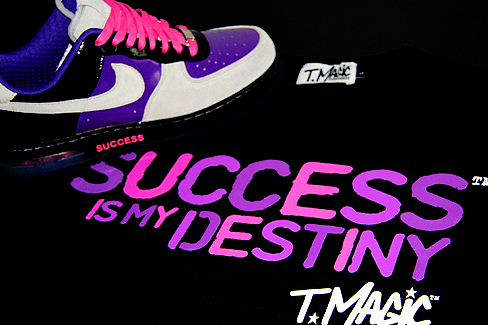 Buyers will have the opportunity to have T.Magic merchandise signed during individual appointments with the artist at the Nike iD studios in Oxford Circus, London, on July 11 & 12, 2009. There will also be a secondary "Hope For the Best, Prepare For the Worst" pack made available for £150 ($243).