Nix may spend most of her days with her commercial gigs, but we find ourselves gravitating towards her fine art, most notably her latest series titled Maidens and Crones. One look at a few of these sneak preview images she sent over, and it's obvious Nix's raw talent lies in attention to detail.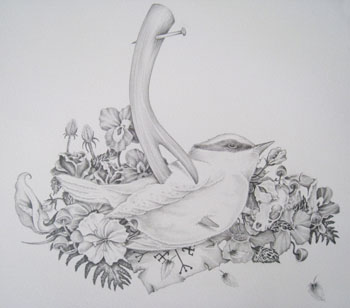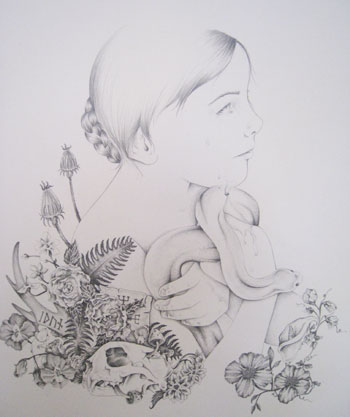 The Maidens and Crones series appears to be a slight departure for Nix from her last colorful set of works for In Vein, using the simple nature of graphite to allow one's eye to focus on the meticulously styled drawings of women, animals, and foliage.

In our previous coverage, Nix stated, "I have always had a fascination with the bodies' inner-workings and its beauty. The colorings of bone, the intricate patterned lifelines of veins and the fragility of the body."

Using her love of female energy and anatomy, Nix weaves illustrative magic to create an organic, somewhat eerie interpretation of beauty through a skillful and romantic combination of women, animal skulls, veins, birds, and flowers.

Nix has also started to experiment with making jewelry. Often incorporating taxidermy and found objects into her wearable art, Nix seems to have found an appropriate new venue for her abounding creative talent.

Nix told us her new Maidens and Crones series should total 20 pieces upon completion. She has a small group show slated in Portland and possibly another solo show at Redux in Portland in 2010. As if all that's not enough, she tells us, "I'm writing a children's book, working a new series out and still doing Emily so sleep has been minimal."

See for yourself all that has been keeping Nix awake at www.nicominixturner.com and her blog, www.nicominixturner.blogspot.com