New Video Game "L.A. Noire" Honored as Official Selection of the 2011 Tribeca Film Festival
Juxtapoz // Tuesday, 29 Mar 2011
1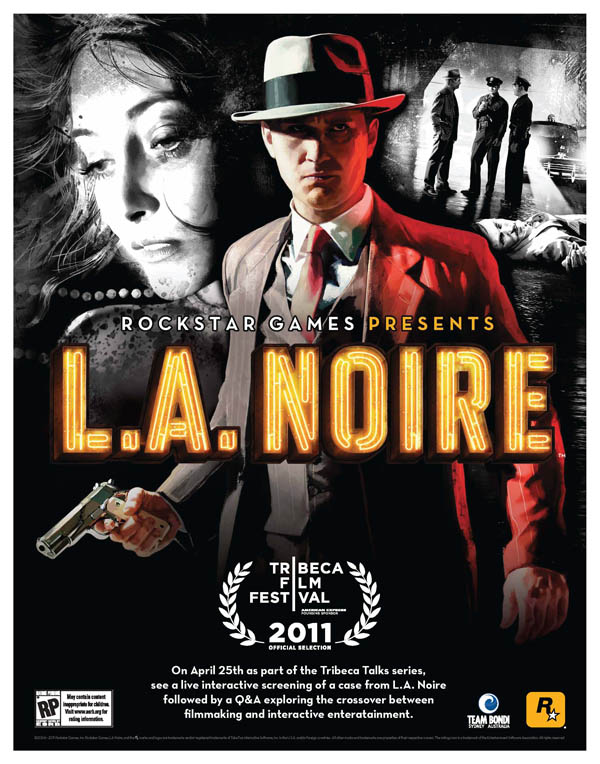 Rockstar Games new video game, L.A. Noire,
was just honored as an Official Selection of the
2011 Tribeca Film Festival.
We found out that it is the first video game ever to be selected at world-renowned film festival, and if the
Noire
's poster is any indication of what the game's graphics will look like, it is going to be, in terms of artwork, one of the better games we have seen.
Rockstar
will present a live interactive screening of Noire at the Festival on April 25, 2011.
S
aid Sam Houser, Founder of Rockstar Games. "It's a real honor, and another step forward for interactive entertainment."
The game itself has the user
following the story of a young detective's rise to prominence in the LAPD of 1947, where you solve "complex, historically-inspired crimes, Interrogate witnesses, search for clues, and chase down suspects." All we know is that
we hopefully will be playing the game with reviews beforehand.

The game will launch on both the Xbox 360® and PlayStation®3 on May 17, 2011 in North America and May 20, 2011 in Europe.