New Release: Jeremy Fish "Listen and Learn" App
Juxtapoz // Monday, 19 Dec 2011
1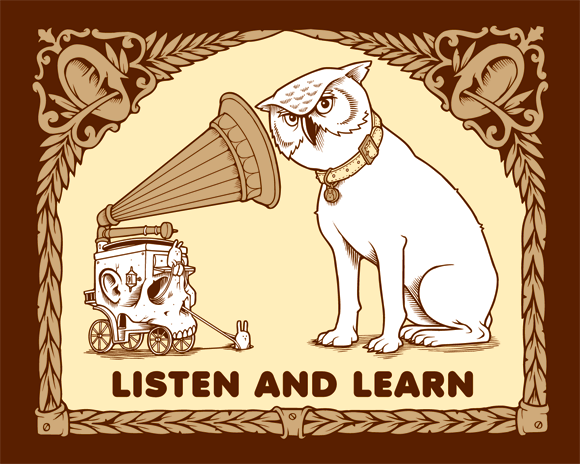 Jeremy Fish
teamed up with Upper Playground and launched a new interactive app today, based on FIsh's 2011 exhibit,
Listen and Learn, of story paintings at Joshua Liner Gallery.
The app features 30 audio recordings from Fish's friends and creative contemporaries who inspired all the paintings in the exhibition.
Here is some press from UP:
Jeremy Fish and Upper Playground have teamed up to create a new app to bring Fish's groundbreaking "Listen and Learn" exhibition to your iPad and iPhone.



This past summer at Joshua Liner Gallery in NYC, Jeremy Fish created an interactive exhibition, Listen and Learn,  featuring 30 paintings based on stories told my some of Fish's closest friends and inspirational talents. Each painting was accompanied with headphones to allow visitors to listen to the audio recordings while viewing Jeremy's visual interpretation of the story on the wall. Fish gathered Snoop Dogg, Aesop Rock, Mike Giant, Lance Mountain, El-P, Ron English, Ricky Powell, and many others to get some of their most inspiring stories on record.



As not all of Fish's closest fans made it out to the exhibition, we have collaborated on the "Listen and Learn" app, bringing the interactive experience to your iPad and iPhone and bring new life to Fish's "story paintings" and most experimental gallery show to date. The app comes bundled with 30 images of Fish's paintings and 1.5 hours of audio stories that accompanied and inspired each piece. The "Listen and Learn" app also comes with a handful of videos and gallery of images from Fish's exhibition.