Image Gallery
New Bohemia Signs at Guerrero Gallery San Francisco
Juxtapoz // Tuesday, 07 Jun 2011
1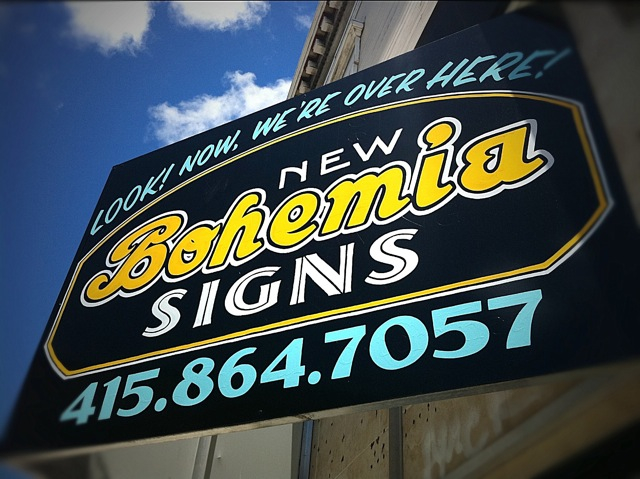 Quickly becoming a San Francisco staple, sign painters New Bohemia Signs will be opening a solo show at Guerrero Gallery. New Bohemia will be sharing the space with two other great sign painters, Jeff Canham and Stephen Powers.
Check our studio visit with New Bohemia here.
As Guerrero Gallery notes, "Highlighted are both the work of professional sign painters whose work veers into fine art - a major installation by New Bohemia Signs - and that of fine artists who work with the craft and traditions of sign painting - new works by Jeff Canham and Stephen Powers. The graphic sensibility, playfulness, craft, and timelessness of sign painting are evident in all of the artists' works, which challenge the notion that hand painted signage is a dying tradition. Through an admirable mastery of time-honored craft, these artists show that it is in fact being reinvented for a contemporary age.
"This exhibition provides an opportunity to examine and understand the art behind sign painting, which we feel passionately provoked to share. New Bohemia Signs, made up of designers and sign writers who appreciate the art of a good looking hand-painted sign, has been crafting signs in San Francisco since 1993. Featured New Bohemia Signs artists include Caitlyn Galloway, Heather Hardison, Ken Davis, Aaron Cruse, Damon Styer, Josh Luke, Corinne Matesich, and Candice Obayashi."
New Bohemia Signs
Jeff Canham
Stephen "ESPO" Powers
June 11, 2011 — July 02, 2011
Guerrero Gallery
San Francisco, California