Neopopstreetfunk 3 at Gallery M in Houston
Juxtapoz // Friday, 12 Aug 2011
1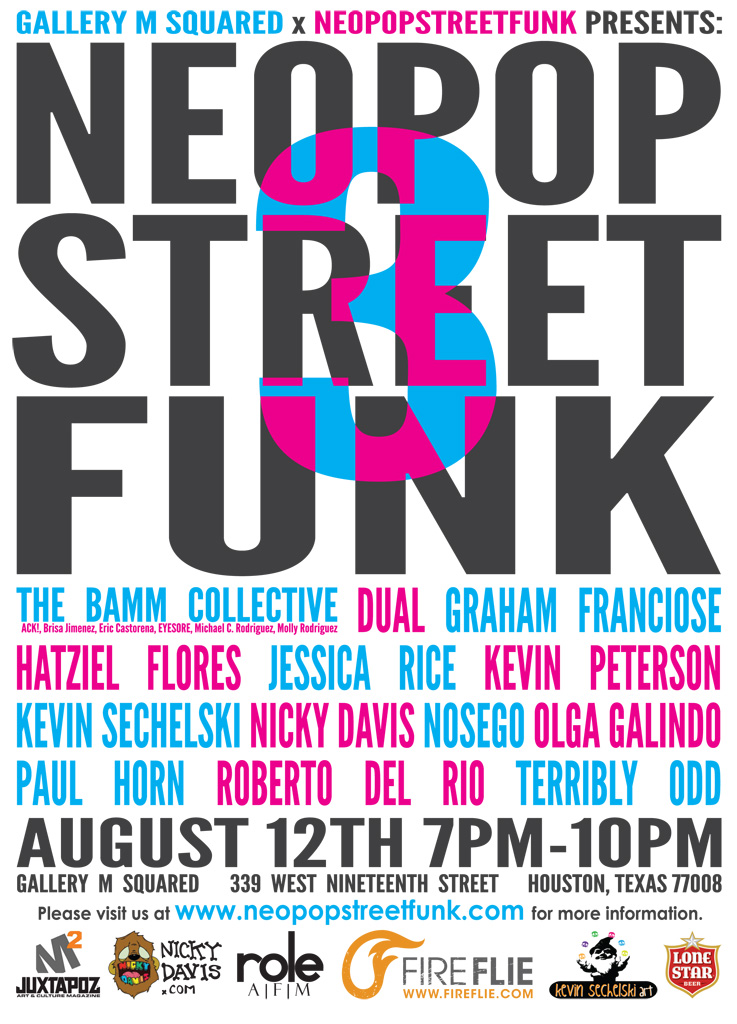 Neopopstreetfunk announces Neopopstreetfunk 3, a group exhibition opening tonight of original paintings and mixed-media at Gallery M Squared in the Houston Heights, Texas.
From Austin, Texas, Graham Franciose illustrates scenes of subdued, imaginative beauty, creating quiet moments of childlike innocence. Based in Houston, the Bamm Collective consists of the artists ACK!, Brisa Jimenez, Eric Castorena, EYESORE, Michael C Rodriguez and Molly Rodriguez. Often showing together, the Bamm Collective share a penchant for irreverent, witty, and frequently bizarre illustrative art. Also from Houston, Jessica Rice paints visions of eerie whimsy, with surreal characters and creatures that exist in a magical netherworld of her own creation. Hatziel Flores, from Dallas, draws inspiration from graffiti art and the female form to stunning effect, while NoseGo creates humorously weird images of animalistic strangeness. Olga Galindo mixes fashion with whimsy and Roberto del Rio translated his thoughts into color, while Paul Horn draws you into elaborate collages of your childhood. Whether it's the toyish caricatures of Terribly Odd, the flawless photorealism of Kevin Peterson, DUAL's ability to capture the energy of the street, or the creative works of Nicky and Kevin themselves, Neopopstreetfunk 3 promises a night of contrasting themes, wondrous images, and distorted realities.
Artists and producers Nicky Davis and Kevin Sechelski behind the annual award-winning event, began Neopopstreetfunk as a means of showcasing up-and-coming artists, and this year's show stays true to that idea. The event hosts some of the most promising Houston talents alongside artists from Austin, Dallas, Orlando, and Philadelphia. The assorted styles on display make for a diverse collection, from ultra-realistic to playful Illustrations, all with an underground ethic that creates a common thread between each piece.
Artists include the Bamm Collective, Dual, Graham Franciose, Hatziel Flores, Jessica Rice, Kevin Peterson, Kevin Sechelski, Nicky Davis, NoseGo, Olga Galindo, Roberto Del Rio, Paul Horn, Terribly Odd.
Music by DJ Saba
For more information, contact:
Nicky Davis or Kevin Sechelski
contact@neopopstreetfunk.com
Gallery M Squared
339 West 19th Street
Houston, TX 77008
713.861.6070
neopopstreetfunk.com