Image Gallery
NECK FACE & FUCK THIS LIFE "2 OF AMERIKAS MOST WANTED" @ New Image Art Gallery
Juxtapoz // Sunday, 18 Sep 2011
1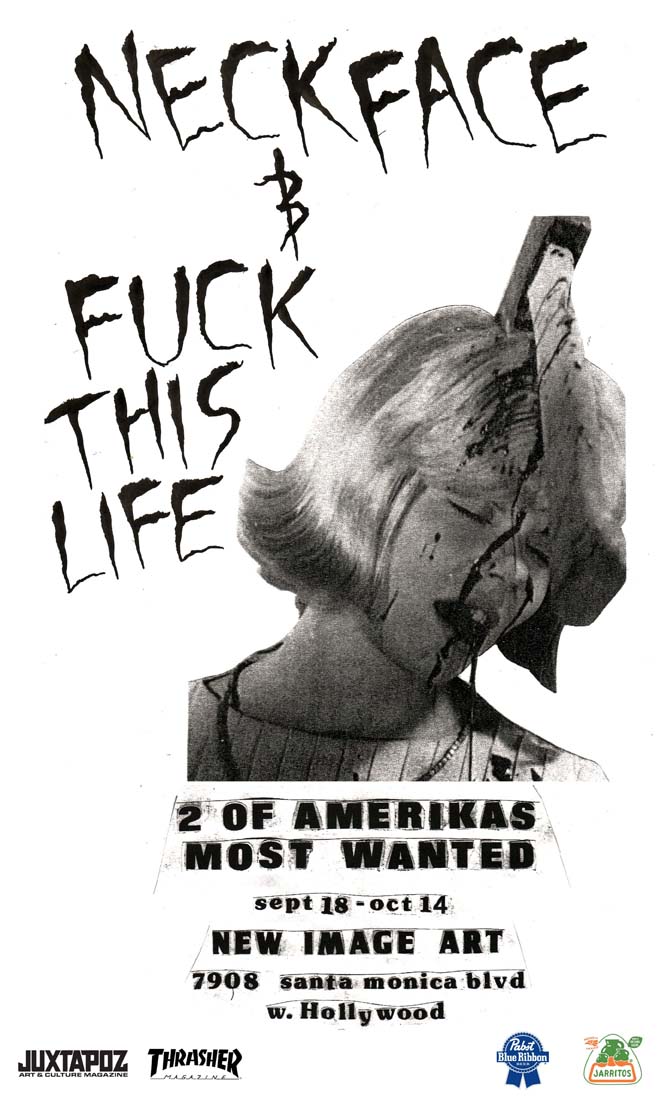 September 2011 cover artist
, Neck Face, will open an exhibition with Fuck This Life at
New Image Art Galle
ry in Los Angeles tonight, September 18. There is nothing like a Neck Face show on a Sunday night to get your week started. And we, Juxtapoz, are sponsors... even more reason to go.
Make a note that New Image has moved to
7920 SANTA MONICA BLVD.
Don't go to the old space!
New Image's press release states:
New Image Art is proud to announce the coming together of artist Neck Face and New York based "FUCK THIS LIFE". This union is a recipe for disaster of the most curiously illuminating kind, collaboratively commentating on the harsh and the veiled, the outlawed and the unthinkable.
Neck Face recently exhibited alongside those considered most influential in American street art culture in MOCA's Art in the Streets exhibition. The event reintroduced the performer in Neck Face, whose portrayal of a down and out alley dweller brought him the first mention in the New York Times review of the graffiti and street art retrospective. His Halloween show openings have become notable charades celebrating the lurid and the ghastly complete with a haunted house entrance staged along with his family. Neck Face's aptitude for multi-media has also been seen in the production of metal masks, paper-maché sculptures and film. For this unique character and international figure of street culture, the true triumph lies in the pure harmony between his examination of the villain, the rogue and the nightmare and his unfaltering wit and fresh approach. This time in Amerika's 2 Most Wanted, Neck Face's unmistakable illustrative style is maintained in the expansion of his medium to charcoal drawings. Also exhibiting his brilliantly colored guache and ink paintings, these works begin their development with scrawls on napkins with a bar maid's breast-pocket pen - parody's of his own tailoring, drawn from cartoons to current events of all denominations.
FUCK THIS LIFE has participated in The New York Art Book Fair at MoMA PS1 with his well-known street culture 'zine.
Several published anthologies deep - FUCK THIS LIFE also has a haphazard initiation of his own process – collecting discarded remains of newspapers (and other less savory publications) off the ground and scouring them for applicable images. The ensuing collages reveal themes of fate, tragedy, brutality and the human condition. In spite of the staggering trauma, main-stream hypocrisy and sensationalism represented in FUCK THIS LIFE's socially analytical work, there is a stillness and commanding refinement to its assembly. New Image Art is honored to exhibit these full color original images for the first time.