Mutate Britain: One Foot in the Grove
Juxtapoz // Friday, 16 Oct 2009
1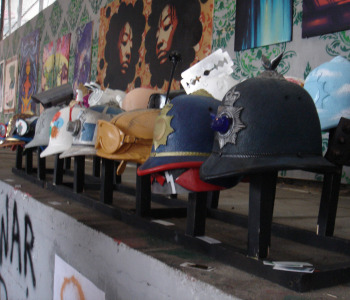 Photos and text by Leah Borromeo
Beneath a motorway, beside the train tracks in a part of West London called Ladbroke Grove live 15-foot high robots, a mechanical baby's head, and galloping white stallions with skeleton skulls. An old Wessex helicopter with piranha jaw sits menacingly and stripteasing CCTV cameras gyrate to sweet soul music. Mad Max meets Madness. Welcome to One Foot in the Grove, the latest offering from the Mutoid Waste gang and the Cordy House hipsters

Instead of a creating a 'greatest hits' of London's street art and graffiti scene, Mutate's organisers rely heavily on the display of mutoids -- Terminator-style robots and machines constructed from old parts of cars, motorcycles and, er, helicopters. Watching a man riding a 5-foot high fire-breathing dog through a crowd of London's coolest as they attempt to show off their knowledge of street art with geekish aplomb is a pretty good way to spend a few hours at the weekend.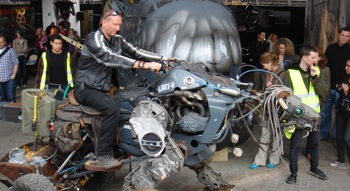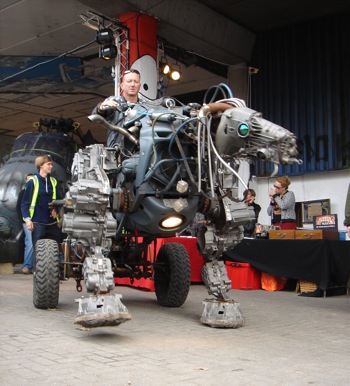 "That stage glows under UV light and is by Mr Wim." (But otherwise a bit meh).
"I love that skull by Part2ism." (They have a better piece two streets down next to a restaurant).
"It took Mode2 ninety minutes to freehand that mural." (With the help of a projector).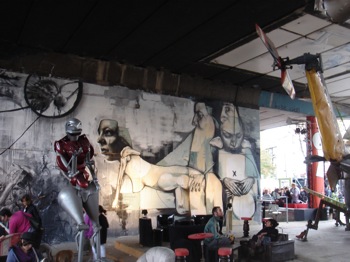 "Took us three weeks to set this up," organiser Garfield xxx says. "And it only really came together over the past couple of days." Here I raised my eyebrow…. One artist I spoke to said he was approached by another organiser earlier this summer. "No, from when we got the space." Fair enough.
"And most of it is self-funded." And pre-made. Most of the artwork save the murals are pieces artists previously exhibited.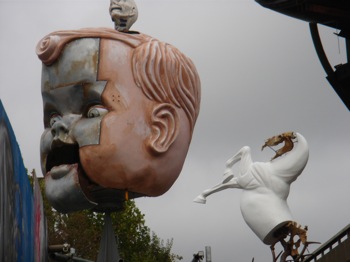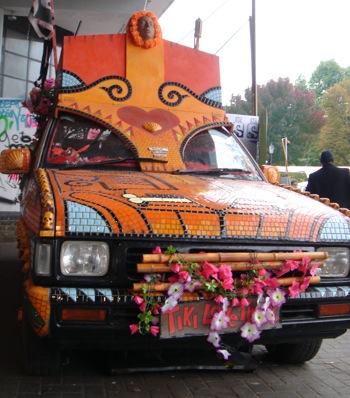 Apart from the spectacle of the Mutoid creations (which completely blend chaos and chrome with a dose British of mechanical engineering), a few other pieces stand out. These are by artists Dr D, Best Ever, Run, Mode2, Carrie Reichardt and War Boutique.
Dr D's prolific billboarding skills are known throughout London and he's pasted a monster piece in the main exhibition room. Carrie Reichardt drove down her mobile mosaic mausoleum to former death row inmate John Joe Amador. It features his death mask taken after his execution in the state of Texas. War Boutique erected 15-foot high pods made from military grade material which people could climb into -- what would normally be used to lift tanks into battle is being used to entertain art lovers and their children. Poetic stuff and the root of War Boutique's message.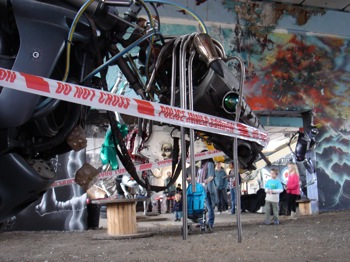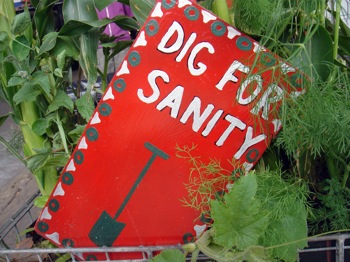 Behind the bar lies a photography exhibition curated by Hugo Toland features culturally sharp and relevant images from the likes of Henry Chalfant, Janette Beckman, and Giles Moberly. Unfortunately, these strong images are hidden behind a jovial lady in a porkpie hat selling lager.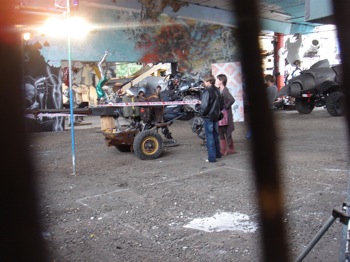 And the second room, the sale room, loses the magic of the occasion. Understandably, people have to make a living. But in order to facilitate that, art is piled high and sold not so cheap. Pieces aren't allowed to breathe and two organisers argued into the night over lines of sight. The Mutoid sculptures lose their context and otherwise beautiful pieces by the inimitable Matt Small are lost amongst more mediocre work from Static.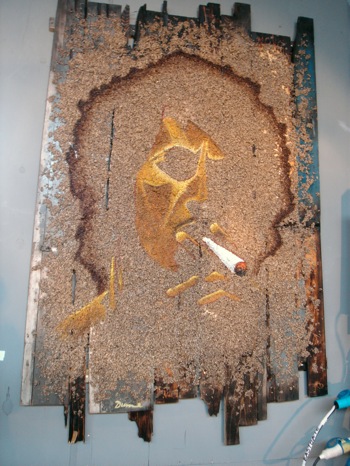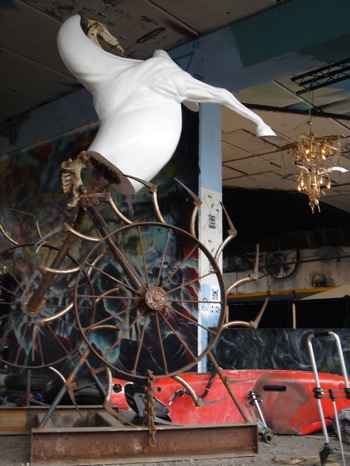 As a space, holding an art show underneath a flyover is amazing. Everyone from 6 to 60 enjoyed the spectacle of the Mutoid creations. The common word used to describe the show is "wow". As a politic, weekend workshops by artists involving the local community (which consists of West Indian immigrants and rich conservative types who fancy themselves as cultured) furthers an idea that art can contribute to social change. As a total venture, we need more shows that combine anarchism and hedonism with politics.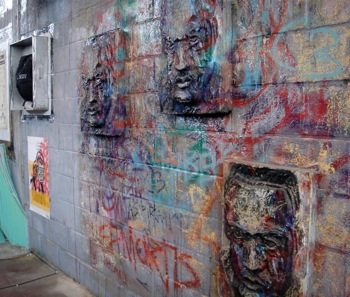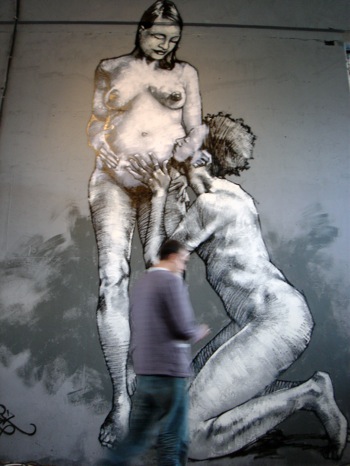 "I love doing Mutate," one artist who put up a few billboards tells me. "Teddy and Garf could get their act together and be less shambolic but that takes the charm out of the affair."