Image Gallery
MQ x PEZ at SF Fine Art Fair
Juxtapoz // Wednesday, 25 May 2011
1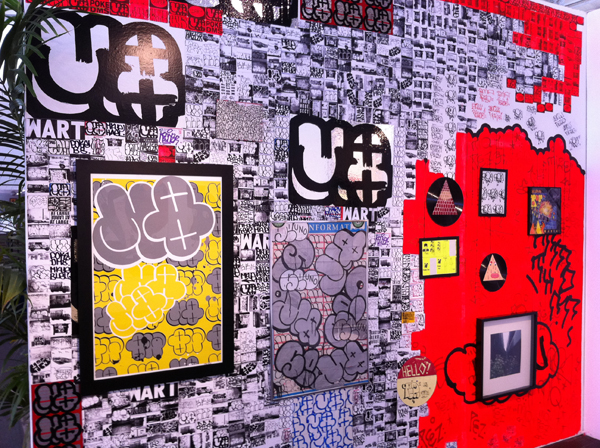 FIFTY24SF Gallery
had two booths at the SF Fine Art Fair this past weekend in San Francisco, and they curated two legends of graffiti and stickers, MQ and PEZ, to create an installation wall and paint a van in front of the Fort Mason Center in SF.
The van was great when you walked into the center, as it was juxtaposed (hey-o!) with a really interesting string and rope installation. And underneath the rope was a
MQ
and PEZ plastered van. Inside, the two combined on a sticker wall, where MQ had sticker pictures of countless vans, walls, and public property he has adorned over the past 20+ years. 
PEZ
added stickers with his various moniker styles as well as his vinyl records that he leaves on telephone poles, and some of his album covers. The repetition, when seen like this from both artists, is quite impressive.
FIFTY24SF also had two walls of
Jason Jagel's
work, which to us, was some of the standout works in the entire weekend of festivals in SF. The 3D pieces were exceptional, and brought Jagel's paintings to life. Jagel has always been an artist with layers upon layers of dialogue, scences, action, and nuances in the work, and the 3D pieces were another vital addition to experience the larger pieces.
All images via
TCR
.