Morning Breath, Ekundayo and Fernando Chamarelli Travel to London Miles
Juxtapoz // Thursday, 23 Sep 2010
1


Upper Playground has teamed up with London Miles to organize this event, which will open with a reception slated for Friday, October 8th 2010.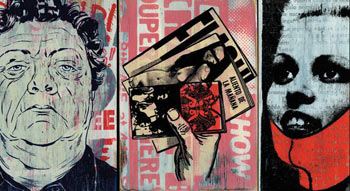 Considered one the finest creative design studios, Morning Breath, aka Doug Cunningham and Jason Noto, have established themselves as torchbearers for the US counterculture with their work for the likes of Queens Of The Stone Age, Kanye West, TV on the Radio, Them Crooked Vultures and AFI to name but a few.
Also enlisted by apparel giants Stussy, Vans, MTV and bleeding-edge label/art house Upper Playground, Morning Breath's work is fast becoming a totem of subcultural credibility within the hyper-commercialised industries of music and fashion.
Since their official inception in 2002 Morning Breath's inimitable aesthetic of Dime store rag-tag imagery, comic book and graffiti typography, wry pop-culture references, and witty sloganism has come to define the heady postmodern mix. Fans of Morning Breath can delight at the prospect of all new fresh and unequivocally personal work from the formidable duo, who have been left unconditionally to their own devices in producing new work for this show: an all too rare and exciting prospect in itself from the much in demand twosome.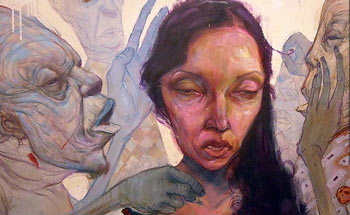 Joining them, and fresh from his solo exhibition at Los Angeles Thinkspace Gallery this summer, Hawaiian artist Ekundayo will be exhibiting his fiercely affecting pop-surrealist works in the UK for the first time.
Ploughing a distinctive furrow within the realms of the contemporary grotesque genre, Ekundayo's work combines both a subversive graffiti aesthetic with art-historical erudition to produce textured, transitory portraits full of movement and character using a combination of acrylics, gouache, watercolor, and ink - on occasion, literally carving his paintings from the viscous combination of these materials.
Heavily influenced by a fraught and ephemeral childhood that involved seven years on the run with his estranged father, Ekundayo's work, in his own words "illustrates the sacrifices we make in the pursuit of fulfillment, while simultaneously questioning the actions taken to attain it." It is this perpetual co-opting of human fears and desires - experienced so markedly by the artist himself as a youngster - that Ekundayo expresses so emotively on the canvas.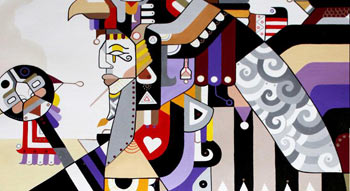 Brazilian artist, illustrator, and graphic designer, Fernando Chamarelli will also be showing for the first time on UK soil in this show. Explosively colorful and instantly recognizable for his seamless combination of organic forms with a modern, graphic sensibility, Chamarelli's intricate and finely detailed paintings, while instantly striking, reward even closer attention to detail, not least to the abundant iconography hidden within many of his pieces.
The strong influence of Colombian indigenous art, ancient philosophy, and a general reverence for the natural world are all counterbalanced by the use of the many mazy, geometric patterns, harmoniously resolving the traditionalist/modernist binary. It is this combination of the ethereal with the empirical that affords such depth and intrigue to Chamarelli's timeless works.
Chamarelli was the selected Brazilian artist to design the shirt as part of the UMBRO world champion collection for the 2010 world cup. He has also been featured on the Saatchi site and various other international magazines. Just google his name for the proof.
Exhibition on show: October 9th to November 5th 2010.
For more information, contact www.londonmiles.com