Morning Breath & Cycle Plus Nathan Lee Pickett & Bonnie Durham Come to Brooklyn
Juxtapoz // Wednesday, 25 Feb 2009
1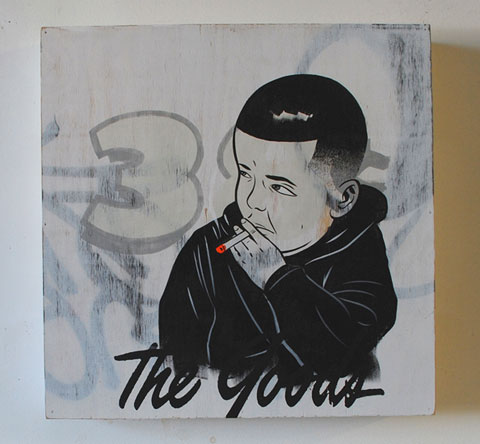 This Friday, February 27th from 7-10pm, artists Morning Breath (work above) and Cycle will show off their newest projects in a show called Oddities in the front gallery, alongside works by Nathan Lee Pickett (in the project room) and Bonnie Durham (in the alcove).

All of these artists will be descending upon Brooklyn, NY for the new exhibition, which will open at Ad Hoc Art this Friday and will remain on display thru March 22nd, 2009.

Learn more on each artist here….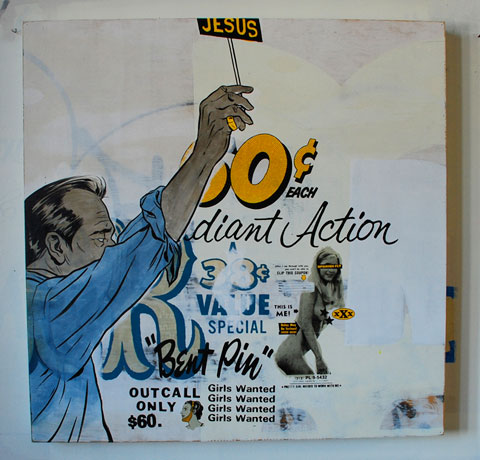 MORNING BREATH
Morning Breath, Inc. is a creative studio focusing on visualization, illustration, and design. Doug Cunningham and Jason Noto's works break through the clutter by delivering fresh and innovative creative solutions targeted to the youth culture. Their collective history and experiences in graffiti art, music packaging, and skateboard design is the driving creative force of Morning Breath. In all of their creative works, Morning Breath continually strives for the balance of art, design, and advertising.
CYCLE
CYCLE was born in 1971. He grew up writing graffiti and skateboarding. CYCLE received his BFA from George Washington University in Washington DC and then his Masters from the Academy of Art University in San Francisco. He makes his living producing Fine Art, Illustration and Graphic Design. When not producing Fine Art, Illustration and Graphic Design, CYCLE enjoys graffiti and skateboarding.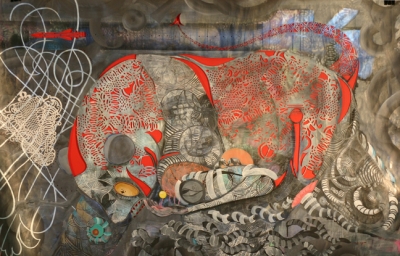 NATHAN LEE PICKETT
Nathan Lee Pickett was born in Portsmouth, Virginia. He lives and works in Brooklyn. Inspired by graffiti, classical painting and calligraphy, he fuses cut paper with paint to create an eclectic mix of stoic and ethereal figures within celestial voids. Nathan seeks to synthesize a lifetime experience worth of exposure to visual overload, mythology, and chaos. The improvisational nature of his work uncovers at once his fears, desires and dreams. Evident in its labor intensiveness, his display of dedication to craft provides us with a sophisticated color palette and textural richness that is the embodiment of his work. His warm and vivid imagination weaves together compelling stories that are both graphically visionary and poetically expressive.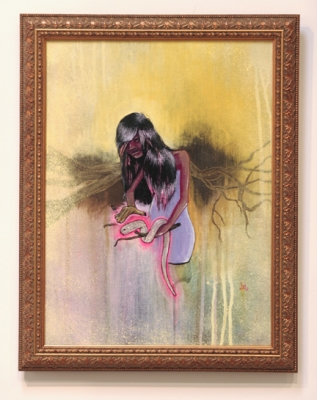 BONNIE DURHAM
Bonnie Durham's work is about tuning in to her surroundings and never wasting time. Painting with gouache, acrylic, ink and watercolor and using calligraphy brushes, she slowly thins out the color in backgrounds of her work before creating the surface 'spraypainted' effects (without the use of spraypaint) which have become a trademark in Durham's paintings. Recently, collage elements from used books containing old illustrations have found their way into her works. Her surfaces range from the traditional canvas, wood and panel, to the quite non-traditional cutting boards, clipboards, dresser drawers and wooden trays, which she find at flea markets, second hand stores and discarded on the streets. She has shown in New York, Los Angeles and Canada.