Image Gallery
Monica Canilao "What's Lost Is Safe" at Sky High Gallery Milwaukee
Juxtapoz // Friday, 03 Jun 2011
1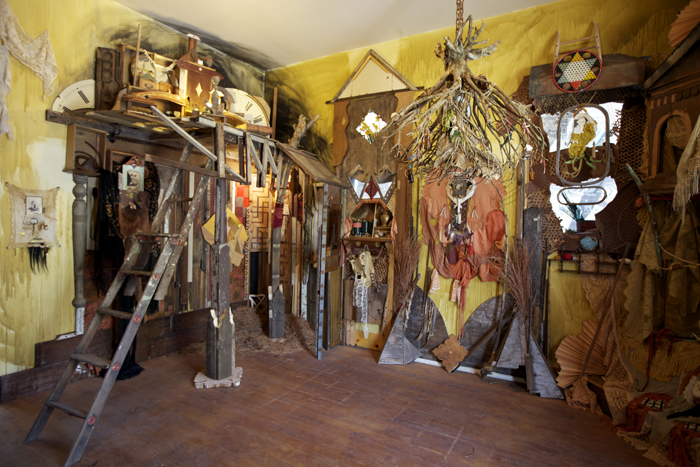 We just showed you earlier this week
Monica Canilao's return to Detroit
to work on her house she purchased at the Juxtapoz x Power House Productions project, and now we have images from her solo show at Sky High Gallery in Milwaukee, "What's Lost Is Safe."
The show at Sky High, curated by Faythe Levine, features modified antique parlor portraits enshrined in collections of natural and humanmade objects that Monica scavenged locally from Milwaukee's forgotten places. In the manipulation of her orphaned portraits, gender and identity is blurred, redefined and made fluid. As the press release states, "Monica's compositions seamlessly meld the old and new: stained paper, discarded fabric, even tea bags and bones combine with her hands to take part in breathing new life. Canilao and her crew will be working around the clock for five days building and scavenging onsite leading up to the opening. Monica's staggeringly beautiful, almost haunted work reminds us that everything built is made up of things in a phase of decay."
Monica Canilao
What's Lost Is Safe
Through July 31, 2011
Sky High Gallery
Milwaukee, Wisconsin
Photos by Faythe Levine.