Moneymaking by Nunca in Italy x The Politics of Trash
Juxtapoz // Monday, 14 Jun 2010
1


Fame Fest founder Angelo continues, "Every now and then, this other dude in flesh and blood was coming to visit us and chat a bit about the drawing and the content of it. He lives on the other side of the street and he was coming down to throw away some soil while gardening on his balcony. He was really nice and had a very kind attitude, which is pretty rare these days, especially if you're painting a huge wall in a place where people are scared of changes and any sort of non-ignorable news."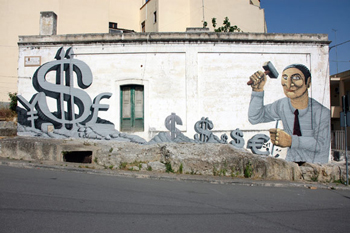 "When the painting was finished, this charming man showed up again and told us that he would miss us, and that it had been a pleasure for him to see us painting on the other side of the street. He also finally gave us his interpretation of the piece saying that 'working on the land, you can finally find resources and opportunities.'
"Well, this guy, is the ex-mayor of Grottaglie [Italy]; the one that, together with the council, made agreements with the trash company that built the very famous dump right outside town, hiding all these decisions from the people.
"Now, dear mayor, thanks for the kind words, I hope you'll find some time to consider my own interpretation of the piece too:
"You can make big, big money from our land…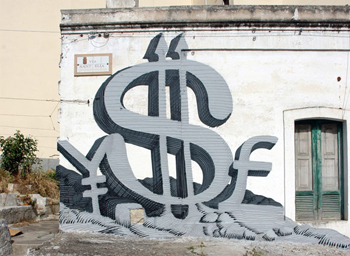 …you just have to fuck with it first…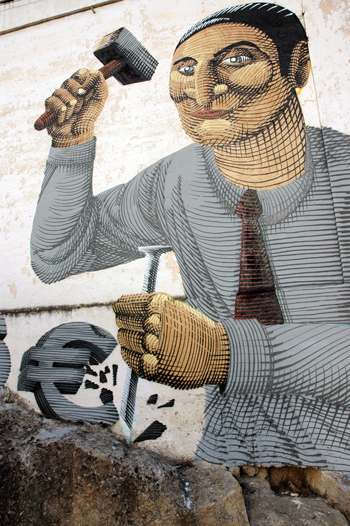 …you surely know it better then me though, you guys have fucked it really, really, hard.
More background info on the trash situation in Grottaglie (the town that plays host to Fame Fest each year in Italy) right here.