Molly Crabapple's World Drawn From Wild Tastes
Juxtapoz // Monday, 05 Oct 2009
1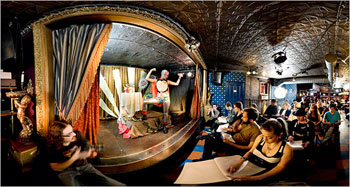 Molly Crabapple has made an internationally recognized name for herself with the wildly popular Dr. Sketchy's Anti-Art School. The New York Times recently wrote a great explorative piece on Crabapple and the surrounding success behind her scandalous life drawing classes that take place virtually anywhere- even in Times Square.

"On a recent fall night in Manhattan, the artist Molly Crabapple convened a group of people with drawing pads for a meeting of Dr. Sketchy's Anti-Art School, a group she founded in 2005 that now has branches all over the world," reports Carol Kino for The New York Times. "A cross between old-fashioned life-drawing sessions and new-wave cabaret, it usually meets every other Saturday at the Slipper Room, a burlesque-themed bar on Orchard Street. Typically, about 50 artists, Web designers, cartoonists and hipsters — alerted by word of mouth or the Internet — pay $12 each to draw a downtown personality like the alternative model Raquel Reed or the performance artist Amber Ray.

"But this session was slightly different, as Ms. Crabapple was holding it in Times Square, in pouring rain.

"The model for the evening was the comedic burlesque star Little Brooklyn, who was wearing the costume for her pigeon fan-dance act: a feather-covered teddy, thigh-high pink stockings that ended in stiletto-heeled claws, and a glittering black beak. Behind her stood Ms. Crabapple and her co-M.C., the illustrator John Leavitt, holding umbrellas. At 7:30 p.m. sharp Ms. Crabapple cried 'One-minute poses!' and Little Brooklyn began to vamp, striking Betty Boop-like attitudes — hand clasped to mouth in surprise, bending forward as if to hail a cab, lifting her feathered tail to reveal pink ruffled briefs. As passers-by stopped to stare and take pictures, Mr. Leavitt encouraged them to sing, applaud and coo. 'It's like Gene Kelly in an alternate dimension,' he cried.

"After a few two- and five-minute poses, Ms. Crabapple called a halt to the soggy proceedings and repaired to a nearby bar to drink absinthe. 'Standing on a public street and doing something cool — it feels so great,' she exulted. Within minutes she had posted a photo of Little Brooklyn on Tumblr, Twitter and Facebook.

"Ms. Crabapple, 26, had been promising this event to her fans for months as a reward if 4,000 of them signed up to follow her on Twitter. (Because fall arrived before she had fully achieved that goal, she held it slightly early, at about 3,800.)

"'For she was perhaps the real star of the evening. A former artists' and cheesecake model who has also done some burlesque dancing and a bit of fire eating, Ms. Crabapple is also known for chronicling the exploits of downtown nightlife personalities in an artistic style she describes as 'saucy Victoriana.' Until recently she was the in-house artist for the Box, drawing performers and designing curtains and T-shirts for the vaudeville palace on Chrystie Street. With her long dark hair, artfully made-up eyes and demurely vixenish demeanor, she can suggest Morticia Addams, John Tenniel's Alice in Wonderland or an anime caricature. And because she is never far from her iPhone or her MacBook, little of her life seems unshared.

"In fact, some believe Ms. Crabapple's talent is neither making art nor modeling nor fire eating nor Internet branding, but her ability to combine everything in one seamless persona. Joe Wos, who founded the ToonSeum, the cartoon museum in Pittsburgh, calls her 'one of the most innovative young artists out there right now' but argues that her influence extends beyond drawing. 'Dr. Sketchy's itself is a work of performance art,' said Mr. Wos, who runs the Pittsburgh sessions of Dr. Sketchy's. 'Molly Crabapple is an art movement in and of herself.'

Read the rest of this New York Times article here.