Mode 2 @ Lucas Carrieri Gallery, Berlin
Juxtapoz // Thursday, 29 Sep 2011
1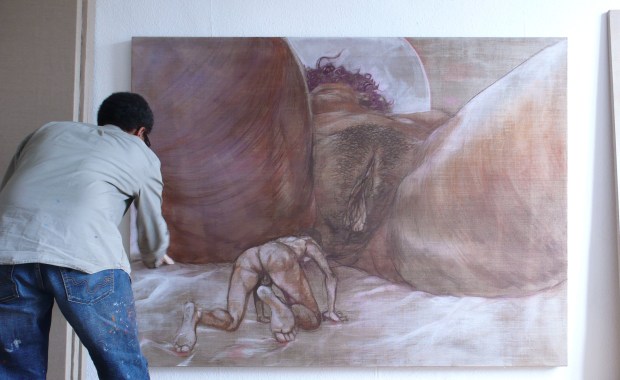 Because of the graphic nature of the studio shot we have of Mode 2 promoting his first solo show in Berlin, 
Offerings
, we just went with a classic that was on the cover of our
June 2007 cover of Juxtapoz
. The new show continues the influential European artist's exploration with the female form, often times with elegant, yet explicit results.
After seeing Mode's mural at
Art In the Streets
earlier this year, it is nice to see the British artist focusing on large-scale works in his newest solo body of work.
As
Lucas Carrieri Gallery of Berlin
notes, "His large-scale renderings of the female body are drawn from a specific perspective, recalling Gustave Courbet's L'origine du monde. This perspectival point of view suggests that the female is significantly larger than the canvas, making her appear like a goddess. Underlining this position are the male figures in the paintings - much smaller than the female figure – that appear to be making offerings to the goddesses. However, the complexity of female/male relationships and societal definitions of gender roles, as well as the torrent of visual information we are confronted with on a day to day basis, give the painting a level of ambiguity. After all, the female body is seldom shown in such an explicit manner outside the realm associated with pornography. Are the women in fact the ones offering themselves to the male figures or to the public gaze? And can we, as viewers, succumb to the gaze offered to us by the artist?" 
Mode 2
Offerings
Lucas Carrieri Gallery
Berlin, Germany