Miss Van's She Wolves come to life
Juxtapoz // Tuesday, 26 Jan 2010
1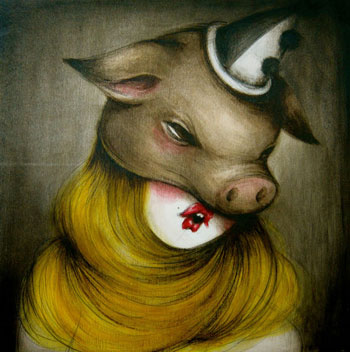 Miss Van has been very productive the past year. Constant new work, a new clothing line, as well as regular media collaborations have left a very sweet taste in our mouths regarding this French lady.
Miss Van has become one of the best-known female painters from the graffiti scene, gaining worldwide acclaim for her work. In her new show, She-Wolves, the ultra-feminine "poupées" (dolls) wear animal heads as they reflect on their dark, predatory natures.
Always seductive and mysterious, Miss Van's characters reside in a mystical world of quiet introspection, as they get in touch with their feminine power and the dangerous animal within. Miss Van's work asks the question: What happens if we surrender to our animal nature?
Miss Van's work has shown in the United States, France, England, Austria, Italy, Spain, the Netherlands, Switzerland, Belgium, Germany and Australia, and has been featured in Juxtapoz magazine.
She-Wolves opens February 6, 2010 at Merry Karnowsky Gallery in Los Angeles.

More info on Miss Van at www.missvan.com