Miranda July: 'Eleven Heavy Things?' in Union Square Park
Juxtapoz // Monday, 30 Aug 2010
1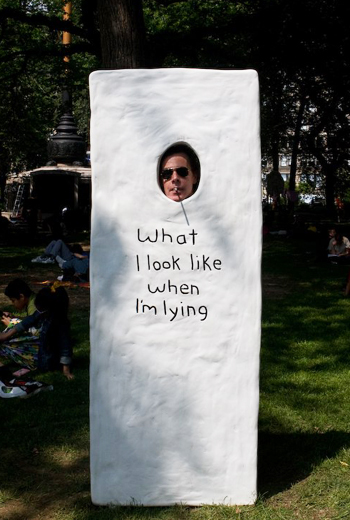 Performance artist Miranda July offers Eleven Heavy Things, an interactive installation in New York that hinges on viewer participation. Managing Editor Evan Pricco writes:
Posing for traditional portraits, be they in a photography studio or family vacation to the Grand Canyon, is an uncomfortable experience. Take the simple concept of, "Smile!" I don't know about you but it's hard to do that when you've been sitting next to your brother for six hours in the car and are now at landmark 2.0 having to project some forced enthusiasm. And let's face it, when you look at said forced family fun a decade from now, everyone will see it as that, forced family fun. (Note, the Grand Canyon is beautiful, so you might be able to smile there, or at least show some awe.)
This summer, I took portraits at Union Square Park in Manhattan with the help of performance artist, filmmaker, and author Miranda July. Her latest exhibition, Eleven Heavy Things, originally created for the 53rd International Art Exhibition at the Venice Biennale, is the last official public art exhibition produced under the Deitch Projects umbrella. Eleven challenges the traditional "posing" positions and customs by creating new and unique ways for one to showcase their physical posture in a photographic moment.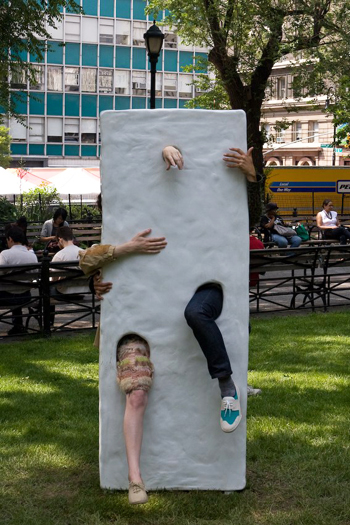 Miranda herself asks the questions, "Planning on posing this summer? A little recreational posing? Why not do it with the support of props designed just for this purpose? It might be a relief to have some help in this department, after years of free-form (and let's face it, often inaccurate) posing." She has created a perfect photographic opportunity: stand in front of a skinny, white monolith with the phrase "This is not the first hole my finger has been in, nor will it be the last," stick your finger in said referenced hole, and make a memory. Better yet, stick your head in a hole with the statement "What I look like when I'm lying?" written below you. At least the family album on iPhoto possesses a modicum of truth.
After following Miranda July's artistic career over the past few years, and being impressed by her debut motion picture, You, Me, and Everyone We Know [see below] I'm struck by her mastery at making everything that is awkward and taboo feel comfortable. And she wants everyone to participate in the uncomfortable experience because she understands that those moments create a perverse harmony.
From what I observed in Union Square Park, she is right. Put two strangers on a pedestal that reads, "We don't know each other, we're just hugging for the picture," and you can bet there is a fifty-fifty chance they are actually going to hug it out. Or at least for that one instance, they will think about it. —Evan Pricco, Juxtapoz issue #116, September 2010
Miranda July: Eleven Heavy Things
Through October 3
Center Lawn, Union Square Park
New York, New York