Image Gallery
Essay: Mikhael Subotzky & Patrick Waterhouse, Ponte City, Johannesburg
Juxtapoz // Friday, 09 Dec 2011
1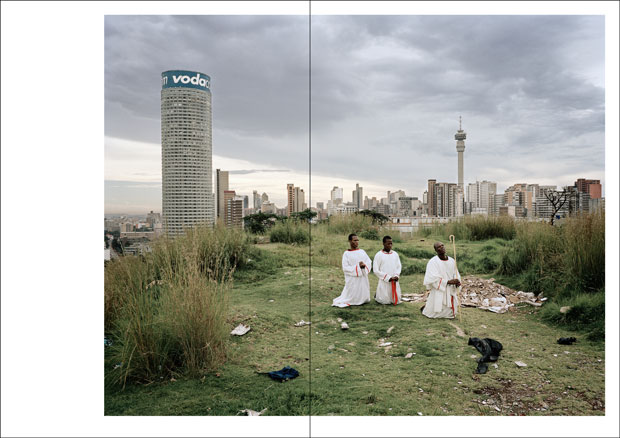 They called it the "highrise ghetto," and unfortunately, the name seemed perfectly labeled. As luck would have it, in the Spring of 2008, while preparing Juxtapoz' Contemporary African Art issue, Juxtapoz photo editor Estevan Oriol, Editor M. Revelli, and myself, Evan Pricco, found ourselves in Johannesburg climbing an "abandoned" tower in a dilapidated elevator with South African photographer, Mikhael Subotzky.
South African photographer Subotzky picked us up from our hotel in a plush section of Johannesburg, close in proximity to the Contemporary Art Fair we were attending. The assignment was for Mr. Oriol to shoot Subotzky's portrait for the magazine, and for the editors to interview him on his series of work that had gained international accolades and attention. That work, which would go on to land Subotzky a position at the exclusive
Magnum Photos
, featured photos of South African prisons and the unique conditions in post-Apartheid South Africa. The haunting, beautiful photos were part of a project that Subotzky had started working on while still at University. Knowing that Juxtapoz was headed to Johannesburg for the major fair, Subotzky wanted to take us to the location of his new project, one that would go on to be
Ponte City
, a collaboration with British artist, Patrick Waterhouse that was on display at
Rencontres d'Arles
photography
festival 2011 this past summer.
There was a bit of warning of where we were going (as in, don't roll down the windows, don't make too direct of eye contact), but Johannesburg is a very odd city to any outsider. The luxury estates (they truly were estates) were covered with thick foliage and each surrounded/barricaded with electrical fencing, almost as if Jurassic Park set designs were left behind. Passing through the plush neighborhoods was an uncomfortable feeling, knowing the history of South Africa's race relations, and understanding that as notorious as American crime rates can be, electrical fencing is still not a common trend, even in the most luxurious of Western World neighborhoods. This felt different. It felt hostile, to say the least.
Subotzky drove us through a winding path that led us to the City Center (the one place our hosts at the Fair had asked not to go to, but we know had a new host, so it goes). To put it bluntly, we drove into a Johannesburg ghetto. Our hosts had told us that Johannesburg was unique in that immigration relations were highly volatile, with South Africans at conflict with incoming Nigerian and other sub-Saharan immigrants. To that point, we went right to the conflict zone. Where we ended up started as a place of confusion for Oriol, Revelli, and myself. We were looking up at a cylindrical, 54-story tower, abandoned, but very much alive with construction activity. Gutted, under a new ownership (we supposed), and currently being reimagined as new kind of residential tower, the tower looked ghostly and flat out dangerous. At the time, and perhaps still today, it is the tallest residential tower block in Africa. But it looked like it was being held up by toothpicks stuck in soft soil. Empty, at least we thought. Subotzky then gave a very simple reason of why we were here: "I have been living here, squatting, and so have hundreds of others. I have been documenting the place."
Oh, phew, we thought we were going to have to ... wait. What? Living here? We are going in there? Of course as I was thinking this, I'm in the elevator, one that barely fits the four of us, in an abandoned 54-story tower. (Mind you, on the ground floor, cement cinderblocks were being thrown down 40-stories into a huge pit and pile of concrete, so we had to be careful not to get a block to the head.) The whole time you are thinking, "Nobody knows I'm here, this could be it and nobody would know." Subotzky stopped us on a few floors, knowing where the elevators failed to work and where we had to actually climb to above floors. Occasionally, we would find a squatter, or a squatter's den, that looked exactly what you would think a Darren Aronofsky drug den would look like. Needles, spoons, filth. We weren't sure who let the people stay here, but there seemed to be little care or management on site. I don't think it would have mattered. This wasn't high-rent living.
Subotzky seemed to know just about every squatter, their schedule, and each squatter seemed to know Subotzky and what he was working on. There was no tension. As for his 3 counterparts in this adventure, we were like distant cousins that everyone was happy to see. We were led (at this point everyone wanted to see what we were doing) to a platform that opened to an inward view of the tower's guts; in the middle of the cylindrical buidling. This is where Oriol began shooting Subotzky's portrait. We only had to climb 45 stories and walk on a ruined platform with no safety net to do it. We knocked out the portrait, took the never-ending descent down the tower, and left the neighborhood.
What we did know at the time was the Mikhael Subotzky was working on a project with artist Patrick Waterhouse in this building, we just didn't what the results would be. This past summer, Subotzky and Waterhouse displayed their work known as
Ponte City,
a three-year project resulted in an impressive series of giant tableaux, made up of hundreds of contact sheets, presented in towering light boxes (seen below). The artists' lightbox panels were divided into three themes: doors, windows and TVs. (
via
)
From the looks of the work, and from what we hear about the installation, Subotzky captured the cylindrical aspect of the buidling and the tension of the surrounding neighborhood by having photos looking outward and inward in the tower throughout the installation and presentation. When we were in the tower itself, we felt two opposing worlds come into view; the universe that was inside the tower could easily be isolated from the violence and tension on the blocks below. In the end, Subotzky took us into his project and showed us that he wasn't just about small glimpses and passing moments in unique places in South Africa. He immersed himself, lived it, breathed it, with occasional fear but always with non-discriminant eye. —
Evan Pricco
Some of these spreads are from a book that Waterhouse and Subotzky were preparing...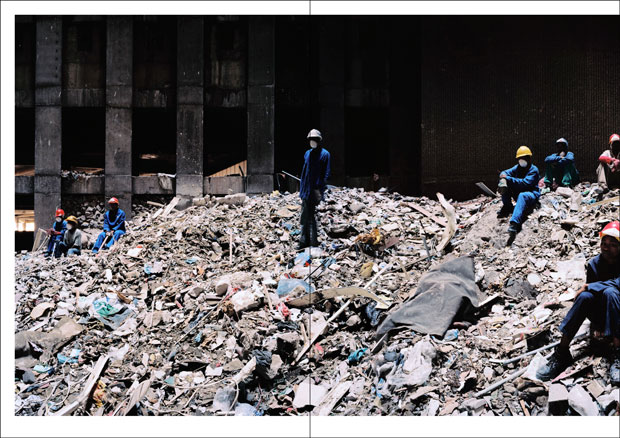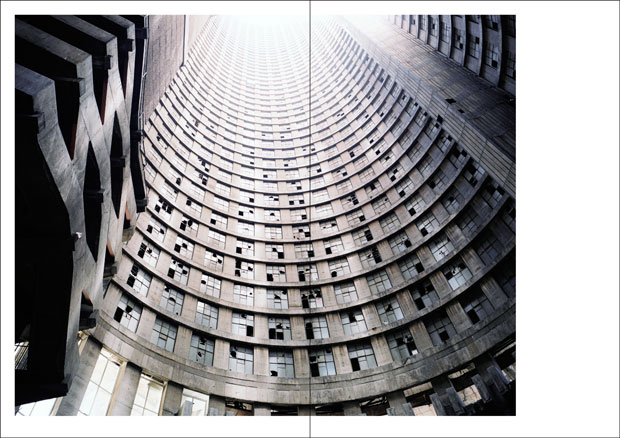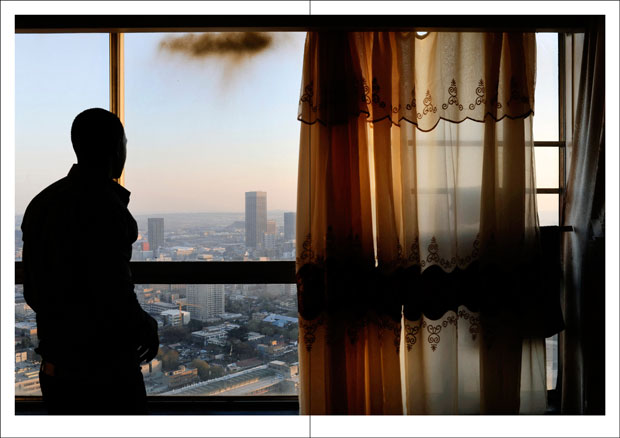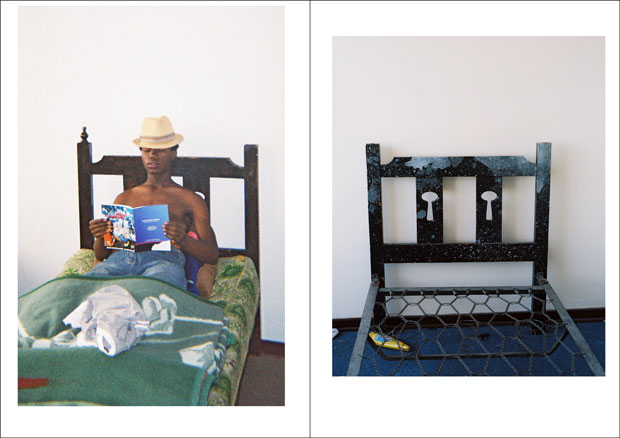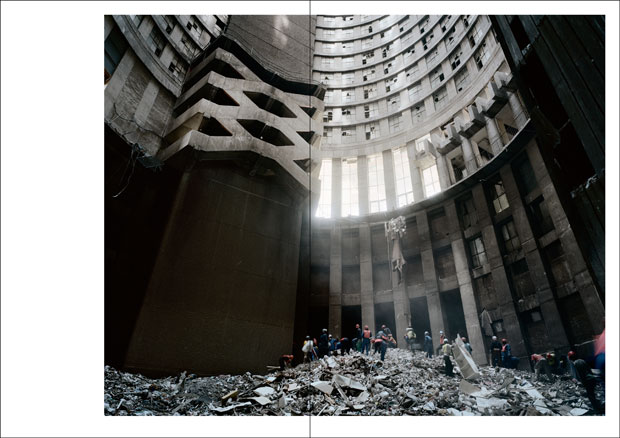 Lightboxes: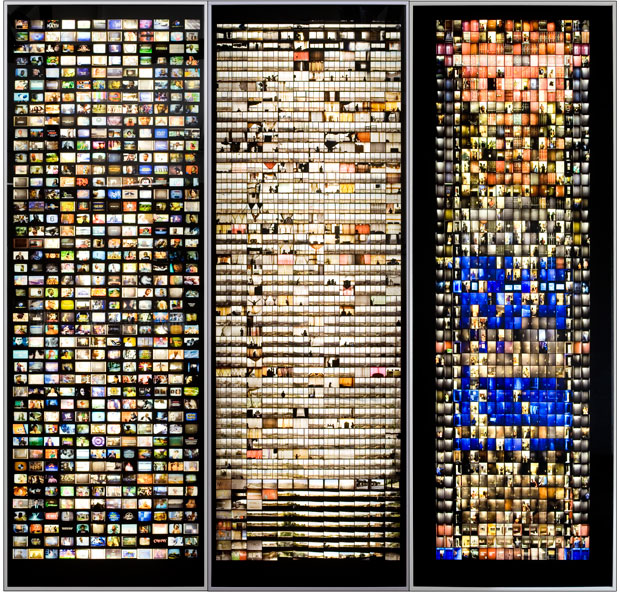 http://www.subotzkystudio.com/