Mike Mills "Beginners: Drawings and Photographs" at Family Los Angeles
Juxtapoz // Tuesday, 14 Jun 2011
1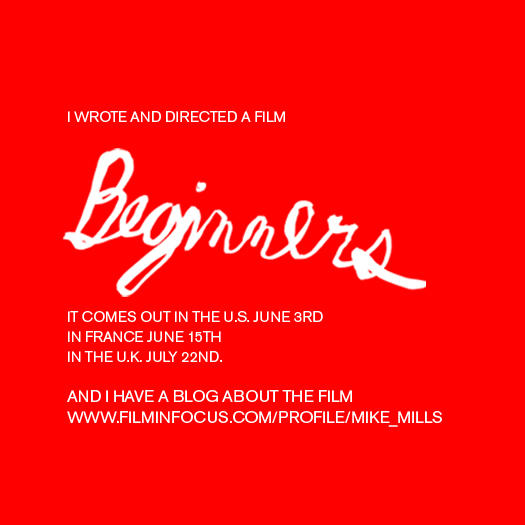 Filmmaker and artist,
Mike Mills,
continues to promote his newest film,
Beginners
, with an exhibition at Family Los Angeles of drawings and photographs with Todd Cole and Sarah Soquel Morhaim, taken on set during the film's production. The show opens on Thursday, June 16,
with a book signing of Mills' Beginners book
.
Family
is one of the great spots in all of Los Angeles for art books, zines, magazines, etc, and this is the first exhibition in their new expanded gallery.
Here is what Family has to say about Mills'
Beginners
show:
Mills says the Beginners film's main character, Oliver, "shares some things with me: we both do graphic design, we both often figure out what we're thinking by drawing, we both have dogs and we both did record covers for a very real band named The Sads. The book contains all the drawings which I (Mike) drew, and that Oliver (played by Ewan McGregor) works with in the film. Oliver has the unfortunate idea of creating an illustrated 'History of Sadness' as a record cover for the The Sads, including such episodes as: Neanderthal man realizes he's outclassed by homo sapiens man, the pilgrims, industrialization, birth of the novel, and pets in general." Also included is a new series of drawings: an illustrated History of Love with such chapters as: the first butt to attract, great lovers in film, flappers, free love's not so easy, internal vs external problems and many more.
Photographers Todd Cole and Sarah Soquel Morhaim each took pictures during the
Beginners
' shoot, capturing atmospheres and tones congruent with the film. Cole and Morhaim's images extend beyond on set action, and into explorations of the many moods of Los Angeles.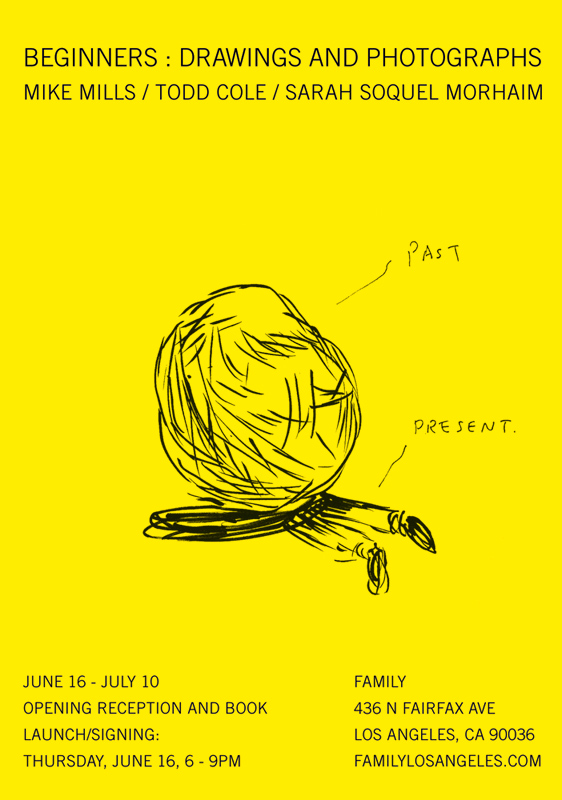 Beginners: Drawings and Photographs
Mike Mills / Todd Cole / Sarah Soquel Morhaim
June 16 - July 10