Mike Giant Interviews JK5 Part 1
Juxtapoz // Saturday, 01 Aug 2009
1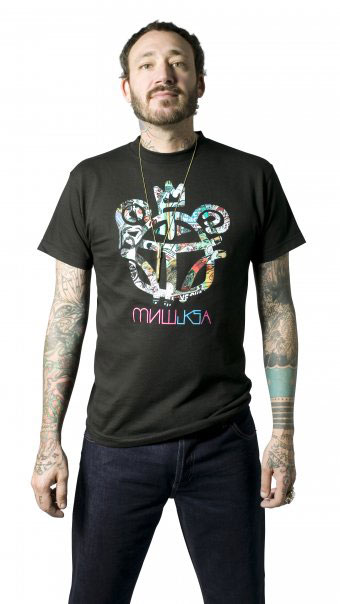 Legendary San Francisco based artist Mike Giant Interviews fellow artist JK5 aka Joseph Aloi in an in-depth discussion concerning style, inspiration, and focus. Listen in as the two artists bro-down over meaningful art in Part 1 of a two-part interview.
Mike Giant: Did you decide to be an artist at some point, or have you always felt like an artist? Both literally and professionally?
JK5: I've been drawing ever since I could hold a crayon. It started with Batman and dinosaurs in kindergarten, and I've never really stopped since. In my earliest, formative stages of life, I was practicing, and growing as an artist. It was my love, my escape, my obsession, and my identity. I was acknowledged and commended as one; I've always been an artist. Always. From the very beginning. You could literally say, and as soon as I was conscious, and knew what "aspiration" was. I was aspiring deeper and further in that impassioned direction.
What do you feel is the artist's place in modern society? Especially an artist like you that still makes things by hand?
To reflect, explore internally, and deeply into all aspects of our human experience, to celebrate, and document. To articulate and illuminate through any number of vehicles, mediums and channels. The artist should be a mirror of their moment in the history of consciousness and culture. Nurturing your gifts, constantly practicing, responding to, and meditating on what it means to be an evolving, organic, and luminous being. To give visual form to our physical, sensorial and experiential planes, as well as on the steadfast development of our awareness. Artists should be the truth and the fantasy. The realist and the magician. The scribe of the tribe. The illustrator of the poetically unseen, and brain sculptor of the wildest assimilation of the enormity, intimacy, personal, and timelessly universal dimensions to our moment-to-moment reality.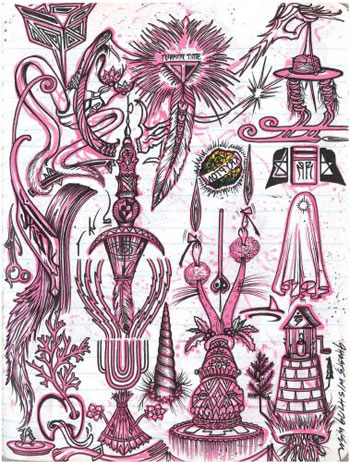 As an artist who always has, is still, and will always make things by hand, I have a tremendous responsibility to myself and the world at large. To stay true to my craft. The human hand. The manual, biological machine that I've been fine-tuning for 33 years. There is a completely woven thread through the path of my lifetime that is anchored in drawing on paper with a pencil. It is a pure, direct, physical, strong, swollen, warm, fluid, and organically mechanized extension of myself. I feel like with the proliferation of technology, and all such assisting tools, drawing painting, tattooing, and all manual crafts are a sacred gift that artists like ourselves will always give to ourselves, and give to others. For me, all questions and answers start with what I write and draw in my journals. Being a manualist, I feel, unify one with the origin of ability and process it. Making something always from nothing. There is incredible value and honor in hard work. Manual practice. A quote I chose for my book SUBCONSCIOTHESAURUSNEX, sums it up, "The real purpose of work is to give us an opportunity to practice being human, to discover everything we are and all that we can be, both as individuals and as members of a community." As psychologist Marsha Sinetar puts it, "Work can be used, as can anything and everything we do, to communicate our love for self and other. For the rare person who is religiously or spiritually inclined, work even becomes a vehicle for devotion, a way of utilizing one's gifts and talents to serve others, a way of truthful self-expression." This is reminiscent of that famous quote from The Prophet by Kahlil Gibran, "When you work you are a flute through whose heart the whispering of the hours turns to music. To love life through labor is to be intimate with life's most inmost secret. All work is empty save when there is love, for work is love made visible."

What's your big fascination with words and lettering?
In a way, I feel like I have always wanted my work to have meaning. It started in 1977 with Star Wars, Superman, Close Encounter of the Third Kind, Clash of the Titans, etc. My love of science fiction and mythology, heavy metal and rock album covers, cartoons, lots of creatures, characters, aliens, words, lettering, strange encoded alphabets and weird, secret symbols is what my work has always consisted of. Creating other worlds complete with species and languages has been a trip I've been on since the beginning. Surrealism, fantasy, light and dark psychological explorations, the search for meaning, truth, lampooning America to reveal the twisted underbelly of modern society, dualities, conflict, forces clashing and worlds colliding. I've always been that fly on the wall, on the outside looking in. Drawing it all.

Being adopted at 5 days old is really at the core of what my work has always been about. A desperate search for identity and definition. A blank biological slate on which to design and define myself through style and alias. Finding peace, power, and solace through the pain, complexity, and amorphous mystery of not knowing who, or where you come from. What forest? What biological planet? I created my own, with my own internal information, an unbridled imagination, and married it with the pop cultural inspiration of a pretty idyllic, well rounded, 70's and 80's, a bit north of NYC, suburban upbringing. My love of lyrics, words, early hip-hop, rhyming and rapping, poetry and literature.

I was raised a strict catholic schoolboy, attending "Holy Name of Jesus" elementary school from 2nd-8th grade. I drove the teachers, priests and nuns crazy with my disobedience and hyperactivity, all the while, loving religion, and all the symbols and iconography. High school influences ranged from graffiti and the politically charged content of early U2, The Clash, The Smiths, being a big art nerd who could ball with the jocks, at the same time, skateboarding, a character rich big Italian family, introductions to lots of poetry and great literature, Native American spirituality, surrealism.

When I finally got my shit together, I got into The Rhode Island School of Design in 1991. This, after my initial year and a half at Southern Connecticut in New Haven, failing out, moving back in with my parents (so prickly, and wrong, thanks for everything Ern and Cath.) Focusing on my art and portfolio at Westchester Community College, with the help of an amazing professor and friend by the name of Tom Halsall. He helped me focus, apply, and I got accepted to a great art school. My world was reborn, and expanded from the moment I got to Providence. A wild, talented humanscape from all over the globe, a bounty of new music and artistic movement interests, (Shepard Fairey had started the Andre the Giant experiment, and Fort Thunder was having their insane parties. It was inspiration, experience, psychological warfare, and competition on a whole other level. This time was also my introduction to the power, complexity, richest history, cultural and folk rooted amalgam, and art form that is tattooing.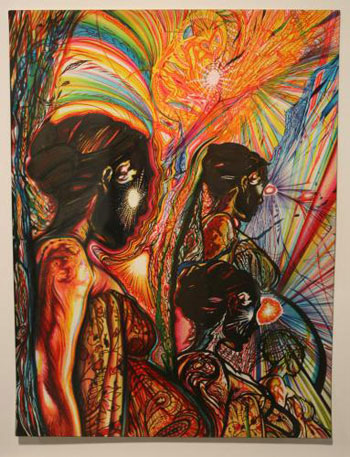 My friend Forrest and I were in a watercolor class together. He had 3/4 homemade Japanese sleeves, and a gangster stomach rocker. Tattoos and aesthetics that blew me away at the time. This was 1992. A glorious time to be introduced to the mystery of it all. He had a home shop set up, and it was time for me to get a ridiculously intricate piece of a 200-hour pencil drawing I did, tattooed on my bicep. What a nightmare for him. Sorry man. Ah, how young we were. We became close friends, I got more and more tattooed, and through his love of printmaking, his knowledge of art history, punk rock, and our shared love of drawing and current popular culture, I was being sparked and pried open, further and further with information, never to look back again.

A book that all tattooists will cite as a major revelation was called, "Eye Tattooed America." It was a book to accompany a show in Chicago of tattoo artists' personal artwork in other mediums. Mind-blowing. The likes of Ed Hardy, Thomas Devita, Ed Paasche, Dan Higgs, Marcus Pacheco, etc. That book was made of glowing, golden, spectral motherfucking crystals of light and communication, and screamed to me, "This is it, proceed on the path that has been illuminated for you." While this karmic storm was forming, cut to my senior year complete with 18 credits, nearly 2 full sleeves, and a few other tattoos from friends. This time was lots of weed, amazing friends, 40's, Leonard Cohen, Wim Wenders, Check Your Head, early Dischord, burning through sketchbooks and bodies of work for independent studies. My work was ranging from performance experiments, site specific installations, drawings, assemblage, paintings, lithos, etchings, and an alarmingly hilarious, unsuccessful attempt at modeling a custom rubber, and clear plastic tubing suit for a friends senior fashion show. Then, on a grey, bitingly cold, rainy, typical Providence winter day on November 19th, 1993, I got a letter from my birth mother. The one. The moment I had been deeply dreaming about, hoping, praying, and aching for 23 years, 5 months, and 19 days. A profound gift, a turning point, and now a completely rare and wild experience back into the womb at 23. I had an endless well of emotion and vision to now illustrate at a feverish pace and frequency. My birthmother was the raddest woman I had ever met. She turned me on to a world of new poetry, philosophy, psychology, Buddhist literature and practice, and most directly, my own biology and spirit source. I started tattooing that September 1994, and the richly layered, symbolic, personal and universal thematic vocabularies of style and content, from the silly to the deathly serious, just blossomed from there.

Drawing with fire fueled light fingers for tattoos, unlearning, learning how to tattoo, and nurturing all my own visual languages and approaches. I was complexly weaving all that was converging in my sphere of consciousness. My path was blessed with true meaning, and it has grown moment to moment since. It has been at once, a reflection of my nature, and an impassioned mission to imbue everything I am and do with meaning, to articulate as best I can the gift and life of the means itself.
Stay tuned for Part 2 of this interview tomorrow.