Metaphysics: Neon Works by Meryl Pataky Based on Plato
Juxtapoz // Saturday, 16 Oct 2010
1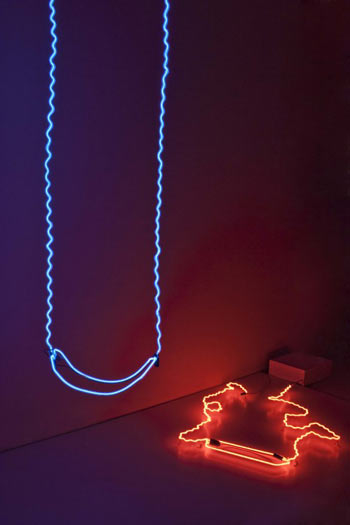 Neon is cool enough on its own, but to experiment with the challenging material in an exhibit based on the writings of Plato is really cool.
Meryl Pataky's work, entirely in neon, is based on Plato's writings on the first principals of things, or in other words, What does it mean to be?
Balancing the two strands of Metaphysics: one which holds that what exists lies beyond experience and the other which holds that objects of experience constitute the only reality, the artist attempts to address the human condition.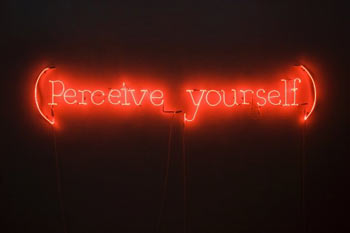 The artists states:
My work relies heavily on personal narrative. I tend to base my work on the experiences in my life that shape me into who I am. These experiences are what I relate to most intimately and, in turn, allow me to confidently make the appropriate decisions about my work, its concepts and materials. We are all molds that are filled with different substances. These are a delicate blend of our paths, experiences, beliefs and interactions that form our being. As a result, we are all different casts – we are all made of different material.
I chose to work in mixed media because there is no one material that speaks to the broad subject matter that I deal with. I cannot limit myself to one; I like to think that the world's colors and textures are right at my fingertips; metal, clay, paper, neon, dirt, grass, fruit and a vast variety of found objects from a salvaged door to animal bones and teeth. I thoroughly enjoy combining certain resources and visual languages that might not often be seen together in a traditional setting. My materials are extremely important to me because they are the voice of my work. They speak for me where I cannot.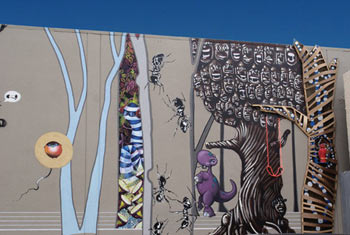 On the above image: "My neon added to the aesthetics of San Francisco. I collaborated with 161 Project and Root Division for OUT SIDE ART, a block party at a new arts and entertainment venue opening up in the Mission. Local artists painted a wall that Banksy started and I created a neon swing that will permanently hang on the exterior of the venue on Mission between 14th and division."

"So it goes" is inspired by author Kurt Vonnegut Jr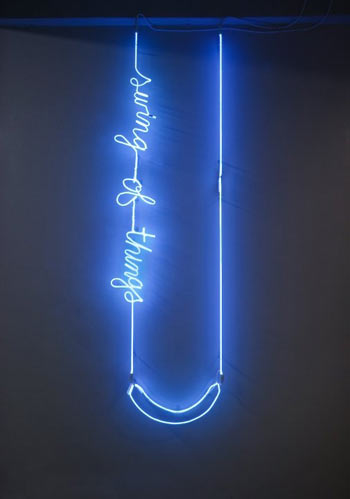 More on Meryl Pataky at merylpataky.com
Metaphysics
Neon works by Meryl Pataky
Opening Reception: November 11, 2010 from 6pm - 9pm
On Exhibit through January 2011
a.Muse Gallery in San Francisco