Meet the Rinzens: Steve Alexander
Juxtapoz // Friday, 11 Dec 2009
1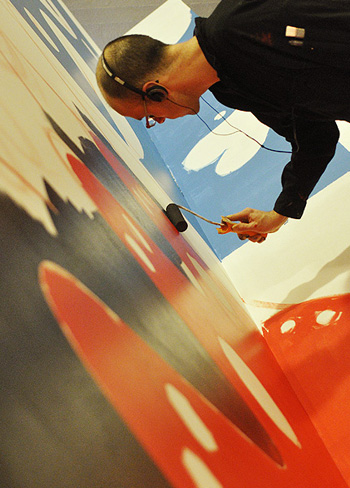 Today we bring you the final chapter of Meet the Rinzens: a look into the powerhouse design collective comprised of five Australian artists. Last but not least, Steve Alexander is the fifth member to let us pick his brain.
Far from his native land of Australia, Steve has spent the better part of this decade living and working in Berlin. As the Rinzen crew is spread about the globe, Steve and his wife, Rilla, stay in touch through the Internet while enjoying one of the most progressive art scenes in Europe. This allows Alexander to draw upon Berlin's dense air of creativity while walking his dog or visiting the Neue National Galerie. Using digital mediums and watercolor paint, he pursues an interest in all that is microscopic and molecular. Steve declares that German bureaucracy can get it him down and he will never turn his back on Oz, but there's much more to this story. Read on to hear it from the traveled thinker himself.--Kirsten Incorvaia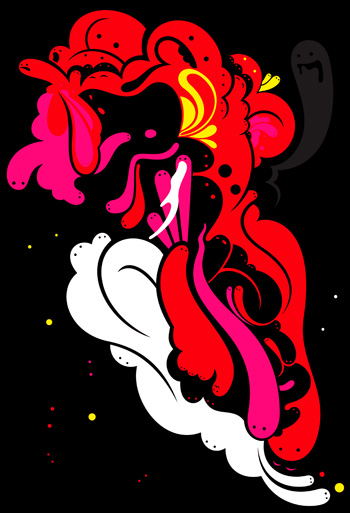 Kirsten Incorvaia: Why did you leave Oz?
Steve Alexander: Living in Europe, the proximity to the major creative epicenters results in more frequent and stronger connections to galleries, organizers and businesses. When you're based in Australia the commissions and invitations to exhibit or speak overseas are rare. Another big draw are the energy and pace of Europe and the States. Australia is comfortable, which is a big plus, but I tend to slow down and lose focus there. Berlin keeps my mind ticking over.
Will you ever go back?
Absolutely. I'm always dreaming of the ideal house and studio near the ocean. I appreciate the natural beauty of Australia. I could never turn my back on that.
If you had never encountered the other Rinzens, where would you be right now?
That would take me way back to University, when I first met Rilla. Perhaps I would have never completed University. At least not as a designer. I think I would have pursued a career in Fine Art. If it weren't for Rilla, I would have definitely never met the other Rinzens. Rilla and I have seen and done amazing things together over the last 15 years.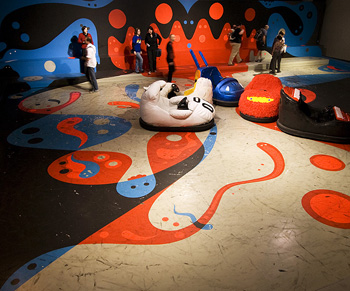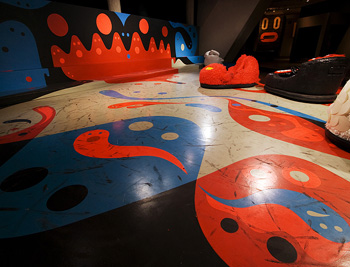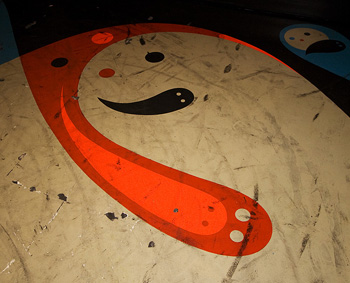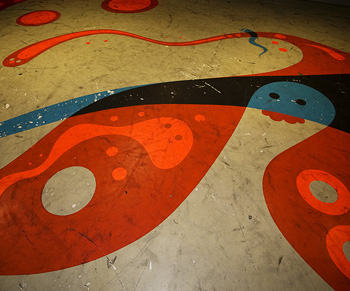 Berlin is such an artistic city, but does your creativity take a hit during the cold, sunless winter?
It can, if you let it. Both Rilla and I are learning to embrace winter as the season of productivity and creation. It's all about focusing on work.
Once summer shines it's first warm rays, I'm down the park absorbing as much sun as my body can handle. Berlin totally comes alive in summer and you need space in your schedule to really enjoy every moment. Winter is beautiful too, once the snow covers everything in a pristine white layer, it's picturesque!
Tell us about your friends in Berlin.
Many have come here to party. Others are getting older and staying home more with their growing families. Berlin is becoming a more chilled experience for me either by proxy or age. Having said that, new friends visit or move here frequently so we're perpetually rediscovering the city. There's always something to discover in Berlin!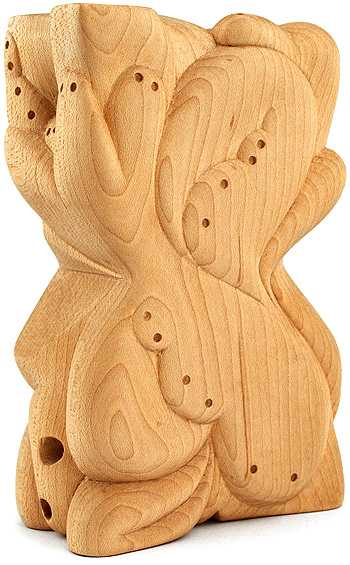 Where do you go for short vacations?
Rilla and I never really plan 'vacations'. We need to. Usually we travel for exhibitions and conferences and take a few extra days to explore - so far that has taken us to places like Bilbao, Mexico City, Milan, Sapporo, Oslo...
Do you feel part of the German culture after living in Berlin for several years?
No, but Berlin isn't really like the rest of Germany. In much the same way as New York is to the USA. It's a culturally diverse city so most people speak some English. I do have an appreciation of German culture and don't mind getting involved in certain festivities!
What was the hardest adjustment in moving to Germany?
The language is definitely the hardest. The bureaucratic tasks of daily life can become tedious and nauseating, and Germans love their bureaucracy. Of course, being so far from family and friends is hard, but I think the moments we do catch up are even more wonderful. The winter can be tough too, but magical and productive in its own right.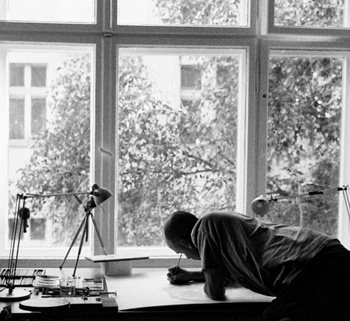 Favorite museum/gallery in Berlin?
Maybe the Neue National Galerie, designed by Mies van der Rohe. It's an odd building with an almost useless entrance level due to the windows that surround it. The Jeff Koons sculptures were amazing in that space of course. I love the building itself; the shows it hosts are also inspiring. There are so many wonderful art spaces in Berlin, it's too hard to pick only one.
How is your work unique to that of other Rinzen artists?
In many respects we share a similar aesthetic appreciation. I'm less interested in exploring the pop direction. I'm more intrigued by abstraction, texture, movement, chaos and fluidity. The microscopic and molecular is what I'm obsessed with.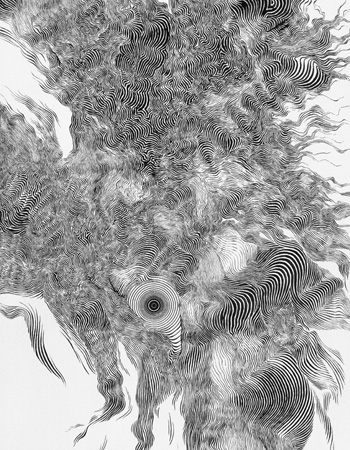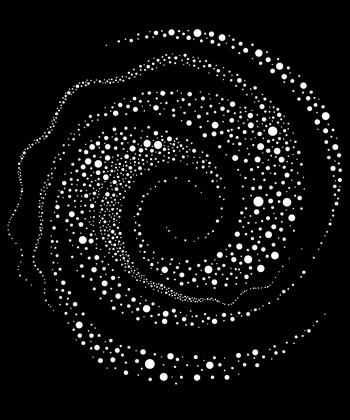 How did you get set up with the Plasmagoria project, and what exactly did it entail?
I was commissioned to develop the bumper car arena for the Pictopia exhibition at the Haus der Kulturen der Welt. Pictoplasma wanted the area to transition from day to night, with a disturbed fair ground atmosphere.
I decided to work with 3 different colored light stages: red, blue and white. Similar to the effect of a 3D movie, each different light stage would reveal and conceal parts of the image, resulting in 3 different appearances. I created a world of fluid spirit forms that frolic and invade each other's worlds - something like a Petrie dish of cute germs. The bumper cars added the final catalytic layer of visual mayhem. The erosion of the painted surface over the duration of the exhibition was both heartbreaking and visually exciting.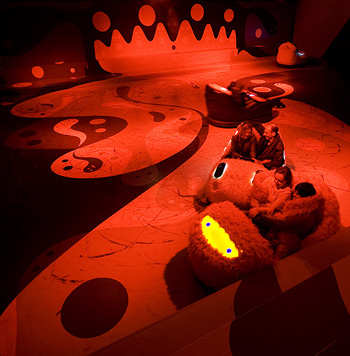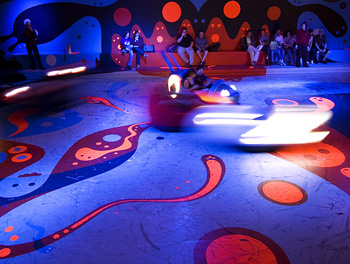 How does 'working' with Rilla add a new dimension to your marriage?
We compliment each other. It's like having another version of yourself. We talk a lot and help each other out creatively. When we're apart for a long period of time it feels as though something is missing. We've been together so long that everything works very organically.
As a watercolor painter and designer, how do you compare the two mediums?
I like the pace and spontaneity of painting. Creating on the computer is not immediate enough to get the ideas down that I have in mind. Watercolors can be so bold yet so delicate, they really challenge this perfectionist aesthetic of computer-generated work. You embrace the chaos and work with the accidents. You discover new forms and approaches, and then draw that understanding into other parts of your work.
Your designs are much more organic than figurative. Is there a reason for this preference?
I feel figurative work has been explored so thoroughly, I doubt I have anything new to offer. The subject matter I choose to explore doesn't require figurative solutions either. I view organic forms as a micro/macroscopic, molecular perspective of the human and the universe we inhabit. I prefer to dissect the abstract and ethereal perspectives.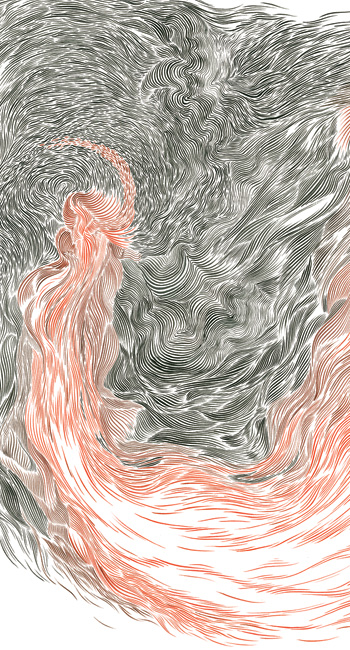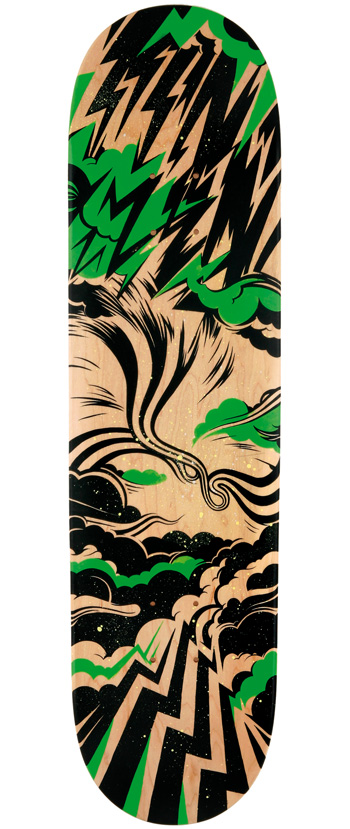 Top breakfast choice?
Strong black coffee is a must to get the day started. Right now I'm into frozen Acai pulp mixed with a banana and Orange Juice over muesli and nuts.
What is the first thing you notice when you meet someone?
I'm really drawn to piercing green eyes.
Which painters inspire you most?
I was truly inspired by a Pablo Palazuelo retrospective in the Bilbao Guggenheim a couple of years ago - an amazingly focused career and body of work. Rhys Lee, a close friend, has worked hard at his craft and produces inspiring work. Jenny Saville's work has caught my attention most recently.
It's hard to deny the influence of such well-known names as Picasso, Francis Bacon, Paul Klee, Basquiat, Dali and Brett Whiteley.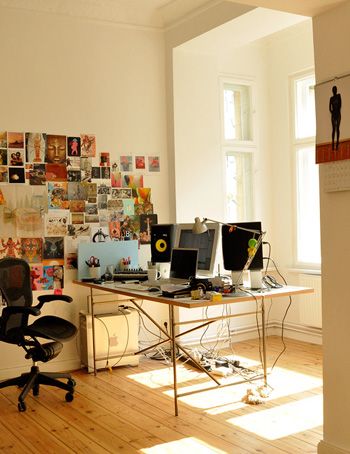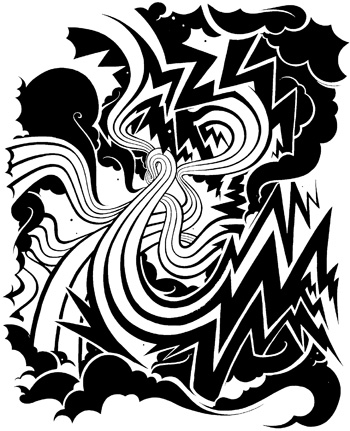 What attracts you to art?
From an art making perspective: the process, materials, textures and smells. The struggles that result in a satisfying outcome. From a viewing perspective, I like to see that personal vision, the soul laid bare and honest, that inner fantastic/distorted perception. Stripped of all superfluous elements.
What was your moment of 'rinzen' (awakening)?
I continually experience this moment. Sometimes it feels like I'm still waiting for it.
If you missed the previous installments of Meet the Rinzens, click the links to catch up with Craig Redman, Adrian Clifford, Karl Maier, Rilla Alexander