Meet the Rinzens: Rilla Alexander
Juxtapoz // Monday, 12 Oct 2009
1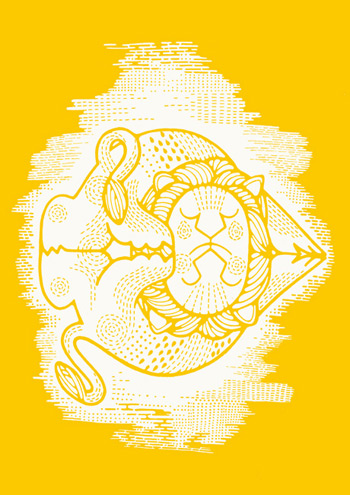 By Kirsten Incorvaia
Ladies and gents, today we bring you the fourth installment of Meet the Rinzens. For those of you who missed parts 1-3 (interviews with Craig Redman, Adrian Clifford, and Karl Maier) listen up. Rinzen is the design collective spread across the globe to make our magazines, tees, skateboards, hotel rooms, and even credit cards more pleasing to your eye.
Rilla Alexander is one member of this Australian quintet that spread her wings to land in Berlin, Germany. She is a storyteller infatuated by fairy tales, an illustrator bent on antique children's books, and a designer inspired by animals. Rilla is one lady that knows the value of hand made books and the traditions behind them. While chatting with Miss Alexander about her characters, we found that she was practically writing stories from the womb. Dive into the world of Rilla and take a long moment to get lost in her pleasant dreamscape.
What does your name mean?
My mother has always treasured LM Montgomery's Anne of Green Gables stories. Rilla is Anne's daughter. My father protested saying that the kids at school would call me Gorilla. Well, as it turned out, they did. But fortunately I quite like gorillas (and caterpillars and sarsaparilla) so it worked out just fine.
As an artist dealing with issues of 'home' on a regular basis, do you often long for Australia?
Living away from Australia has softened the focus somewhat, reducing it to a fond blur of nostalgia and comfort. Though, tellingly, when I am in Berlin I call Australia home and when I am in Australia I call Berlin home.
The reality is that here I live a much more idealized storybook life. We walk our puppy in a park filled with Grimm's' fairytale sculptures, see whole kindergarten classes pulled around on the streets in big wooden carts, pass girls in folk costume on the way to the fresh fruit markets and our neighbours throw money from the windows to buskers.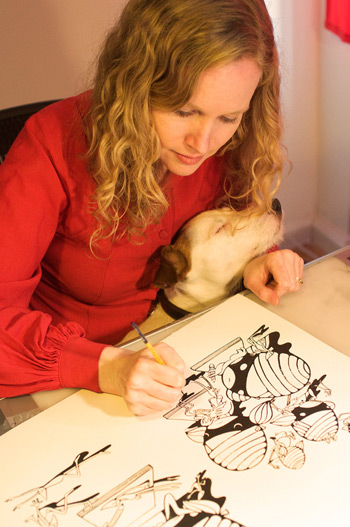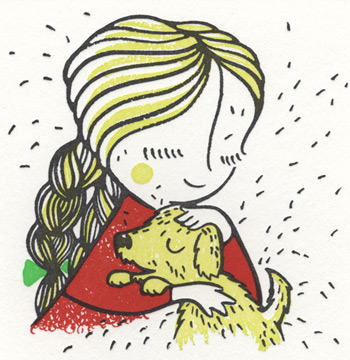 Have the folks of Berlin welcomed you and Steve into their community?
Wandering around the neighbourhood I usually run into someone I know, it's like a little village despite its size. Our eccentric old upstairs neighbour (who re-sorts the rubbish in the recycling bins, Tetris style) says a cheery "good morning" to us despite the fact she doesn't speak any other English.
How do the architecture, commercial packaging, signage, and general aesthetic environment of Berlin affect your designs?
We live a couple of doors away from a second hand bookstore where you choose how much you want to pay. I just have to casually pass by in order to find incredibly inspiring old German, Russian, Czech and Romanian picture books that would be considered valuable and collectible elsewhere. This past year I have been scanning and uploading some of them, and consequently researching the authors and illustrators. This has opened up a whole new world to me, and is undeniably affecting my own work.
Why do you love books?
Even when I was very young I would dictate stories to my mother as she typed them directly onto my pictures and then bind them into books. Making books is part of living for me. And so when I hold a book, I feel all the passion and satisfaction (or sometimes melancholy and frustration) that its creation has entailed. I also love that books acquire layers of history over time: faded colours, lovingly dedicated front pages and scribbled on and torn pages.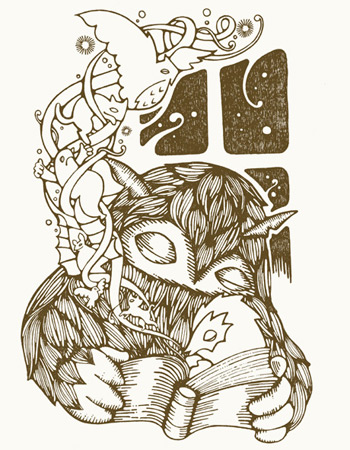 Cozmas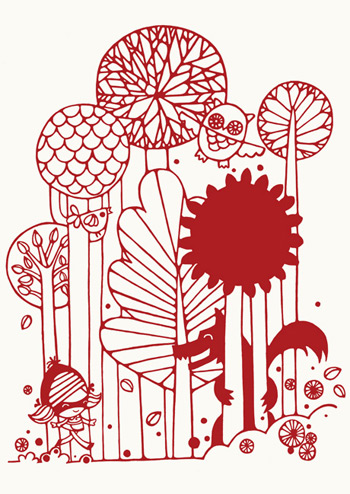 Sozi
Have you finished your children's book yet?
I have a sad little motto, "To finish is to fail."
But if everything goes according to plan it will be available next year. When it is out I will probably scream from the rooftops.
Owls tend to sneak into most of your designs. Why do you like owls and why are they an effective symbol to communicate your ideas?
I do love owls. There is invariably an owl flapping around behind Sozi. And Cozmas, with his feathers and late-night vigil, is clearly an owlish descendant.
But I also love lions, frogs, bears, whales, monsters and sailors and they all assume roles in my pictures. They help me tell my stories of seasons passing and the journey home. My creatures often kick up their heels in excitement, eventually collapsing in an exhausted heap.
Not the owls, though. They stay awake.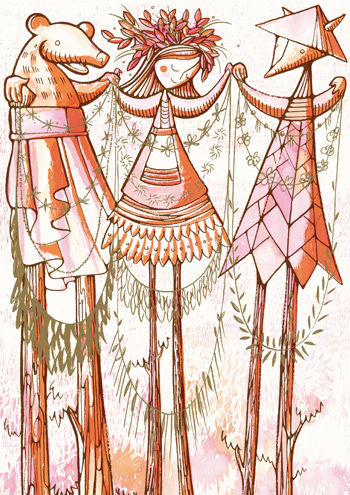 How much time do you spend drawing by hand versus working on the computer?
I love to research. This can be through image searches on the net, scouring through our own photo library, or by visiting a museum. I do a form of rough visual note taking where I sketch gestures and expressions, forms and shapes. Then I tune my computer to my favourite streamed radio show and go to my "drawing desk" where I compose the picture from my notes.
For some projects I then scan these drawings to make final vector artwork. But for most I stay at my drawing desk and complete the final art with brush and ink (and my trusty rotrings) sometimes adding a layer of watercolour. Or perhaps, if it's for a show, I'll work in acrylic on canvas or wood.
If computers up and disappeared from our frame of reference, what part of your designs would become impossible to execute?
In the old days my drawings would have been sent off to the printer straight from the layers of overlaid inked drawings. Now I need to scan and tidy them up myself. So I presume if computers were going to disappear the master craftsmen would come back. Oh happy day!
(Though I'd really miss my Internet radio. I need the constant input of NPR/BBC and ABC Radio National to keep working.)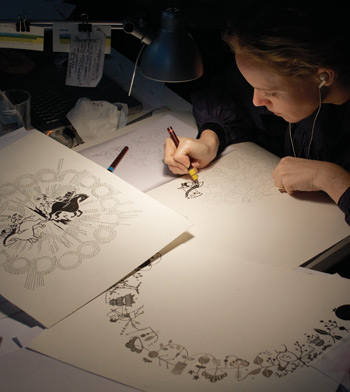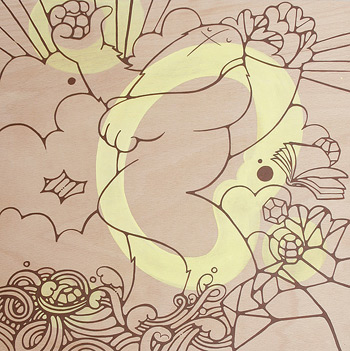 How do single color palettes add to the intended meaning of a design/illustration?
I'm amassing quite a collection of letter pressed books and striking limited colour Scandinavian textiles and ceramics. I'm drawn to their simplicity and strength.
Where do you exhibit your artwork? Are you equally attracted to fine art and commercial design?
I've come to see that I am most at home as a story-teller and picture-maker. Characters and their stories emerge from my own tears of happiness and frustration and I draw in sequence, just to discover what happens next.
These series have been created for Rinzen shows in Hamburg, Berlin, Tokyo and Mexico City (among others) and through them I am gradually building my own world, its mythology and legends.
Alongside this, I work with clients such as the Museo del Prado in Madrid for whom I created a range of children's products based on the Hieronymus Bosch masterpiece, "The Garden of Earthly Delights." For the German porcelain company Rosenthal, I drew a prince and a friendly rooster who enacted scenes from Chinese Legends. I'm currently drawing animals for the walls of a children's hospital.
I like to make things that last.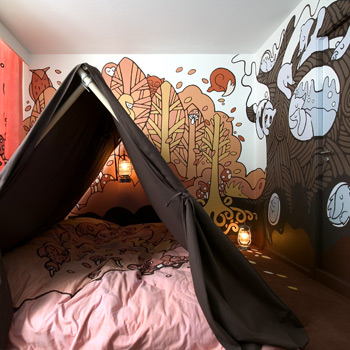 Sleep Seasons Project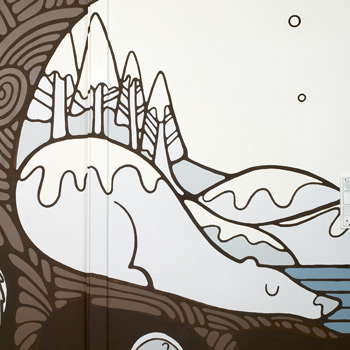 Wall detail
The Sleep Seasons project at Copenhagen's Hotel Fox is mind blowing. How did you get that opportunity, and how did it feel to design a new kind of hotel room?
One day I want to be able to wander into the world that I have been imagining. Not just a show where the props are only coloured on one side, but a real world.
The sleep seasons room was the first taste of this. You crawl into bed in a tent surrounded by animals sleeping the year away. But what if you could curl up in the animals' arms, while their tail curled around you?
You are the only woman in Rinzen, and it seems that there are much less women than men in the industry. Why is that?
I have lots of female illustrator and designer friends, but I'd venture to say they're sometimes a little less visible, because they are busy simply getting on with it. The rest of us talk too much!
It looks like you had a great time at the Prague puppet making workshop. Do you have any stop animation projects in the works?
I've always wanted to find a Czech stop motion-animating grandfather who wanted to adopt me and make my films. But instead I have gained several Czech dads who have opened my eyes. One not-so-secret secret I learned is how much I do NOT know about animating and film-making, but hopefully one day (even if it is a long time in the future) it is something I will do.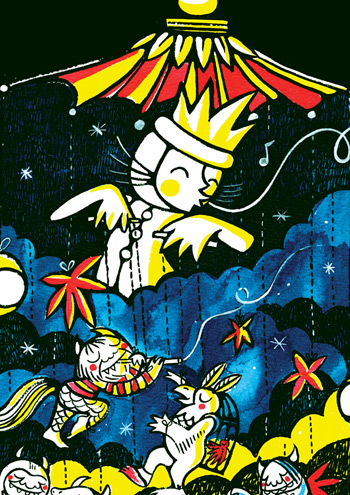 Do you and your husband (also a member of Rinzen) both work at home? Do you have separate offices?
Berlin apartments are unusually huge. In fact, ours was formerly three apartments and so we have three front doors and a labyrinth of rooms (perfect for us both to have our own work spaces and to still have a home).
I usually solve problems once I've abandoned all hope and crawled into bed, so I couldn't be happier.
When will all Rinzens will be in the same room again?
I would love to get everyone together to do a big Rinzen workshop to celebrate our tenth birthday (next year) putting all our collaborative methods into physical practice again. I enjoy doing workshops. It's exhausting, but it pulls you out of your everyday routine and makes you rethink your methods.
What did you spend the majority of your time doing today?
Drawing owls and koalas.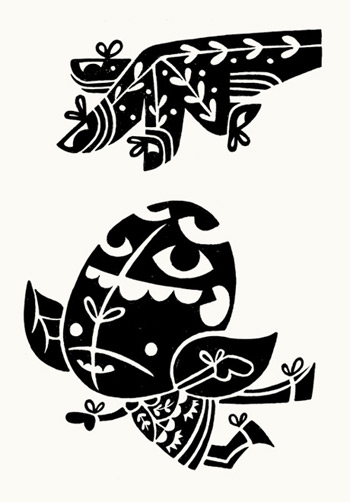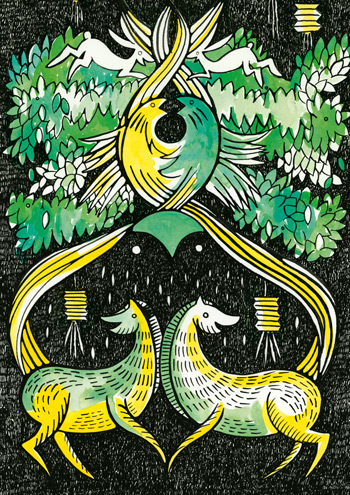 More on Rilla Alexander here: http://byrilla.com/
Check out her Flickr here.