Meet the Rinzens: Craig Redman
Juxtapoz // Monday, 24 Aug 2009
1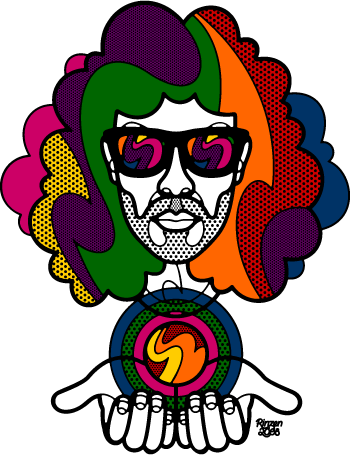 Interview by Kirsten Incorvaia
Craig Redman is one dot on the Rinzen map, threaded via internet to the push pins of Sydney, Brisbane, and Berlin. If you have not yet been properly introduced, Rinzen is a five-piece artist collective founded on experimentation and unrestricted creative license.
Yet after a decade of working under the unanimous identity of Rinzen, a turn in the road approaches: each artist will now be individually credited for his contributions to the group. This amendment to the Rinzen policy is born out of the very unique and personalized projects that each Rinzen member has developed over the years. Such an exciting progression from one of our favorite creative factories calls for an interview series: and thus begins Meet the Rinzens.
Rinzen #1: Craig Redman. His lifestyle is envied by anyone working in the creative field, for he has mastered that precarious struggle between the daily grind and artistic freedom. As a native Australian living in New York City, Redman processes the visual overload of his surroundings into concise illustrations, sculptures, and designs. He gathers visual references from innovative exhibitions at the Chelsea Galleries or from a cheesy Chinatown flyer, while his conceptual material directly mirrors the pressures of inner city living. And the best part is: Craig compromises none of his creative vision in order to survive. He creates what he wants to create, and he's damn good at it.
Read on to discover Craig's unconventional approach to blogging, why he fled the down under, and who's winning the battle between PBR and Vegemite.
How did you meet your fellow Rinzens?
I moved to Brisbane, Queensland when I was 17 to go to university and study my degree. Karl and I studied together, with the other members of Rinzen (Adrian, Rilla and Steve) in various years ahead of us. We were all aware of each other's work and eventually ended up in the same commercial studio, post university. This evolved into drunken nights remixing each other's illustrative work, forming Rinzen, and sharing a studio together.
Why did you leave Queensland?
We were all pretty young so it was inevitable to spread our wings and explore the world. Rilla and Steve moved to Berlin, Adrian stayed in Brisbane, and Karl and I moved to Sydney. Eventually I ended up here, in New York. That's what I like most about being in a collective: it allows you the freedom to make your own decisions and move around geographically however you choose.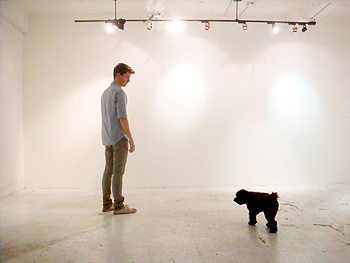 What drew you to your current location?
I always wanted to move to New York and I was lucky enough to receive a Green Card, so I packed my swag and fled Australia while I could. Australia is beautiful but I like the work ethic of New York. People work really hard here, which is great because it forces me to be more productive.
Also, it's New York! There's a nice sense of community here. Everyone is living in these expensive dumps but no one cares (well, they do, but it's worth the sacrifice). Everyone is super friendly because they're just happy to be in New York. There are so many small, cool little details about the city. Like how the streetscape and buildings look so grand, but then you chip away at the paintwork and find it's all held up by crackly, yellowed old tape; layers of new hastily stuck over the old. It's an intriguing place with a lot of history.
What do you miss most about Australia?
Moderate winters, strange animals, family and friends, Vegemite, not having to tip!
How often do you see the other Rinzens face to face?
Karl came to New York a few months ago, so it was nice to hang out with him again. Rilla, Steve and I went to Mexico City together for a Rinzen show, that was in late 2007 but I hadn't seen them for a few years before that. Adrian, come visit! Sounds odd I know, but we speak almost everyday on email and after working together for almost 10 years and having everyone live in different places and time-zones around the world with their own lives, it works best for us.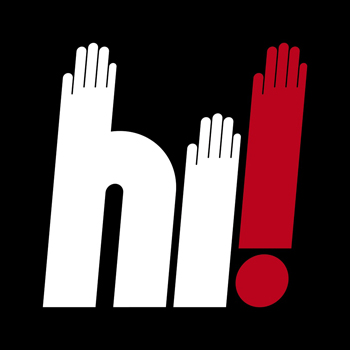 Working in a collective, how do you deal with criticism from your colleagues?
Actually it's nice to have 4 people you really respect available to help at any time. The time difference between all our locations really helps: for example I can send something to Australia overnight and get some feedback when I wake up, or vice versa. It's always reassuring to get a pat on the back or to pat in return, "looks cool, keep going," that kind of thing.
Rinzen is a platform for experimentation and creative freedom, but the collective also takes on commercial projects. Do you ever deal with finicky clients that restrict your creative process?
Actually, only a small percentage of our time is spent on commercial jobs. The majority is spent on Rinzen projects like developing exhibitions, working on contributions or just developing new ideas and concepts. Of course we still need to pay the bills, and clients love to meddle. But usually we're lucky enough to be commissioned by people who understand our way of thinking and are happy to let us do what we do best.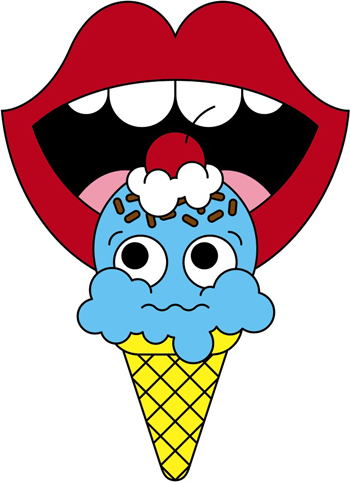 Why, after ten years, do you feel that it is necessary to credit individual members of Rinzen for each project?
For a long time we've always attributed everything to "Rinzen" but as we mature and further develop our own styles, our individual personalities have fully emerged. It's something that has happened naturally as we diversify our skills and dabble in multiple projects. Rinzen will continue to operate the way it always has, except now we'll credit who did what. It also satisfies a lot of people's curiosity!
What personal projects are you pursuing outside of Rinzen?
Everything is somehow connected to the magical world of Rinzen, so nothing we do is "outside." Rather projects become more personal, an expression of each of our individuality, like my blog Darcel Disappoints that chronicles my mundane everyday doldrums.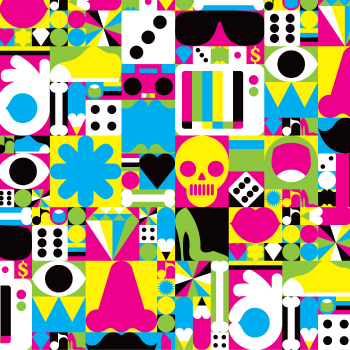 Who is Darcel?
Darcel is a miserable (vaguely autobiographical) dude who skulks around New York casting a cynical eye on himself and the stuff surrounding him. They can be quiet moments alone or self deluded grand observations while plum drunk at openings.
What is his message?
I initially started the blog to document the trivial observations I had when I moved to New York. My written skills aren't particularly grand so I decided to do what I know, which is to illustrate my thoughts and activities. It's fun to record everyday monotonies into a vector "snapshot" that captures a small moment in time, something that alludes to a grander story. The posts are spontaneous illustrations that I can execute quickly, rather than labor over for days, which is a good way to clear my head.
What are Darcel's big plans for the future?
Each month I collaborate with artists and designers that I love. The current collaboration is with Steven Harrington, his work is so awesome. September is with Mario Hugo who is amazing; I can't wait to see how his fluid style gets mixed in with Darcel's snap-to-grid symmetry. I'm also doing some Darcel vinyl wall art with Bodega. The site launches sometime in August, and Bodega will also be releasing work from Barry McGee, Surface to Air, Wood Wood, Dalek and a few others. Darcel also has a skateboard/lighter set out with Colette at the moment.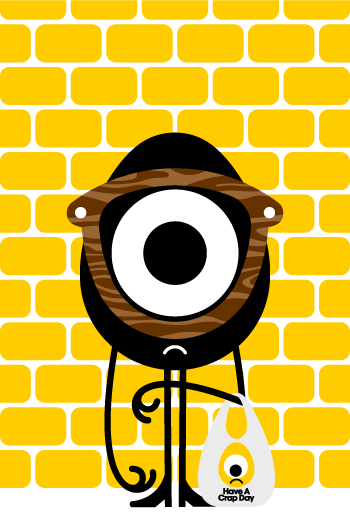 What is your contribution to HubsTV, and how is this site different than internet radio and video sharing platforms we are used to (Youtube, Pandora, Vimeo, etc)?
I started HubsTV with two friends here in New York. One is a Flash programmer, the other a writer. We wanted to find a way to combine our skill set, and our obsession with music videos gave us the idea. MTV has reduced music videos to 30 second edits, while Youtube and Vimeo are more 'on demand' service. We wanted to create a site where you can form a social network with your friends and all watch videos together, despite being spread across the world. You can also add annotations to the videos (a nod to VH1's show "Pop-Up Video") as well as live scrolling comments to really personalize your "hub."
What inspires your series of brightly colored, graphic portraits?
I shoot many portraits of my friends or random people I meet, particularly those with interesting features. The more exaggerated the better, and I get very excited about big hair. I also wanted to further experiment using geometric patterns within looser illustrations, to see how these could be used to show depth or subdue color. The portraits draw references from a whole bunch of my favorite pop artist icons: Warhol's portraits, Lichtenstein's black outlines, Kusama's dots, Riley's patterns, and Koons' novelty.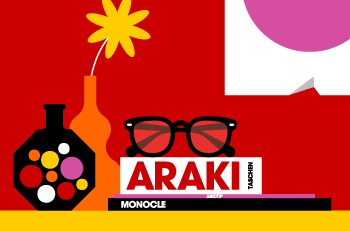 What is your favorite part about living in NYC?
Probably having access to all the galleries. There is so much cool stuff happening in New York at all times. The shows are constantly changing so you've got a mountain of new work to look at. It's cool, you can be quite niche about your tastes. If you're into conceptual art, or more street stuff, or pop, there are heaps of galleries that cater to your specific interests.
I also like that absolutely anything you could possibly want or want to do is either walkable or a $2.25 subway ride away.
Worst party of NYC?
Rent!
What does your living space look like right now?
Somewhat organized I suppose. I live in a studio near Union Square with my respective other, so it's tight living quarters but the location is super convenient. I foolishly fancy myself as a DIY dude (HGTV anyone?) so I've got a few home projects on the go. Considering it's a 450 sq ft studio, that's a LOT. Hopefully I'm not doing more harm than good. I'm lucky to also have an extremely small studio in the Lower East side that I work from each day, so I can store a lot of my necessary crap there.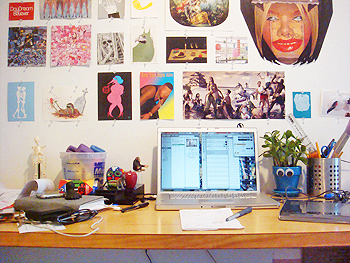 Favorite art venue in NYC?
All the Deitch Galleries (Have you seen the 'Black Acid Co-op' show? Woah). Also Pace Prints and Pace Wildenstein. The Met is a dream, particularly the African Wing. It's a good place to collect your thoughts.
Beverage of choice?
PBR!
What magazines do you read?
My favorite publication at the moment is Wooooo, an irregularly released publication by a few friends. It's totally hilarious with excellent design, and they always have interviews with interesting, relevant people done in a way that is totally relatable.
Top 3 movies?
I just saw the documentary Herb & Dorothy, that was awesome. I'm a documentary nut, so mix that with art and I'm happy. Let me check my Netflix... obviously it's not a movie but I finally got through all of The Wire, that was incredible of course. Withnail and I is an old favorite.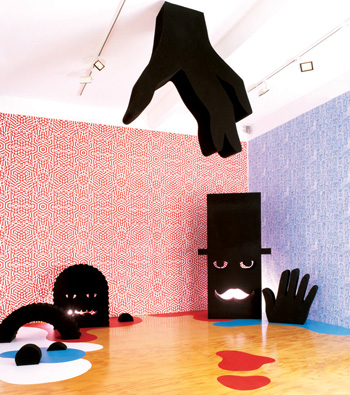 What visual references do you call upon for inspiration and influence?
It sounds horribly clich?, but it's easy to get inspired just walking around New York. It could be some cheap flyer in Chinatown that triggers an idea, or seeing some crazy show in Chelsea that pushes you to work harder. Trawling through the Chelsea Gallery scene once a month is usually guaranteed to inspire the most hardened cynic.
Then there's the internet of course, I'd be in trouble without blogs and Google images. Also, I always get inspired when one of the Rinzens emails me with their new work.
How would you describe your personality in 5 words?
Unnecessarily cynical yet overly exuberant.
That's all for our first edition of Meet the Rinzens, stay tuned for future interviews with the entire clan.