Meet Melissa Murray
Juxtapoz // Saturday, 15 May 2010
1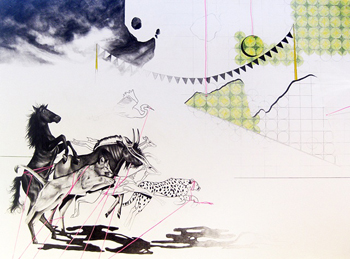 Melissa Murray is a Brooklyn based illustrator whose works are both technically excellent and thematically thought provoking. A great combination, to say the least.
"My work stems from a deep interest in psychoanalytical interpretation and the conscious and unconscious effects of human action," the artist explains.
"In my drawings, animals symbolize sincerity in life, a seemingly degenerative trait in our current human consciousness. These creatures represent purity, and personify my dreams and fears for our collective future.
"When placed amongst our refuse or shown imitating human cutthroat tendencies, my work aims to procure a heartbreaking realization of just how far we have fallen off the natural path. The scenes are taken directly from a daily documentation of my dreams and collaged childhood memories."
See more from Melissa Murray at www.melissamurraynyc.com