Image Gallery
Matthew Barney, Djed, Ancient Evenings, Detroit, and a 1967 Chrysler Crown Imperial
Juxtapoz // Monday, 24 Oct 2011
1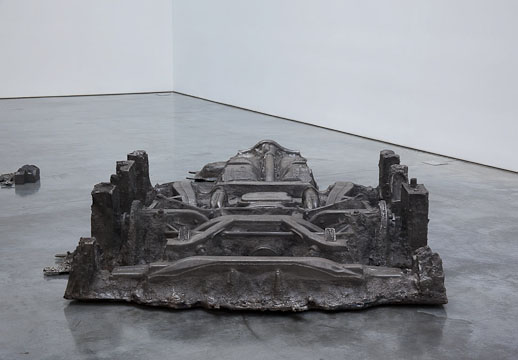 A few years ago, as we working to complete our
15th Anniversary show and benefit with Detroit
in mind, we got word that Matthew Barney was working in Detroit on a special project. After Barney donated a piece of art to our show, we followed his progress and work that he was completing. Needless to say, the work was complex with a full narrative in mind...
The centerpiece of the performance Opera was a 1967 Chrysler Crown Imperial . . . here is the full story that culminated in the exhibit,
DJED
, part of Barney's "Ancient Evenings" project, held at NYC's
Gladstone Gallery
this past month:
"Ancient Evenings" is a multi-part project structured as a site-specific opera in collaboration with Jonathan Bepler, loosely based on Norman Mailer's 1983 novel of the same title. Set in ancient Egypt, Mailer's novel chronicles the seven stages of the soul's progression through death and rebirth according to Egyptian mythology, as told through the story of one man. While Mailer's narrative focuses on the transformation of the human body, Barney enacts the recurring cycles of reincarnation through the use of an automobile, creating a contemporary allegory of death and rebirth within the American industrial landscape. The sculptures on view are both formally and conceptually related to the 1967 Chrysler Crown Imperial from Cremaster 3. Revolving around three generations of American automobile design, the "Ancient Evenings" narrative is rooted in the reincarnation of its leading protagonist, the Chrysler Imperial.
Throughout "Ancient Evenings," the figure of the Chrysler Imperial both embodies the narrative of the project and carries it forward, weaving together the genealogies of material and myth into sculptural form. The centerpiece of the exhibition, DJED, is a monumental cast iron sculpture that was poured during a live performance of the opera's third act in 2010. The primary form of DJED is the undercarriage of the Chrysler Imperial, modified to evoke the pillar-like hieroglyph of the Egyptian god Osiris' power. For this work, twenty-five tons of molten iron were poured from five custom-built furnaces into an open, molded pit in the earth at the site of a derelict steel mill along the Detroit River.
"Ancient Evenings" continues Barney's program of the last twenty years, in which narrative sculpture is generated through a complex system of storytelling that intertwines personal, historical, and modern mythologies.