Mary Iverson's Frontier
Juxtapoz // Monday, 11 Jan 2010
1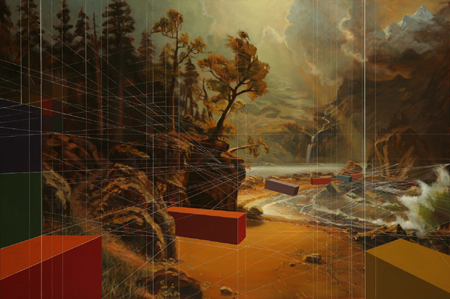 Artist Mary Iverson will show in Park Life this January as part of their inaugural show for the New Year.
Initially trained as a plein air painter, focusing on wildlife at the Port of Seattle, Iverson gradually began gravitating towards the geometric and colorful aspects of shipping containers and the shipping industry as a whole.  In Iverson's current body of work, she has appropriated beautiful nature scenes as backgrounds for her compositions.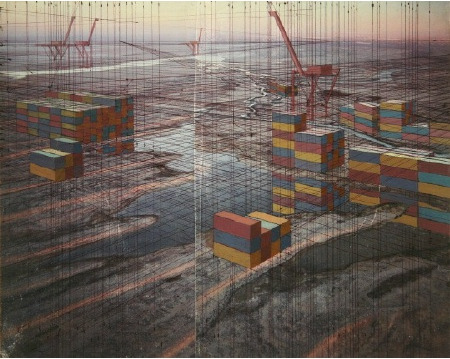 In some of the work she has taken pages directly from environmental magazines.   This "stealing" of images from magazines is the artist's response to how the industry takes natural resources for their gain.
In these compositions Iverson places perspective lines and containers directly on top of these beautiful scenes of nature.   At first glance the viewer is taken in by these lovely landscapes.  Even the containers add beauty to the scenes with their colorful and geometric forms.   But when you look deeper into the work you begin to consider the questionable beauty surrounding the direct invasion of industry and its damaging debris.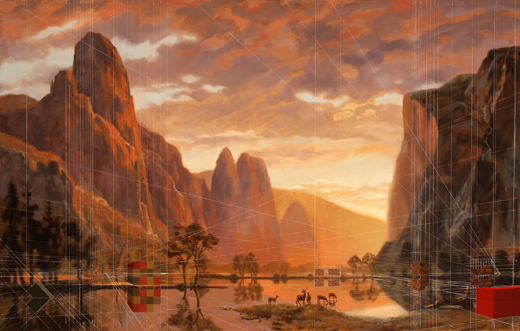 Iverson's works cause one to question the impact of large-scale commerce to our environment and ultimately ourselves.
Her exhibit opens on January 22nd at Park Life in San Francisco.