Malicious Descent at Carmichael Gallery
Juxtapoz // Thursday, 03 Jul 2008
1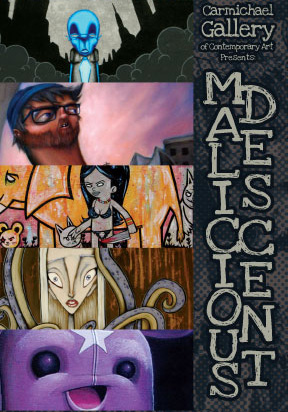 Carmichael Gallery of Contemporary Art announces Malicious Descent: a five-man group show featuring new artwork by young American artists Blinky, Downtimer, Dan Fleres, Josh Taylor, and Zoso.

The showcase of pop-surrealist, lowbrow, and graffiti-inspired pieces encompasses a wide range of media, including acrylic, spray paint, oils, ink, collage, and sculpture.
An opening reception will be held on Saturday, July 12th. Malicious Descent will run thru July 27th.

Check out some sneak preview images and learn more on these five talented artists below: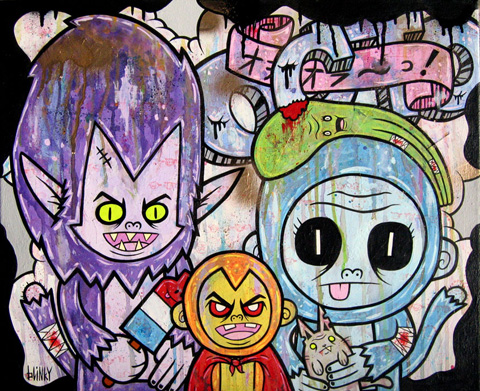 Los Angeles artist Blinky's confident hand infuses what are often dark, dangerous scenes with vibrant colors and a wry sense of humor. Drawing inspiration from pop culture and his infinite imagination, Blinky's works of acrylic, ink, and spray paint on wood and canvas both startle and engage as his trademark girls, cats, and monkeys play with and defend themselves from evil squid, giant milkshakes, and the heroes and villains of comic books, cult films, and cartoons.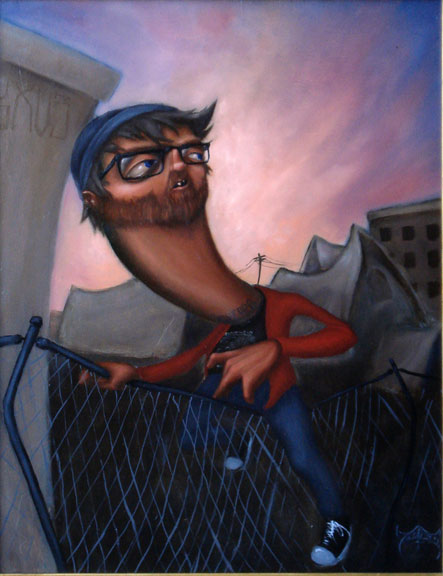 Los Angeles based artist, Zoso, delves into the vast recesses of his imagination to create his provocative artwork. The surreal edge to his newest pieces, which include oils on panel and a hanging sculpture, reflect his current introspection and observations of both home and abroad. The soft texture of oil paired with his stimulating subject matter and distorted imagery complements the dualistic nature of Zoso's personal wanderlust and his perception of the damaging effects of the media and government on individuals.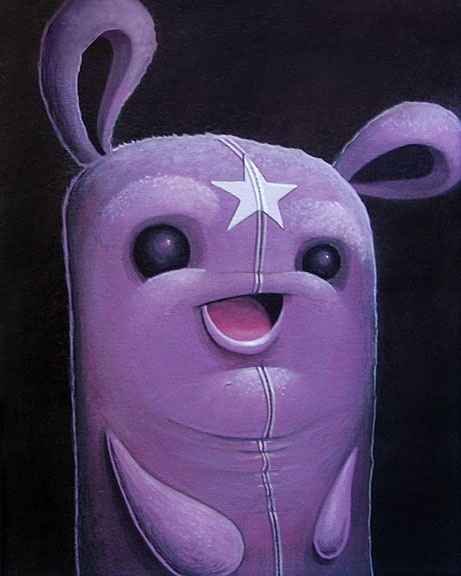 Life and all of its complexities is the source of artistic inspiration for Dan Fleres and what pushes him to take his work to new levels. Through his experimentations with acrylic, paper, and mixed media on canvas, wood, and found objects, Fleres creates streamlined portraits of mournful yet vividly colored characters against skillfully rendered backgrounds. His work is flavored with his subtle yet insightful views of pop culture and society.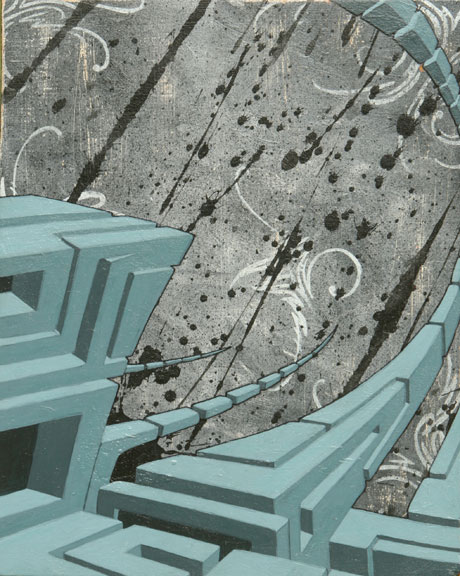 The juxtaposition and frequent battle between the natural and man-made worlds provides Downtimer with the opportunity to explore the ways in which these opposing forces interact, attack, and even complement each other. With a focus on depth, flow, and perspective, Downtimer's new works range from abstract graffiti to figurative and three-dimensional pieces. Although his technique often varies, the interplay of natural patterns remains at the core of his art. "These patterns are complex, yet totally sporadic and free," he says, "Perfect yet completely imperfect. I call them 'planned imperfections.'"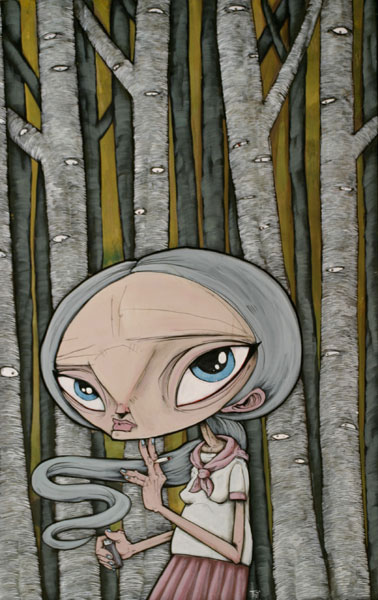 Florida's Josh Taylor unveils his latest collection of artwork, featuring many of his much-loved characters plus some exciting new additions, which do not fail to captivate the farthest regions of the viewer's imagination. For Malicious Descent, Taylor builds upon past themes of girls, tentacles, and "Japanese things" to create a private world peopled with oddly lovable, alien-like beings, their wide eyes pooling with secret emotion. Taylor works mainly with acrylic and ink on wood, dabbling occasionally in mixed media and collage to give each piece a unique texture and depth.