Luke Chueh Interprets the Graphic Purity of Hello Kitty
Juxtapoz // Wednesday, 21 Oct 2009
1


Luke is one of the artists taking part in Sanrio's 35th Anniversary celebration of Hello Kitty, the Three Apples art exhibition, curated by Jamie Rivadeneira of JapanLA.
What do you love about Hello Kitty?

I think my favorite thing about Hello Kitty is her graphic "purity" and simplicity. Her design is clean, and without clutter. Hello Kitty was actually the inspiration for the design of my bear character.


Tell us a bit about your artistic take on Hello Kitty.
I think Hello Kitty's longevity is a direct result of her simplicity. While almost all other mascots and illustrated characters have required design modifications across their life times to keep them appealing to their audiences, (ie. Mickey Mouse, the Micheline Man, Bugs Bunny, Snap Crackle & Pop, and many, many more), Hello Kitty seems to have remained unchanged throughout her 35 years.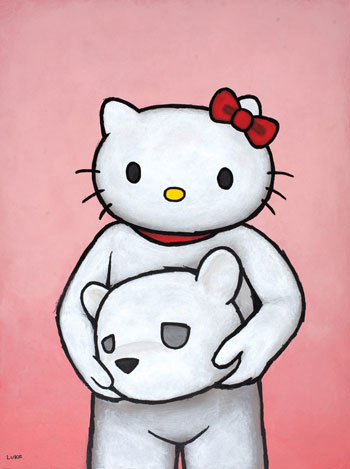 Taking into consideration you personal aesthetic, was it difficult for you to interpret this Hello Kitty work stylistically?

Incorporating Hello Kitty into my work was easy due the cartoon like qualities of my own work.


Were you a fan of Hello Kitty as a child? Like any of the other Sanrio characters?
Not really. Being male and heterosexual, I always considered Hello Kitty and all Sanrio products to be catered towards a female audience. It wasn't till I became an adult and a learned graphic designer did I learn to truly appreciate Hello Kitty and Sanrio's contribution to modern society's graphic lexicon.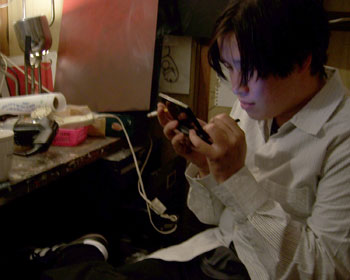 What is it about Hello Kitty that has made her so successful as a brand?

I think Hello Kitty's success is the direct result of her graphic approachability, coupled with the choices Sanrio has made concerning the way her image has been used and distributed around the world.
Hello Kitty Art Show Three Apples Exhibition:
Sanrio Collaborates with 80 Popular Artists
to Celebrate 35 Years of Hello Kitty

On View October 23 – November 15, 2009
Royal/T in Culver City, Los Angeles