Love You Too, Ali Helnwein: part 2
Juxtapoz // Friday, 11 Jun 2010
1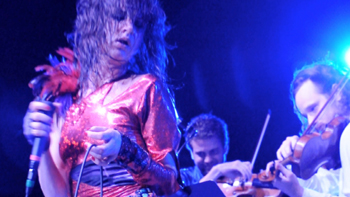 Ali Helnwein is the Sonic Youth of Classical Music. He reformats the music scene of Los Angeles in Chinatown alleys, skateboarding parks, and downtown lofts. This summer, find him in an art gallery with artist Vanessa Prager whom we interviewed
here.
They collaborate on Love You Too.
love you too,
ali
helnwein
by
tommy
tung
"There's a misconception of what classical music has to be," says violinist and composer Ali Helnwein. "It doesn't have to be people dressed in tuxedos in a brightly lit auditorium that holds three thousand people -- and everyone that goes there has gray hair."
Ali then drowns the definition in knowing laughter, for this interview takes place one week prior to his violin concerto RAIN in Los Angeles. Kat Von D hosted the May 27 event, featuring violin soloist Alyssa Park and composers Raven Kane, Sharon Farber, and Gernot Wolfgang. David Campbell was a guest conductor and is also the father of Beck -- and that wasn't the only alternative appeal of RAIN -- the concerto presented original compositions, creative wardrobes, artistic lighting arrangements, and affordable tickets.
"The ticket price is the same as a movie," says Ali. "There's no profit in it, in the end. It's just to cover the costs."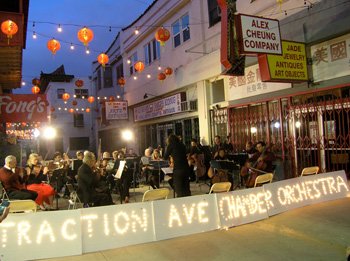 The 28-year-old has a history of profitless concerts. In the last four years, he and his group, the Traction Avenue Chamber Orchestra, have commanded free shows in unclassical spaces -- on a half-pipe in Steve Berra's skate-park (The Berrics), in a lantern-lined Chinatown alley, in a flat above Royal Clayton's English Pub.
This summer, Ali will not charge admission either, when he and his string quartet, The LA Contemporary Ensemble, complement Vanessa Prager's ink drawings for Love You Too. Ticket sales have no role here, because they were never the point to begin with. Barriers are why Ali's music was born, since breaking them is his forte.
"One way I make decisions on how I get a concert together is basically what I would want to see as an audience member. That's how this started -- trying to create something I wanted to see that I couldn't find in L.A.," says Ali who counts RAIN and his upcoming project with Vanessa Prager as part of the underground classical scene.
"The more concerts we have, the more people we get, because people spread the word and they tell their friends: 'I saw this orchestra and I wasn't into classical music,' or 'I didn't know much about it, but I actually had a good time with it.' People will tend to trust their friends and will want to go with them to check it out.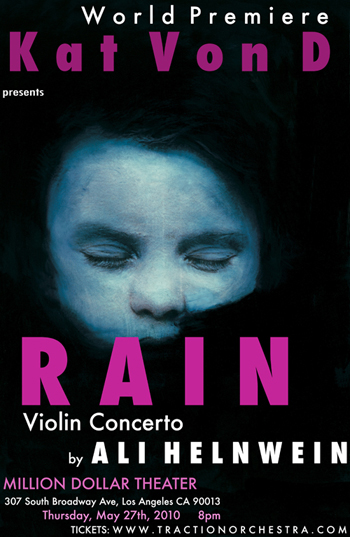 "Kat [Von D]'s role, in that sense, is important [for past productions like RAIN] because she personally has an understanding and an appreciation for classical music, but not necessarily all the people who follow her are fans and supporters [of this music]. Most of them are probably fans of her because of the tattoo world."
Popular personalities such as Juliette Lewis and Nikki Sixx have also collaborated with Ali Helnwein, but the posture of celebrity does not win over all invitees to Ali's performances. Away some are lured -- another song sweet in their ears. Meghan Crowley is one such invitee. The 30-year-old art gallery manager declined the violin concerto RAIN to watch The National whom she believed would play the same night at the Wiltern. "If it's between watching a band I know and one I don't know, I'm going with the one I know," she says.
After Crowley is apprised that The National show fell on May 21 not 27, she is still absent at RAIN.
"I bet you any money if you ask The National who they would like to see, they would probably not go to their own show [if it had been scheduled the same night]," says event organizer Dave Freeman. "They'd turn around and see RAIN."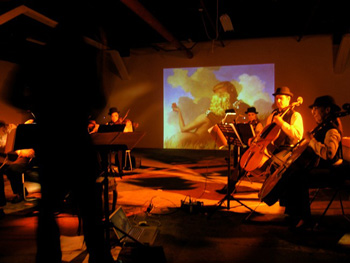 Freeman is the music director for 213 Downtown LA and handles many of their nightlife events, foremost the rock bands at Casey's Irish Bar & Grill. He does not know Ali Helnwein's music, but knows its unusual performance aesthetic would fascinate The National. "It's musician's music," Freeman says and then makes a creative comparison:
"I take what [Ali Helnwein] is doing as something similar to Sonic Youth. It was not traditional the way that they promoted themselves. They were playing in art galleries. They were playing in fashion places. They're basically one of the most amazing art-rock-punk bands of my generation."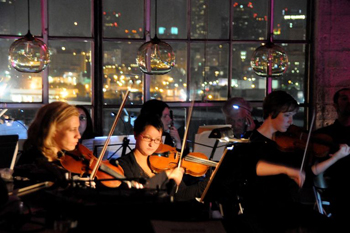 Jody Orsborn promotes music on her site WhenYouAwake.com, "an ode to country life, celebrating everything from classic country and rock to the current indie folk and roots scenes." She does not know Ali's music either, but after learning of his Traction group, she approves of their method: "I love the quirky settings, because you can just happen to be there, stumbling across it, and having that be the experience, like walking around Chinatown and saying, 'There's an orchestra here. This is incredible.'"
Barriers to intrigue? Demolished.
Barriers to all music lovers? Still intact.
The latter is the contention of Rachael Worby, Music Director of the Pasadena POPS, who necessitates that Ali's music reach traditional audiences, too. Appointed by President Clinton to serve on the National Council on the Arts, Worby had in her sights the legacy of all human imagination -- and she still has it -- citing that even The Metropolitan Opera preached far too long to the choir. Their recent program however, The Met: Live in HD, rectifies this and presents operas in movie theaters nationwide -- an affordable and accessible solution. Worby believes the lessons from all artistic institutions can benefit the Traction group and underground devotees:
"It's like the stanchions or the guards that stand in front of Picasso's 'Guernica' or Monet's 'Water Lilies' at the Museum of Modern Art in New York. 'Don't touch. Don't get too close. Don't stand here.' The truth of the matter and what we have all discovered is the closer you get, the more you're going to like it and appreciate it," says Worby.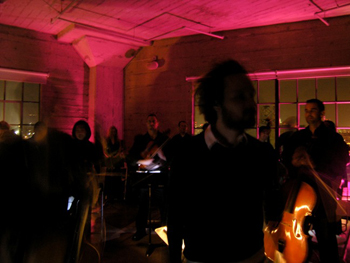 Suggestions aside, Worby endorses RAIN: "Ali Helnwein is embarking on a fantastic project." Troubling to her though is his self-declared affiliation with the underground classical scene:
"I would object to the use of the word, 'underground,' because I think that creates a barrier, as if there is an over-ground and underground and the Pasadena POPS and L.A. Philharmonic are one thing -- I think we all need to be on the same ground, and we all need to believe that our first devotion is to providing great live music for as many people as possible."
Freeman with his punk-rock-penchant welcomes the countercultural conduct of the Traction Avenue Chamber Orchestra:
"Listening to punk rock and anything that had loud guitars, anything that was anti-establishment, I was all about it. When I [worked] at [The Gorfaine/Schwartz agency], I realized that composers -- so many of them -- are multi-instrumentalists. They can play almost anything. I never really understood until that moment that composers are also artists. There were classical compositions that were punk rock back in the day. Some of those compositions were as rebellious as when Slayer or Metallica came out. Everything starts independently."
Classical aficionado, Jim Eninger, views Ali's experimentation in the same light as the Classical Underground, a monthly series in the Carson loft of painter Alexey Steele -- both innovators reminiscent of Peter Yates and Frances Mullen's Evenings on the Roof, a chamber music program started in 1939 and hosted in a Rudolf Schindler-designed home; its nascent years absorbed critical fire; then it resided at LACMA for three decades until arriving at the Zipper Concert Hall as Monday Evening Concerts.
Eninger is a living calendar of classical music shows in L.A. and broadcasts that anima to 5000 email subscribers. His pulse on the scene is vital to listeners and his optimism crucial. "There's a myth that classical music is dying out in Los Angeles, but it's not." Of Ali Helnwein, he notes, "There's no pun intended when I say this, but he is finally getting some traction," for chamber groups are an encouraging auspice to Eninger.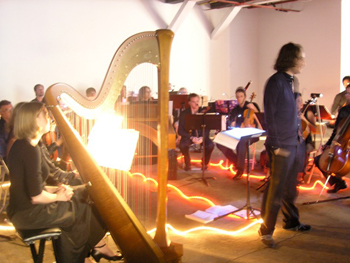 But composer Russell Steinberg does not invest everything into "composer collectives." They are essential, but an aspect not an answer. In particular, their life expectancy concerns him.
"The problem is that [composer collectives] usually have difficulty sustaining themselves, both financially and artistically," says Steinberg who also lectures on music composition and theory at UCLA.
"Collectives, as they grow, start to split from differences just like pop groups, so they tend to burn brightly for a few years then wane. Nevertheless, this is a magical time in L.A.'s classical scene, even though it's not reported. These kinds of collectives [like the Traction Avenue Chamber Orchestra] should be encouraged."
This uncovers the nuclear reactor of Ali's music -- not the underground minority but the fellowship of all peers -- kindred no matter their attachment to an underground, a chamber, or a concert hall. They are fluent in the language Ali calls, "universal," the one Eninger deems "a journey."
As for newcomers to Ali's underground performances, they can carry on as Ali hopes and "go see bigger and more serious orchestras and larger works and have the patience to sit through things like that." They can see the interdependent ecology of the arts -- of his music and Vanessa Prager's drawings. They can find their souls in concord and out of the underground and at the level where Rachael Worby waits for them "all on the same ground -- the highest ground."
-----
If you haven't read part 1 of Love You Too with Vanessa Prager, read it here. Last year, Tommy Tung interviewed Ali's sister, Mercedes Helnwein, here and here. Then he wrote two narrative essays about her here and here.
----- the musician -----
Ali Helnwein is a violinist and composer in Los Angeles. He has a family of artists: Gottfried Helnwein, Mercedes Helnwein, Cyril Helnwein, and model/actress/musician Kojii Helnwein. Listen and learn at www.alihelnwein.com
----- the writer -----
Tommy Tung lives in Los Angeles but prior to this article didn't know about classical music in the city. Admittedly, he is still learning. He writes fiction mostly and rock music after that. He was born at 3 p.m. He will die when he feels like it. Give him the time of day at tungtalk@hotmail.com