"Los Angeles: The Architecture of Four Ecologies" Turns 40
Juxtapoz // Monday, 25 Apr 2011
1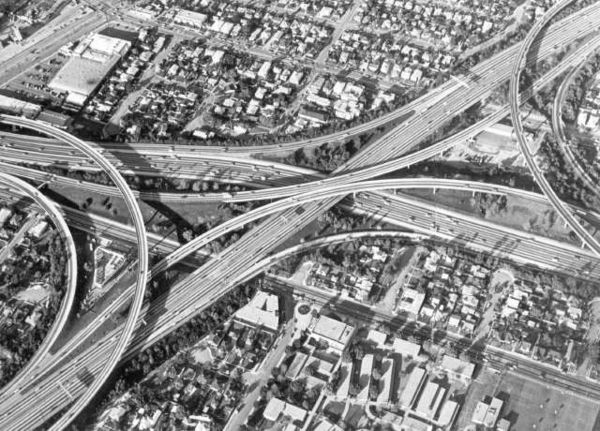 One of the great volumes to capture the urban and architectural complexity of Los Angeles,
"Los Angeles: The Architecture of Four Ecologies,
" written by British architect Reyner Banham, turns 40 this month. Some have called it
the
textbook on Los Angeles. The longtime admirer of LA, Banham's book explores "traditional architectural history with impressionistic reports on what it was like, in those days, to drift carelessly from one highway interchange to another or to explore the 'four ecologies'."
The book was broken into 4 parts: the flatlands (which Banham labeled the "Plains of Id"), the beach cities ("Surfurbia"), the freeways ("Autopia") and the foothills.
The LA Times writes:
The point was to suggest the multi-centered character of Los Angeles, its easy mobility and its essential informality. "Simply to go from the oldest monument to the newest could well prove a short, boring and uninstructive journey," Banham wrote in the opening chapter, "because the point about this giant city, which has grown almost simultaneously all over, is that all its parts are equal and equally accessible from all other parts at once.
"
Banham also called the freeway system in LA "one of the greater works of Man," and singled out the interchange of the 10 and 405 freeways "a work of art." After spending a few hours around that interchange in traffic, you may have a different opinion.
As one of the defining texts on the overall layout and design of LA, it's interesting to look at
"Los Angeles: The Architecture of Four Ecologies"
40 years later to see how it holds up, and if the city has held up its end of the bargain.