LORDS vs CoBraS at Project One in San Francisco
Juxtapoz // Friday, 22 Apr 2011
1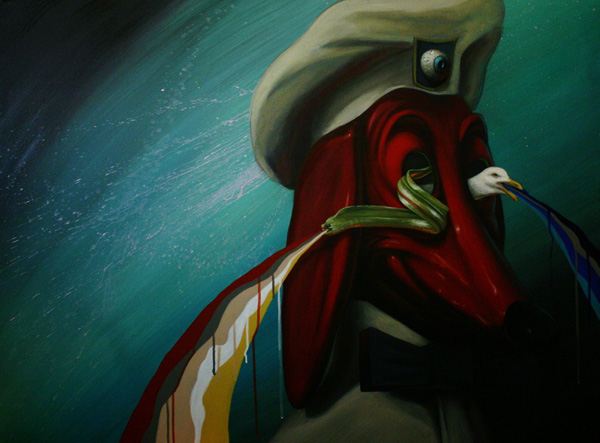 Tonight, Friday April 22 in San Francisco, Alex Pardee, Craola, Robert Bowen, and others will all be opening an exhibit at Project One called, perfecty, LORDS vs CoBraS. LORDS being a crew from San Francisco, and CoBraS being a crew from Los Angeles, so this seems to be a bit of a California affair.
Here is the full press release below. Both pieces of art are from Robert Bowen.
LORDS vs CoBraS
April 22—May 15, 2011
Opening reception: Friday, April 22, 7pm-late. 21 and over
A graffiti-inspired exhibit highlighting two inspirational and driven graf crews from the San Francisco Bay Area and Los Angeles come together to offer an array of art, representing urban graffiti styles, as well as their exceptional talents aside from landscapes and murals.
LORDS Production Crew has operated in SF for almost two decades, manipulating the stark walls of the urban landscape to make the wasteland a tad more livable for those lucky enough to notice and appreciate their nocturnal artwork. LORDS claims the wall facing Amoeba Records on Haight as one of their collaborative murals. LORDS members have been featured in the documentary Piece By Piece, chronicling 20 years of SF graffiti, as well as the independent feature film Quality of Life, a fictional drama about SF graffiti writers.
CBS (CoBraS) crew, based out of Los Angeles, is of the most influential and recognizable graffiti crews to come out of United States. Since the early 1980s, CBS has been at the forefront of evolving graffiti art into a true and viable medium. Over two decades members have come and gone but a strong nucleus bonded by the three letters allow for the consistency and standard of art that is branded by CBS Whether CBS stands for Can't Be Stopped, Clear Blue Skies, Creeping Behind Shadows, Created Before Sunrise. The philosophy of what it means to be a member is consistent: represent all aspects of true LA-based graffiti art.
LORDS vs CoBraS will feature performances and DJ sets by:?LA JAE, DJ Synkronik, 1987, Stereo13 (formally Existereo), Speak Easy and TopR.
Arrists include: Alex Pardee,? Axis?Atlas, ?Haste,? Esel?Nicnak,? Greg "Craola" Simkins,? Hex,? Dment,? Shaun "Kasl" Singer, ?Natoe,? Aura,? Dytch 66,?Richard "Xpres" Taylor, Mers,? Robert Bowen,? Pastime,? Adee,?Ricky Watts,? Marcos LaFarga,? Defie,? Satyr,? Timber, ?Werm,? Rome,? Rebuke