Looking Inside Your Spam Folder x Donwood Prints
Juxtapoz // Friday, 03 Sep 2010
1
Correlating with the opening of Stanley Donwood's first-ever U.S. show entitled "Over Normal", FIFTY24SF Gallery is releasing a line of prints - four using giclée printing methods sized 30" x 21", and three screen prints on acid-free archival paper of varying sizes.
One of the larger themes of the exhibition is the use of words collected from spam emails juxtaposed with the seven primary colors that Stanley noticed being utilized in billboard advertising to draw in a person's attention - the screen prints 'FORGOT WAS SORRY' (25.5" x 26") and 'DESIRE ENLARGMENT' (25.5" x 29.5") feature these primary colors and are limited to an edition of 40 each.
The other screen print and giclée prints relate to the sound installation that Stanley Donwood and physicist John Matthias have accomplished for the FIFTY24SF Gallery exhibition entitled "The Overnormalizer." The installation mimics the result of a neuron firing in an artificial neural network using two sound sources: a voder speaking the words of Spam, and a single violin played by John Matthias - the result is a haunting, unsettling and somehow beautiful ever changing body of sound. The set of giclée prints are the actual data and raster plots that were used as the starting point for The Overnormalizer and are limited to an edition of 10 each. And the screen print ' 'NEUROGRANULAR SAMPLE' (set of 40) superimposes multiple of these raster plot graphs using the primary seven-color palette that is used in the "Over Normal" exhibition showing at FIFTY24SF Gallery from September 2nd - October 27th.
All prints are available at FIFTY24SF Gallery and online at the Upper Playground Web Store.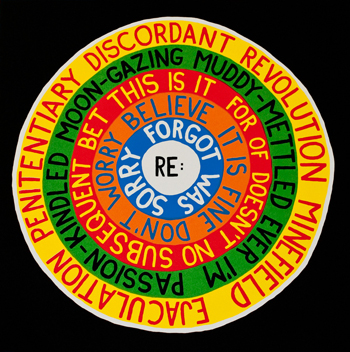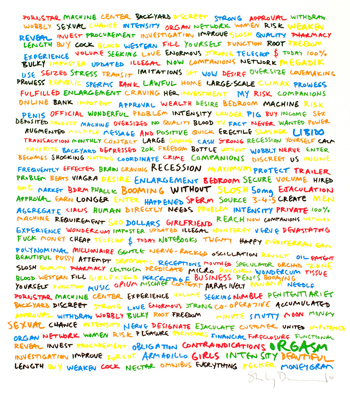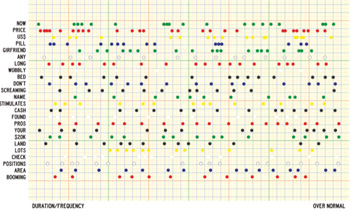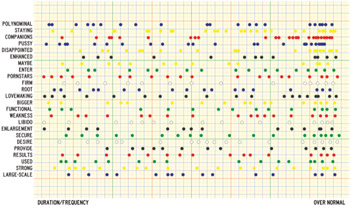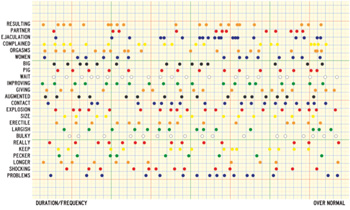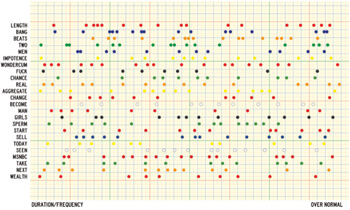 About Stanley Donwood:
When thinking of iconic imagery in music from the last 20 years, Stanley Donwood's work with Radiohead invariably comes to mind - and for good reason. Where Radiohead's music stretched the auditory horizons and painted musical sceneries of mans place in the modern world, Donwood's imagery and packaging forced us to face the gravity of the music from the minute the album hit our hands; and by creating cryptic, academic and (at times) dystopian layouts, the albums themselves became as striking and relevant as the music they contained. Although Stanley Donwood generally avoids the grandeur of media and would prefer to be undersold, to speak only in terms of his work with Radiohead would be a disservice. From his exhibitions of intricate etchings at Lazarides Gallery in London, to the vibrant works that made up his show at Iguapop Gallery in Barcelona, Donwood's gallery work has consistently mixed personal and political emotions with modesty and humor.