London Preview Studio Visit x Talk with Conor Harrington
Juxtapoz // Wednesday, 05 May 2010
1
Conor's studio is conveniently located in Shoredich and offers quite ample space considering London's exorbitant rent. In case you are not familiar with Conor's work, he is an Irish painter with a background in street art that essentially fell in love with a medium before he knew how popular it was worldwide (graffiti and tagging). This individualism and drive made for an artist used to working and self-motivating in a way uncommon for most street artists. His dedication finally paid off when he landed a major gallery showing with the help of his soon to be girlfriend, Chloe Early.
Chloe fell in love with his work (and later, him) and the pair moved to London shortly thereafter. From there, the rest – as they say – is history in the making. Both artists have a beautiful way of marrying the realistic fine portraiture work perfected with hours of studio practice and lessons with more abstract and fluid movements.
After moving to London 4 years ago, Conor rapidly made an internationally know name for himself with his studies of current pop culture, male dominance, and history in combining his realistic figurative works with looser, more freeform swirled of paint and tags intermingled. The results are impressive online or in a book or magazine, but viewing the works in person as well as in-progress is truly awesome.
Conor has a show coming up with Lazarides gallery at their special summer pop-up space in downtown Los Angeles this June. He allowed us an exclusive first peek at all the pieces he has been working on for this show before he heads off to Israel and the West Bank to get some of his street pieces up in the Middle East (more on this new plan soon).
Conor plans on showing four very large canvases at the June show, all of which continue his fascination with male figures in history and their symbolic relevance to current pop culture. In this new series, he incorporates more lettering than in some past canvases, referencing truth and theft in ways that mimic his past show, Said the hero to the thief (after a Saul William poem). The artist allowed us to look about his London studio space at the beautiful new pieces. Upon leaving, all we could think was, 'Conor is really fucking cool.'
More from Conor Harrington at http://conorsaysboom.wordpress.com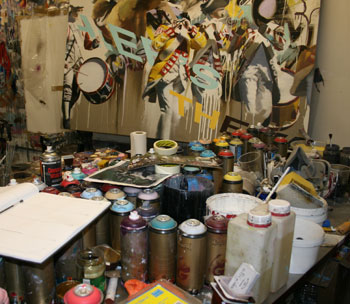 A busy studio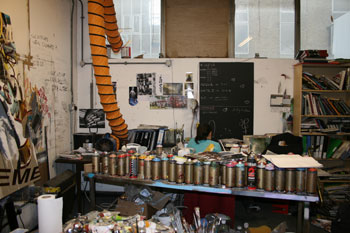 Lots of spray cans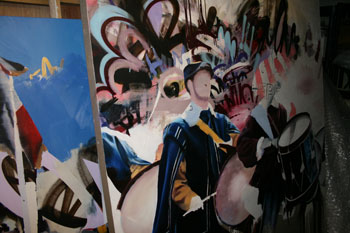 An in-progress piece for his June show. He works on all pieces at once, day by day.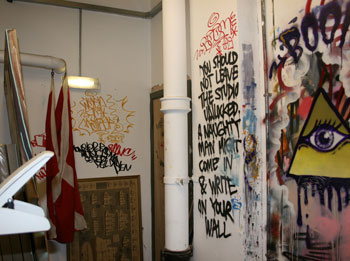 The studio entrance with various tags from visitors.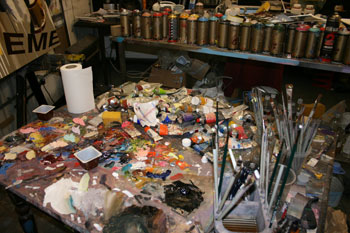 Paint tubes and paint gobs.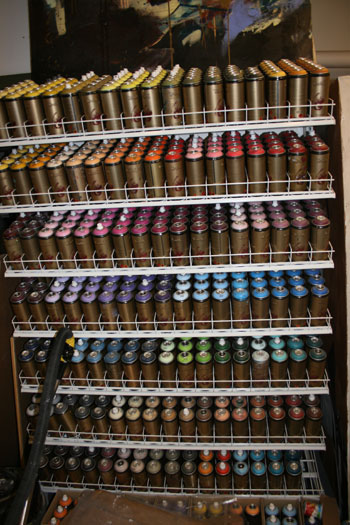 Perhaps the most impressive and well-organized collection of aerosol spray paint we've seen outisde of a commercial shop.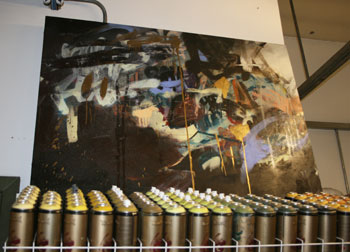 The only personal piece Conor keeps in his studio, directly above his spray can mecca.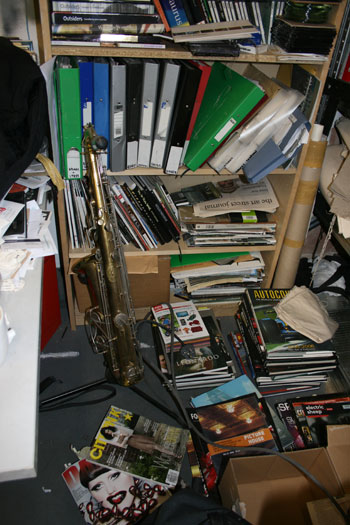 His saxophone, which he brought into the studio in the hopes he would play it more often. He hasn't.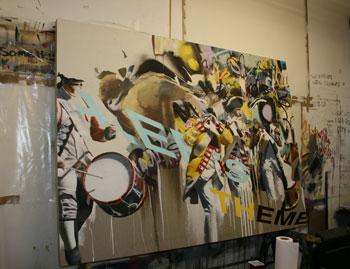 The masive piece he is working on now. "I look at it and just see all the work that needs to be done in time."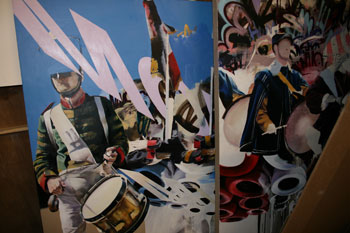 Another incomplete new piece.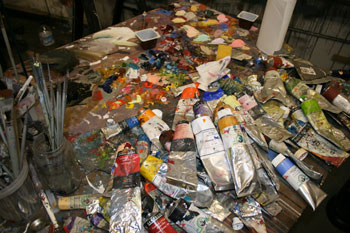 Tools of the trade.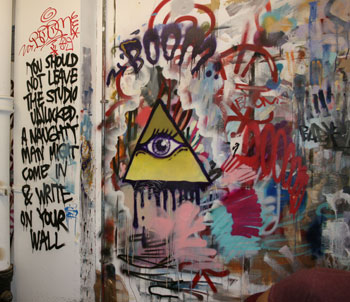 A closer look at the colorful studio wall. "You should not leave the studio unlocked," the wall warns. "A naughty man might come in and write on your wall."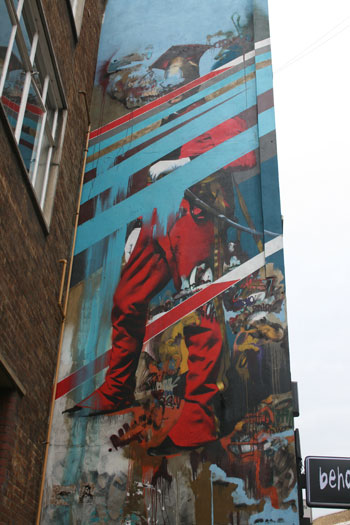 Around the corner from Conor's studio, this massive three-story street piece still stands.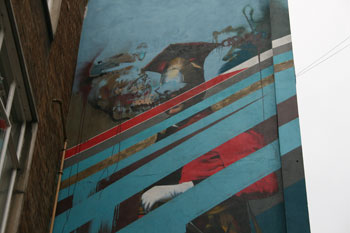 The immaculate lines and attention to detail on much a grand scale is impressive.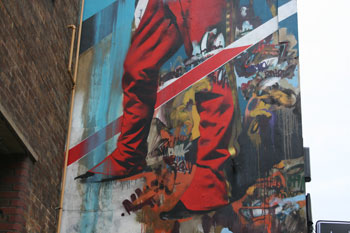 A close-up of the soldier's feet.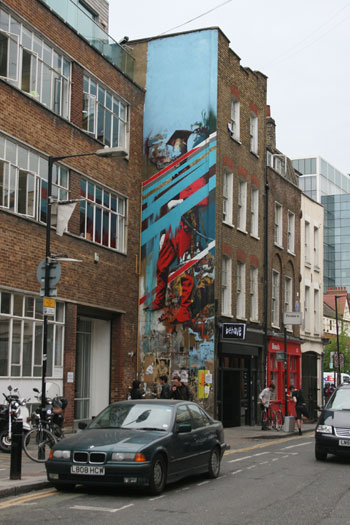 London is a lucky place.
A recent video with Conor Harrington:
Outsiders: Conor Harrington - Click here for more home videos