London Miles Gallery Presents Victor Castillo & Luke Kopycinski
Juxtapoz // Wednesday, 08 Dec 2010
1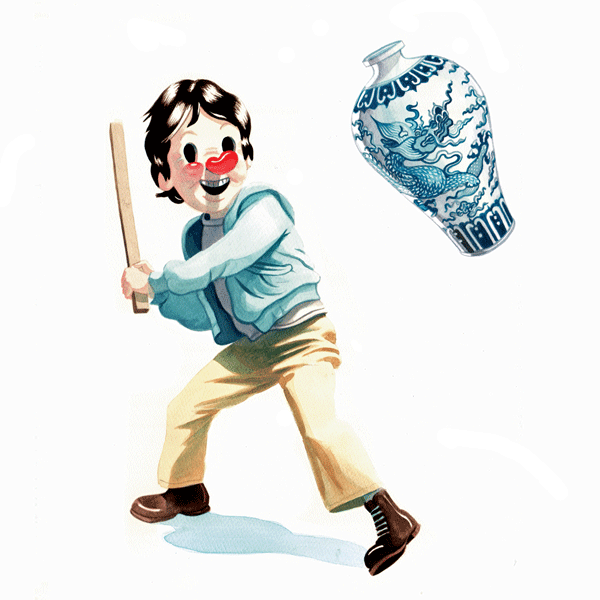 London Miles Gallery
celebrates their Westbourne Studios Christmas party this Friday night, December 10, as well as their Victor Castillo and Luke Kopycinski opening, on view through January 20, 2011. Running concurrently is
(WTF Is?)
Lowbrow in the Project Space, also on view until January 20, 2011.
The gallery has a few small surprises up their sleeves that will make this a memorable event to celebrate the festive season. Which generally means lots of mulled wine and mince pies and pounds of festive merriment.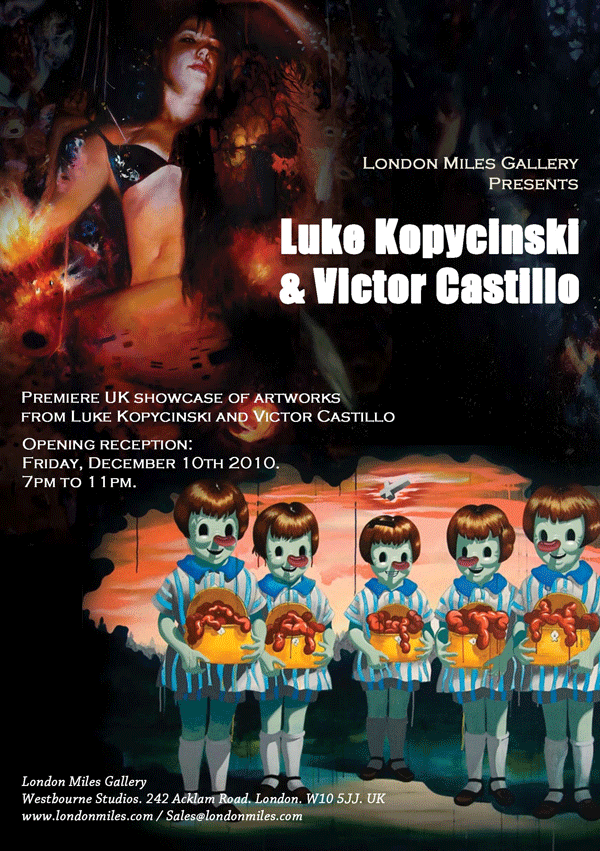 Luke Kopycinski is an Australian born artist who currently is working and living in San Francisco, California. His work is intriguing, dark and has an underlying current of something very human. Best described as Dark Noir, his subject matter is of the beautiful and the melancholy, aspects of the people around him, both what they project on the outside and what they keep inside. His oils are a mix of realism and impressionism, a mixture of strong soft shining lights and heavy sharp shadows that centre the focus of the pieces. His graphite works have been described as painting themselves, illusionary in depth and form with imagery like deceptively frozen moments.
The work of Victor Castillo strikes like a swift blow to the stomach and stirs the innards of a popular iconography fed by comics, illustration and television. His drawings produce slogans on daily consumption and monstrous beings enslaved to flesh and money. This production, consumption and digestion of statements reveal the violence of everyday life and denounce the universality of rationality incarnated by diabolical figures of animals or humans. Victor Castillo was born in 1973 in Santiago de Chile, where he was a member of the art research collective Caja Negra. His work has been shown in various countries such as Spain, Chile, Argentina, Brazil, the United States, Canada, Belgium and Taiwan. At the moment Victor Castillo lives and works in Los Angeles, California.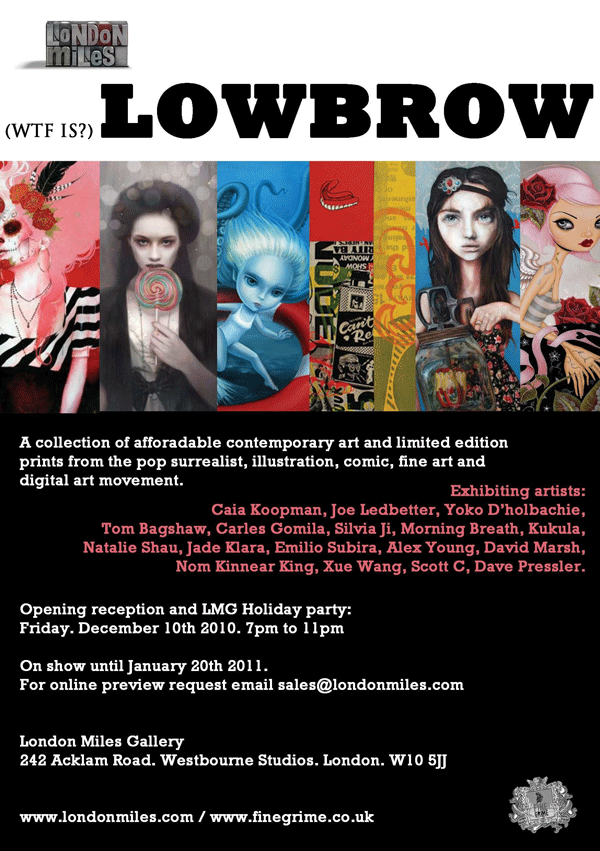 Project Space:
(wtf is?) LOWBROW
Lowbrow [!l"#$bra#] Disparaging a person who has uncultivated or non intellectual tastes
Wikipedia describes Lowbrow, or Lowbrow Art as: an underground visual art movement that arose in the Los Angeles, California, area in the late 1970s. Lowbrow is a widespread populist art movement with origins in the underground comix world, punk music, hot-rod street culture, and other subcultures. It is also often known by the name pop surrealism. Lowbrow art often has a sense of humor - sometimes the humor is gleeful, sometimes impish, and sometimes it's a sarcastic comment.[2] Most lowbrow artworks are paintings, but there are also toys, digital art, and sculpture.
Today, however, the term Lowbrow is no longer suitable to carry the weight of defining a more complex new art movement.... hence the question; What is Lowbrow? Many artists do not like the word, and others accept that there is not any other word to relate to, whilst the general public may never have heard of it. So far we loosely describe the complete movement as New Contemporary. Although how long will "New" be new...and how vague is the title "Contemporary Art"?We find ourselves being forced towards the identity crisis of not having an umbrella to group under. As a generation of artists, galleries and curators that are working in what is fast becoming a new art movement, we are constantly describing the artwork as being a steady mix between illustration, comic, dark surrealism, pop surrealism, gothic art and the newer medium of digital artwork. We are our own group of art lovers and art critics, that do not depend on the media for reassurance. There is no need to look for approval from our art teachers. What brings this group of emerging artists together is their ability to be free from any rules that the typical 'High Brow' art world applies. This is a robust generation of creative forward thinkers that grew up with Disney cartoons and watched the beginning of the digital age with Pixar. We are the first generation of DIY marketeers, web designers and self made artists. This is a new generation of talent that does not need to depend on a title, or conventional tradition to define itself. Our definition is refined through our way of life and our ever-evolving interests. We have the world at our fingertips and our inspirations, ideas and abilities are endless.
(wtf is?) Lowbrow features a collection of artworks from a group of London Miles Gallery artists. The exhibition will include original paintings from Xue Wang, Alex Young, Nom Kinnear King, Tiffany Liu, Joe Ledbetter, Scott C, David Marsh, Morning Breath, Fernando Chamarelli and limited edition prints from Silvia Ji, Caia Koopman, Kukula, Jade Klara, Carles Gomila, Tom Bagshaw and many more.
London Miles is the UK's foremost gallery for exhibiting, nurturing, and unearthing artists working within the realms of surrealist, pop, lowbrow, comic book, and illustration art. With our unparalleled dedication to these subcultural art forms, London Miles provides the ideal gateway through which to explore these diverse and provocative genres, for both long-term art enthusiasts and newcomers alike. Our regular solo and group exhibitions, held intermittently at site-specific venues across London, exclusively showcase the work of some of the most renowned international proponents of the lowbrow art movement. Through our exhaustive network of international contacts London Miles proudly introduces internationally recognised artists to the UK, as well as handpicking the best emerging new talent from across the globe to exhibit here in Britain.
Located in the creative heart of west London, the London Miles showroom houses an ever-evolving collection of work from our extensive roster of artists. Traversing the traditional boundaries of a conventional whitewall gallery, the London Miles showroom is the perfect environment in which to absorb and explore an abundance of original artworks and prints, as well as a variety of art books, magazines, and plush and vinyl figures.
London Miles Gallery is located at 242 Acklam Road. Westbourne Studios. London. W10 5JJ. United Kingdom. (44) 020 317 08618/  HYPERLINK "mailto:info@londonmiles.com" info@londonmiles.com