Image Gallery
Lisa Yuskavage @ David Zwirner NYC
Juxtapoz // Tuesday, 27 Sep 2011
1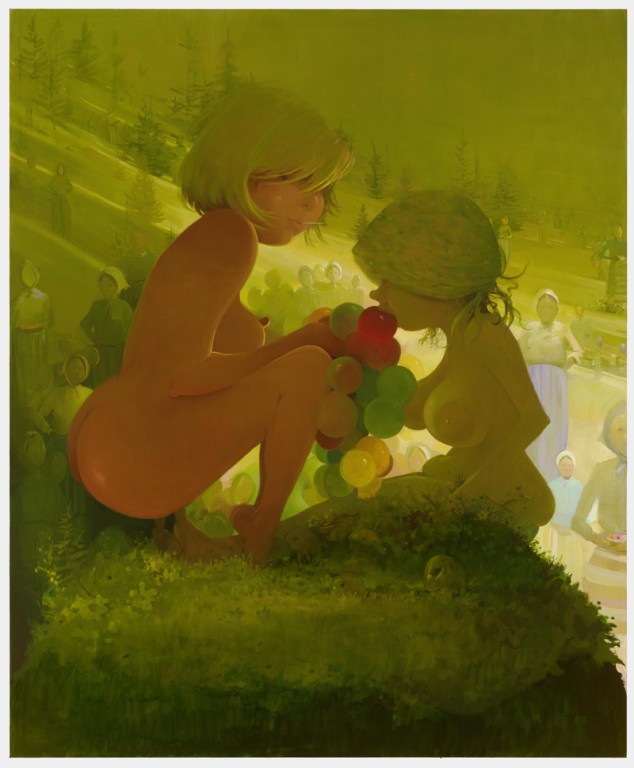 Looking through our emails here in Norway, we wanted to make sure that if you lived in NYC and liked a certain kind of erotic art done in oil paint with a bit of cartoon fine art flair, then you should check out Lisa Yuskavage's new solo exhibition at
David Zwirner
opening tonight, September 27.
This exhibition is Yuskavage's third solo at the NYC space. 
Zwirner notes: Over the past two decades, Yuskavage has developed her own genre of the female nude: lavish, erotic, cartoonish, vulgar, angelic young women cast within fantastical landscapes or dramatically lit interiors. They appear to occupy their own realm while narcissistically contemplating themselves and their bodies. Rich, atmospheric skies frequently augment the psychologically-charged mood, further adding to the impression of theatricality and creative possibility.

For this exhibition, Yuskavage takes her complex narratives to a larger scale, whose sheer vastness adds a cinematic component to the works. More so than previously, this new body of work appears to merge the genres of landscape, still life, and portrait painting. Despite their immediacy, the plots reveal themselves slowly over time. Her compositions are equally prolonged: the terrains are more spacious and more intricately articulated than in previous works, which heightens a sense of realism while at the same time dismantling easy construction of meaning.
The exhibition will be on display through November 5, 2011. There is a collection of new and older works by Lisa in the gallery below.