Limited Todd Schorr Designed for Extinction T-Shirt
Juxtapoz // Monday, 21 Jun 2010
1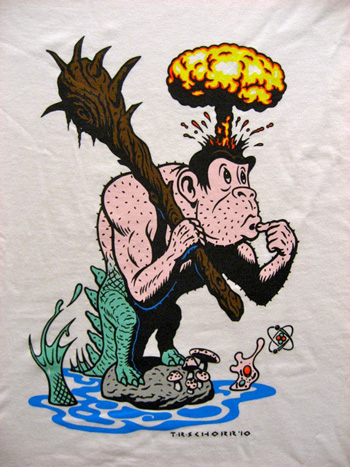 Surrealist master Todd Schorr just sent us over this preview of his limited edition t-shirt, which he will have at this Saturday's opening for Designed For Extinction. Only 250 will be available, so arrive early.
Fashioned with Hurley, the Designed For Extinction shirt will be available exclusively at this Saturday's opening, June 26, from 4-7PM. They are priced at $10 each, at a first come first serve basis.
About the show:
Designed for Extinction comes to Otis College of Art and Design from June 26 through September 11, 2010 at Ben Maltz Gallery. It's a solo exhibition featuring 50+ paintings and preliminary drawings from the last ten years by Los Angeles-based artist Todd Schorr, a leading figure in the Pop Surrealism and Lowbrow art movements.
Schorr is inspired by Renaissance masters such as Hieronymus Bosch, Pieter Bruegel, and Salvador Dali, as well as the early animated cartoons of Walt Disney and Max Fleischer, underground comics best exemplified by Zap, and classic films from the 1930s such as King Kong and Frankenstein. Using the exacting techniques of the old masters, his highly polished, fantastic paintings are intricate narratives about evolution and the plight of man.
Schorr says: "Like any artist of worth, it took many long years of struggle and investigative thought along with trial and error as well as constant honing of technique to reach the point where I felt I had created a language which, when spoken well, would command some semblance of purpose. I work in what is best described as a surreal style but filtered through the mind and eyes of what is, for better or worse, uniquely American."
Additional information on Todd Schorr: Designed for Extinction is available online at www.otis.edu/benmaltzgallery
Otis Continuing Education is offering exhibition-related, art-making workshops for kids and families during the exhibition July 10, 31, and August 21, 10am-12pm. The gallery hosts a conversation with Schorr and Curator Meg Linton on Saturday, September 11 at 3pm.
Otis College of Art and Design
9045 Lincoln Blvd, Los Angeles, CA 90045
Parking & Admission: Free.Visitor parking in structure on La Tijera.
Hours: Tue-Sat 10am-5pm / Thu 10am-7pm. Closed Sunday, Monday and Feb 13.