Levi's Wear What Fits Event: Free Curve ID Jeans while Zooey Deschanel She x Him Perform
Juxtapoz // Wednesday, 15 Sep 2010
1
Ladies, sometimes jeans just don't work anymore, that it is time to pass that antique lamp, sweatshirt, throw rug, handbag or pair of jeans into someone else's life.
Starting at 10 AM on Friday, September 17th, stop by Union Square, SF and bring something that doesn't fit (which will be donated to Goodwill) and at the same time, get something that does. A free pair of Levi's® Curve ID jeans. New custom fits for women.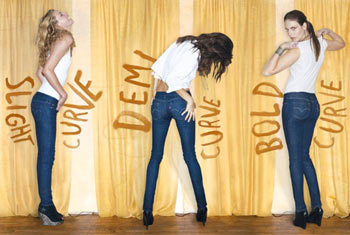 It's first come first served, while supplies last, so get there early! Hotness comes in all shapes and sizes.
Oh yeah, and it gets even better. Check out Zooey Deschanel and M. Ward's band, She & Him perform live and meet style guide Bobbie Thomas.
Levi's® Wear What Fits Event
Friday · 10:00am - 5:00pm
Union Square, San Francisco
Powell Street at Post Street
San Francisco, CA