Letters and Ligatures from House Industries
Juxtapoz // Wednesday, 12 Nov 2008
1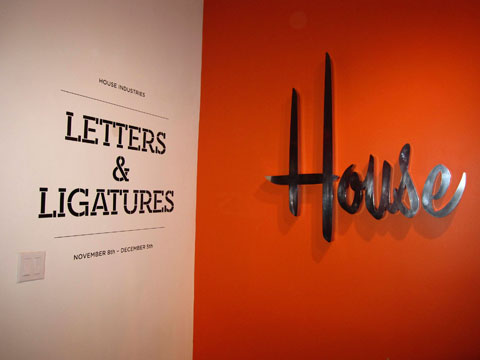 Delaware based typography foundry House Industries (Rich Roat, Andy Cruz, and Adam Cruz) has an obsession with letters and corresponding ligatures. Good thing they have able to show off their sexy lettering in a new show, appropriately titled Letters and Ligatures, at Subliminal Projects Gallery.

The work of creating letters may seem like an oxymoron (haven't 26 letters already been created?) but that that would do a massive injustice to this creative trio, as well as the alphabet (and why would you want to do that when its done so much for you?)

See what all the hype is about surrounding simple lettering and Letters and Ligatures from Trina Calderon below: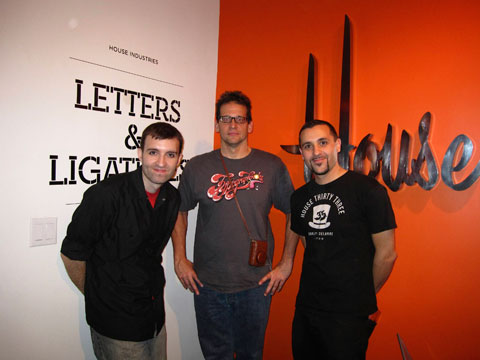 Letters and Ligatures
House Industries

November 8th - December 5th, 2008
SUBLIMINAL PROJECTS GALLERY

Words and photos by Trina Calderon

The past weekend was bumping in Los Angeles. A protest against Prop 8 took the streets over at Sunset Junction, and not too far down the same boulevard, there was a great party going on at Subliminal Projects for the Letters and Ligatures opening.

House Industries, a Delaware-based typography foundry (these guys are type nerds and will gladly admit it!), had a show based on their romance with letters and ligatures (combinations of letters). Rich Roat (Owner and Operator), Andy Cruz (Owner, Art Designer), and Adam Cruz (Illustrator) were on hand and excited about what they were able to show.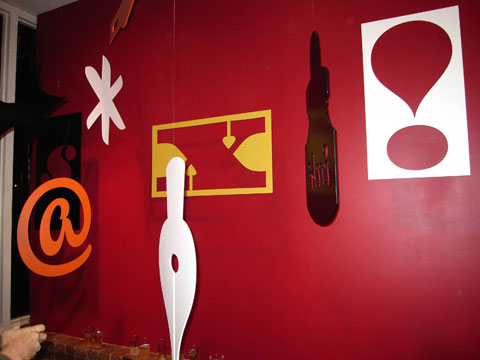 Their business, the work of creating letters, can be an incredibly long and tedious process and it was a delight for them to be able to see their work in 3-D. Rich Roat explained their approach, "When Shepard asked us to do the show, it took us a while to figure out a theme. We thought it should be about what we do – in that sense, I mean letters and ligatures because we draw letters, and ligatures is a word for combinations of letters. That's what we do mostly all day: we look at combinations of letters. We try to make the letters stand alone as pieces of art, but we also try to make them work together and that is what this show is about."

Two of the coolest pieces in the show are the large cast iron question mark and an ampersand, the latter of which weighs in at about 150 lbs. On the question mark, Andy Cruz said, "There's something really nice here. A lot of people think Riddler, but when you sort of strip away, and just look at the curves and the forms, that's one of things that what we get excited about when we are actually designing the type."

The gallery reshaped itself for this new show, letting the artists bring in some color and actually paint two of their normally white walls. The large ampersand is set up against an orange wall and against the punk rock green is the alphabet family from their Neutraslab typeface. The large white letters are fun and have a warm and open feeling and its no wonder because they are based on the architectural lettering that Richard Neutra used to specify. The little slabs off the letters are called slab sterifs.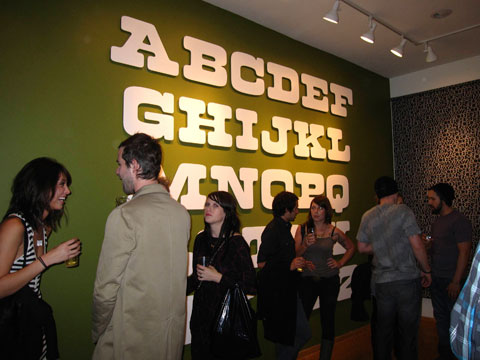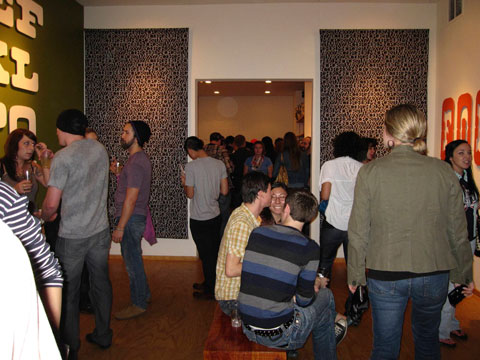 On the long hallway wall in a pale mint green and black are large stencil versions of the letters. "Most of the time letters go out and are used as tools for ad agencies and designers. We are trying to isolate them in here as pretty objects, but if you look across the street they are actually working for the Dodgers billboard," Andy shared. In fact, the billboard outside the gallery features a House Industries font! They have also done the font for The Quantum of Solace ads that you see at the bus benches. "The biggest question we get is – why do we need more fonts? The answer is we don't need more fonts, we need better fonts, or we need different fonts," Rich told me.
Adam Cruz added, "What's the difference between with letters and music? There are only so many notes that you can play, but there are 26 letters. There's always new songs so why not new fonts?"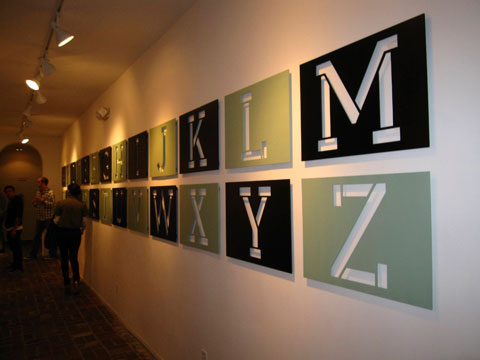 House Industries enjoyed making these pieces for the show and visit their website (www.houseind.com) for a closer look at the great 3-D products they make – the big seller at this show were the smaller cast-iron ampersands, weighing in at 16 lbs each, all unique. They actually place them outside to rust and show beautiful character in their texture from imperfections they gain from the cast mold used.

Rich added, "If letters are the essence of our communication, they might as well look cool."

Letters and Ligatures runs through December 5th, 2008 at
SUBLIMINAL PROJECTS GALLERY
1331 W Sunset Blvd
Los Angeles, CA 90026
E: info@subliminalprojects.com
P. 213.213.0078