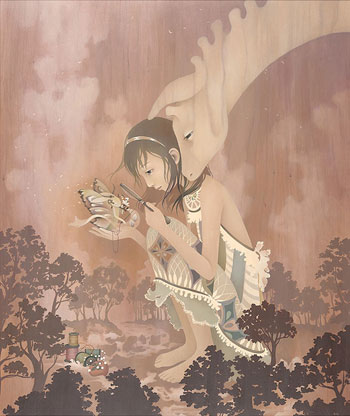 Contributing writer Matthew Newton conducted a great interview with Amy Sol. Sol is a Korean-born, Las Vegas residing painter who makes our collective dreams an artistic reality.
As a child, illustrator Amy Sol admits she was shy, and that art provided her an alternate means of communication. In fact, this may have been what caused her to gravitate toward art at a young age. But the inherent beauty of visual storytelling also grabbed her attention. The latter idea is one evidenced in each of Sol's ethereal illustrations. She has a natural ability to flesh out entire worlds within the space of any given painting or illustration. And not only does her work consistently demand close examination, it is loaded with emotion and wonder that.
Born in Korea, Sol later relocated to Las Vegas where she currently lives and works. A self-taught artist, she bypassed art school, trusting her own creative instincts to guide her in her work -- a choice that has proven wise. With a solo exhibition slated for next Fall at Joshua Liner Gallery in New York, and a monograph of her work currently being assembled, Sol remains busy. -- Matthew Newton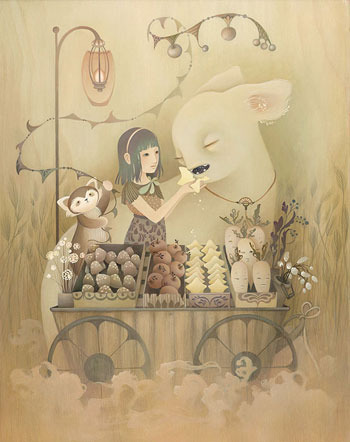 Matthew Newton: What first attracted you to illustration?
Amy Sol: As a child, I was very terrible at communicating and socializing, so art naturally became a comfortable means of exploring for me. On a broader level, I think illustration is a beautiful means of storytelling and expression and this attracts most artists who are instinctively creative.
You grew up in Korea and later moved to Las Vegas, where you still live today. Can you talk about how you handled the transition? Was there much culture shock?

I was young and I don't think I knew the difference. Besides, my mother came from Korea and my dad is American so I was inherently accustomed to both types of cultures.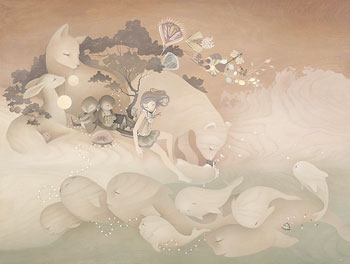 In your bio, it says that the characters in your illustrations often express "peaceful reflection and a sense of companionship." Is there an overarching theme, or themes, you try to express in your work?
Certainly, there really is some kind of mood or theme I gravitate to. I tend to paint things that I love in regards to colors, shapes, and expressions. I also have a tendency to use illustration to map things out in my personal realm. This idea came to me when looking back at some of my work, I notice that the paintings often reflect something happening around me at the time, but strangely I am never conscious of it while I am painting.
The color palette you work with is very unique -- your colors are distinctive, muted. Is there a conscious effort on your part to work within the palette you've created for yourself?

Color is very important to me aesthetically, one part of my brain operates color; another focuses on illustrating; and one area does the mechanical part. There are times when one area is not working as good as another. On occasion, while I am painting, the whole image becomes nonsense or really abstract and the colors stand on their own. That's really trippy, but I like when it happens because it shakes up reality a bit and shows another way of seeing things. I just adore colors and want to learn more about them. I feel I have barely scratched the surface.
Read this full interview by Matthew Newton here.
More info on Amy Sol at www.amysol.com