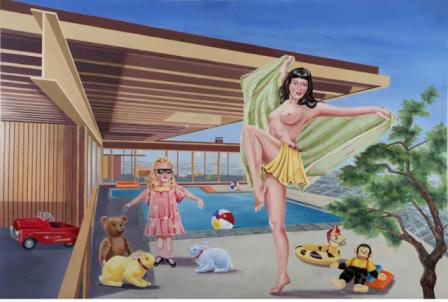 New York-based artist Lauren Bergman announced today her highly anticipated upcoming exhibition, CalHalla: Dreams of Future Passed, at Corey Helford Gallery in Los Angeles. After a lively political group show in New York City, Bergman turns her attention away from the White House in Washington D.C. to the cultural Mt. Olympus of California and its modernist architecture paradise.

The exhibition, featured in the loft of the gallery space, will commence on Saturday, January 3, 2009 and run through January 21. An opening reception will be held on January 3 from 7 - 10 pm with the artist in attendance.

The idealized female ideology and feminine utopia of America has long been a focal theme for Bergman and continues to feed her fascination and curiosity. For this exhibition, however, Bergman employs "a new menu of cultural touchstones in the architectural backdrop" as she strives to decipher the "California dreaming" mythology that enamors and resonates with our modern society, hence the splicing of "Valhalla" and "California" to become "CalHalla." Even as a young girl, Bergman was drawn to the modern creations of architects like Richard Neutra, Pierre Koenig, John Lautner, and especially Frank Lloyd Wright. "Their forms and lines were compelling and I would find myself drawing them over and over," she says. "They [the houses] would appear to me like a vision of the future."

Using a combination of watercolor and acrylic, the works' vibrant yet airy colors create a dream-like vision with pin-up goddesses beckoning the viewer to come dwell in their sunny, modern Garden of Eden. While the viewer may be initially intrigued by these sensual sirens, ultimately the background steals the attention. The daringness of the architectures' forms - the parabolas, the clean lines, the spare mixed with the excessive - stand as a shining beacon of hope above a blurred cityscape. Although these homes appear to steal the spotlight, Bergman has expertly paired an architectural style that mimics the American utopian idealization of women- who they should be, what they should look like, and how they should act. When structural design is subjected to this romanticized vision, an artist's creativity is challenged and expanded. But what happens when a human being is placed on this exalted pedestal? Are these dreams of future passed or dreams of future present?

Bergman's medium and materials are essential to the replication of this West Coast Utopia. In the exhibition, only one work is on canvas; the rest are on paper. For Bergman, paper provides a necessary surface touch and textural satisfaction. The artist is also experimenting with litho-coal in her new works. The charcoal-like substance can be used as both a drawing and painting medium. When heated it becomes permanent, creating velvety textures. Several coats of gesso are applied to make the material heavier and more substantial, and, once the painting is complete, it is varnished and mounted on cintra, a plexi-like material. With cintra, a traditional glass frame is not needed, making for a more immediate and intense viewing experience.

About Lauren Bergman
Lauren Bergman grew up in Washington, D.C., before relocating to Manhattan in 1987 to study painting and design at Parson's School of Design and The Art Students League in New York.

Influenced strongly as a young woman by her mother, a model and activist, Bergman began her quest to explore and discover the complexities of female relationships, particularly the mother-daughter relationship between her mother and grandmother. Bergman grew up observing her mother's revolutionary disposition, reacting against cultural expectations of the times, an environment that encouraged Bergman to explore narratives and grow to become an accomplished artist.

As a high school student involved in art courses at the Corcoran Gallery of Art, focusing on female relationships to each other and to society. Bergman's exceptional talents and mature narratives quickly landed her gallery exhibitions in Washington, D.C., exhibiting among renowned American realists, including Burton Silverman and Sondra Freckelton.

Lauren Bergman is now regarded as a preeminent female contemporary artist emerging in the 21st Century, respected for her contributions to feminist-inspired art.

For more information on the fine art of Lauren Bergman, please visit www.laurenbergman.net