Last Weekend for Mike Shinoda's Glorious Excess (Dies)
Juxtapoz // Friday, 02 Oct 2009
1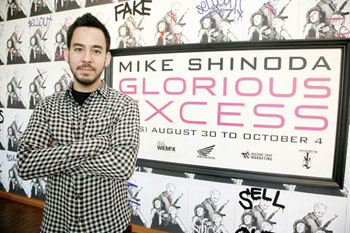 Artist/Musician/Producer Mike Shinoda's Glorious Excess (Dies) faces its closing weekend at the Japanese American National Museum in Los Angeles. Following his highly-successful 2008 show, Glorious Excess (Born), Shinoda returned to the Museum to unveil his latest collection of paintings and digital works.

Larger, broader, and more sensational than before, Glorious Excess (Dies) is the next chapter in his series exploring society's obsession with celebrity culture, consumer addiction, and fascination with excess. The show is on view until October 4, 2009.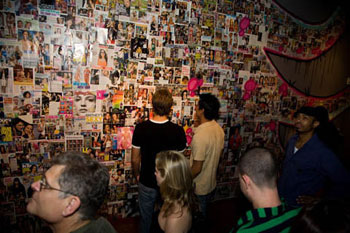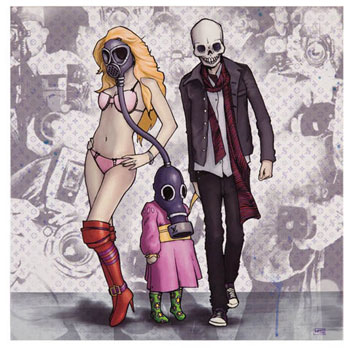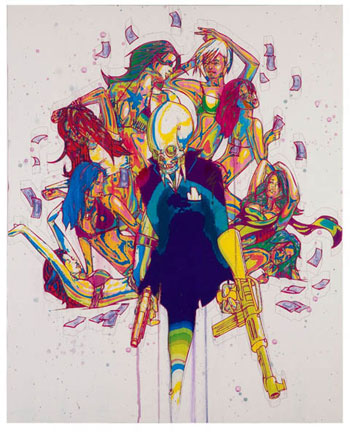 Shinoda's new works continue to evolve, blending his personal experiences in the spotlight with social commentary and fine art technique. Drawing from classical vanitas influences of the sixteenth and seventeenth century, Shinoda expands his signature visual vocabulary, juxtaposing symbols of death, money and sex against vibrant neo-pop imagery. The artist's large-scale tableaus narrate the road to excess, culminating with a dramatic final destination into tabloid nirvana. In an age where superstardom dominates the media, Glorious Excess (Dies) immortalizes consumption, fame and wealth, challenging the viewer to question what is real.


"On one hand, this show is about obsession with celebrity culture, consumer addiction, and fascination with excess. On the other, this is about me growing up painting, and finally feeling like I've found a stylistic voice that expresses the ideas I want to get across in a gallery show," says Shinoda.


A collectable, limited-edition book encompassing the Glorious Excess series was launched on opening night, and accompanying the collection of 17 acrylic-on-canvas works will be a documentary short film on view during the course of the exhibition. Additionally, new skateboard decks and artist-series merchandise is available for purchase at the Museum. All proceeds from the sale of artwork and merchandise will go toward the Michael K. Shinoda Endowed Scholarship at Art Center College of Design in Pasadena, California.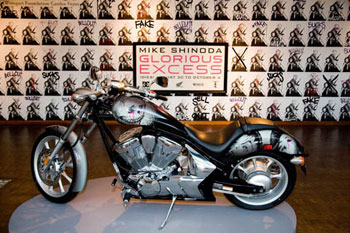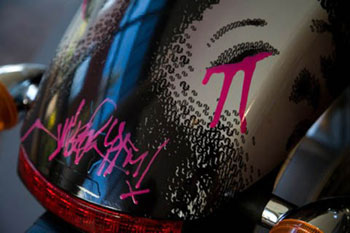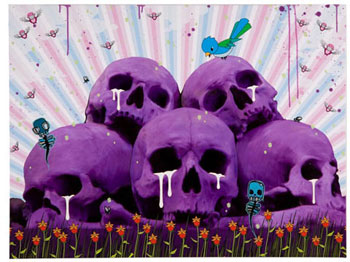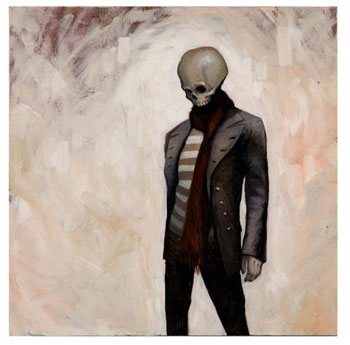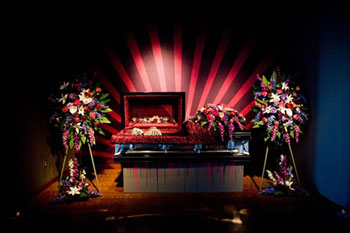 GLORIOUS EXCESS (DIES)
On View through October 4, 2009

Japanese American National Museum
369 East 1st Street
Los Angeles, CA 90012
T: 213.625.0414
www.janm.org