Knox Martin x Woodward Gallery: The Whaling Wall Mural Project in NYC
Juxtapoz // Wednesday, 20 Apr 2011
1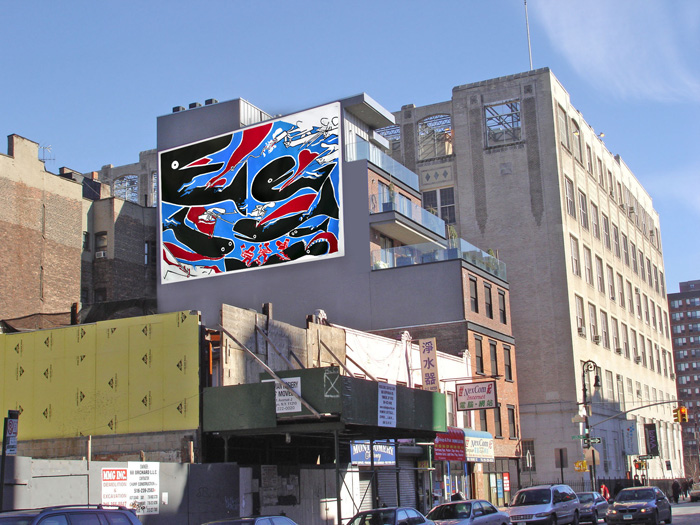 Right now, donations are being accepted for 88 year-old artist Knox Martin's public mural at 334 Grand Street, at the corner of Grand and Ludlow streets in NYC. Scheduled to be completed next month, the project is 20 percent closer to its goal with generous support from public donations. In collaboration with the Woodward Gallery, secured thus far are the artwork's donation, the building, and the UV, custom paint. Left to be covered is the rigger, scaffolding, and crew.
This will be Knox Martin's fifth NYC public mural, being called the Whaling Wall, a metaphor for peace and a call for humanity. It is Martin's intention to share the mural with other specifically selected sites throughout the world to draw international attention to the plight of the whales.
The work depicts the irresponsible killing of whales, and the realization of this public artwork is made possible by Knox Martin's commitment of the following: The artist has envisioned and will donate his painting to the public to raise awareness; Mr and Mrs Kevin Downey have donated their building's exterior wall; Golden Artist Colors, Inc. will provide custom paint; and Woodward Gallery has coordinated and will curate the project.
The Whaling Wall Mural requires approximately $50,000 USD to complete its mission.
Donations of as little or as much as possible are accepted towards this public mural project, in which communal support will be shown in a global effort to save the whales and stand for peace.