Knitta Please: Magda Sayeg Knits Her Way to Bali
Juxtapoz // Thursday, 23 Sep 2010
1
Sayeg arrived in Bali last week and has made a lot of progress on these scooters in the past couple of days. Known for her street installations, wrapping street sign poles and pillars in her brightly colored yarn, Sayeg dives into a new structure in these Balinese scooters.
Sayeg began by taking knitting out of the home and into the streets, which has inspired a new generation of knitters who no longer view function as the sole purpose for knitting. Her process and methodology questions the assumptions of a traditional craft while adding a previously unused material to the world of street art.
From her website: When Magda Sayeg began Knittaplease in 2005, it was her response to the dehumanizing qualities of an urban environment. By inserting handmade art in a landscape of concrete and steel, she adds a human quality that otherwise rarely exists. Knittaplease represents the present energy coming from knitting and more extensively weaving, while giving a nod to its powerful history. Her work has been recognized for its influence in street art as well as the craft of knitting. Magda Sayeg is based in Austin, Texas.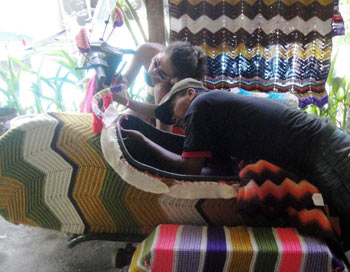 The artist works with Balinese native, Fiat, on his motos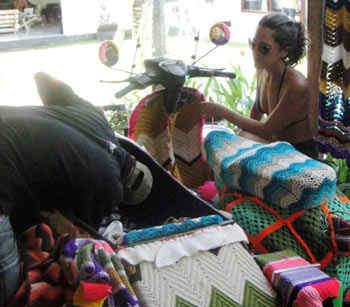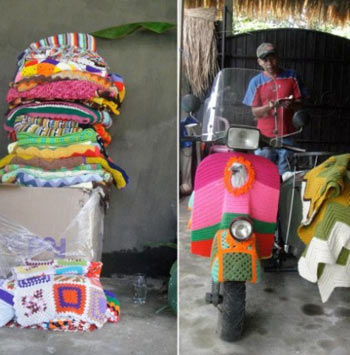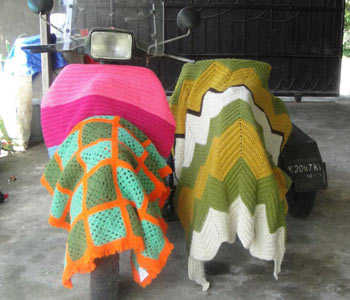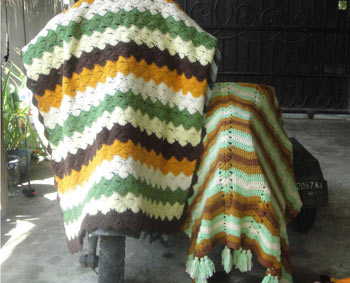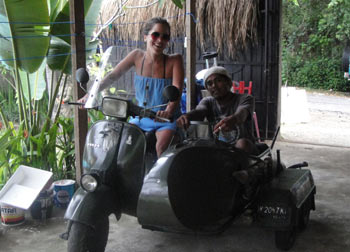 Some past works from Sayeg...