Kindred Times and Future Goodbyes in Tel Aviv
Juxtapoz // Monday, 28 Sep 2009
1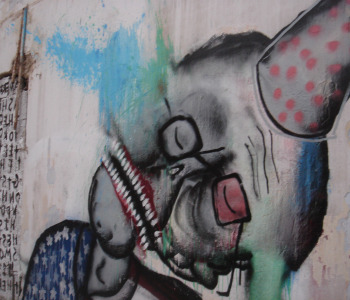 Text, photos and video by Leah Borromeo
In an abandoned 19th century ruin in South Tel Aviv, four local artists with international roots invited the public to see what they've been up to on weekends.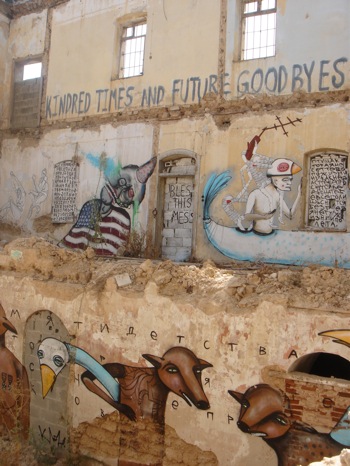 Know Hope, Klone, Zero Cents and Foma spend Saturdays decorating the streets and buildings of Israel's seaside conurbation together. One such Sabbath they stumbled into an old house in the American Colony.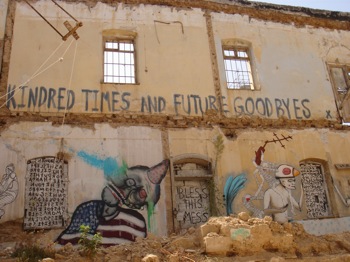 "We just started painting…then decided to go back the next week…and the next," Know Hope tells me in his typical relaxed tone. "As we were painting, we got this idea of maybe making a real show out of it. It just happens the date we chose to open it up to people coincides with arTLV ."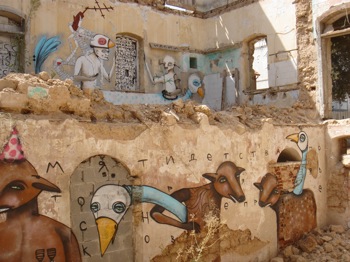 arTLV is Israel's art establishment biennale. Galleries gang together in a commercial glut with little room to acknowledge outsider art. Street art is represented by private galleries trying to sell a Banksy print for a quick buck.
The building they used sits down the road from one of Tel Aviv's main police stations. This wasn't the only reason they chose to keep its location a secret until the day of the exhibition.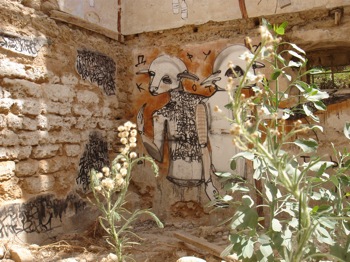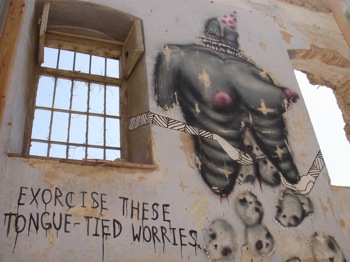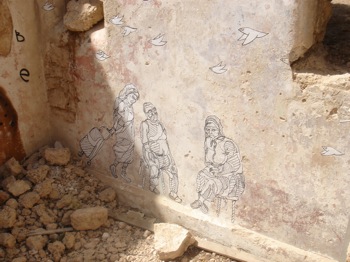 Penalties for vandalism range from fines to arrest, depending on where it was done, who was doing it, and who caught them. Going to the West Bank is a no-no. Israelis wishing to head there either risk arrest or travel on foreign passports.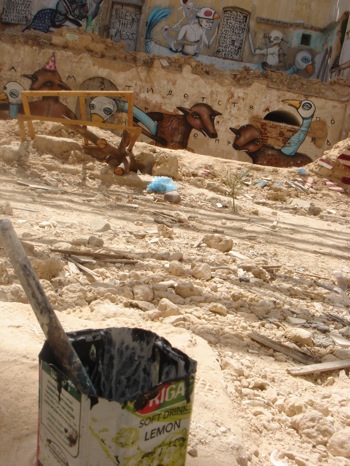 "People still don't fully understand street art here. Authorities aren't sure what it is but that doesn't make what we do legal," Know Hope continues.
A former residence, the sandstone evokes stories from a time before the phrase "Israeli Palestinian conflict", when the sea controlled the sand and romantic Orientalism drew pilgrims from around the world.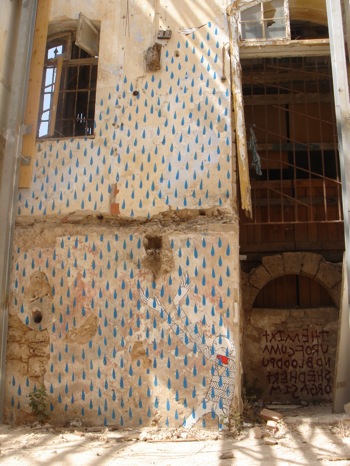 The shell that remains shows nature claiming back the material from which this home was built. Vines grow through cracks in the wall, wildflowers and scrub thrive on the crumbled floor, a tree canopies over recently installed struts.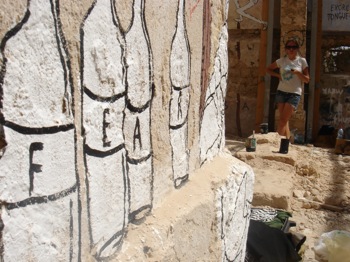 From Know Hope's unnamed heart-on-sleeve character to Klone's animal obsessed backwards writing to Zero Cents' explorations of the grotesque and Foma's spatial playmaking, the combination of the four on one surface was immense. They didn't speak through the building, they let the building speak through them. History emblazoned with modern hands.
"This place is becoming expensive to live in," Foma comments as she discusses the area's gentrification. South Tel Aviv, once considered the poor end of town, is going upmarket.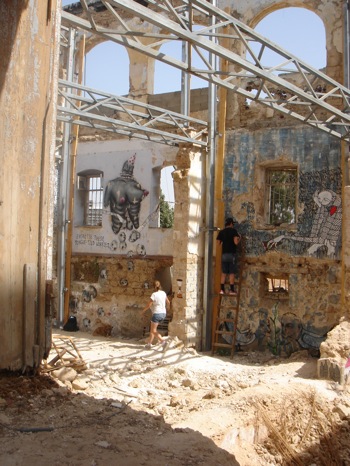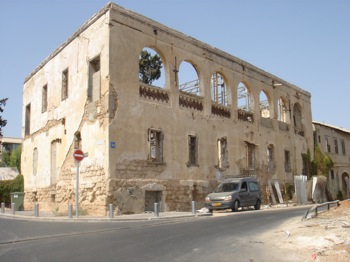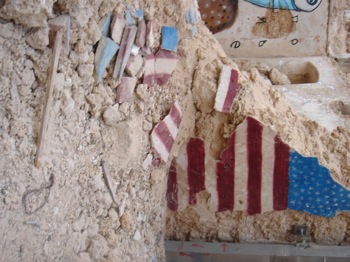 Hotel complexes and sprawling shopping venues are being built to cater to tourists with deep pockets. Tel Aviv's 100th anniversary this year provided the PR catalyst to bring property developers in and kick local residents out.
Painting a ruin was an attempt to directly address the past while fully realising the transience of art.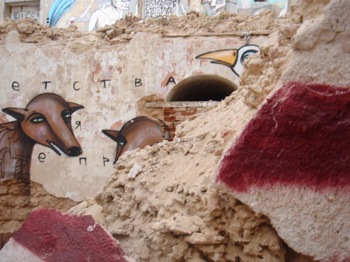 "Before the building was nothing, now there's an art show in its ruin. Soon the art show will be gone and replaced with something else. Everything we have now will be a memory. I guess that's what we're trying to get at," ponders Zero Cents.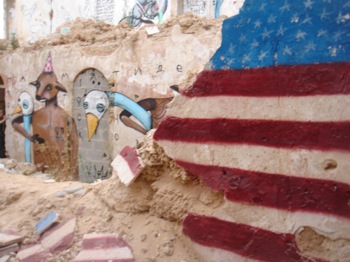 "It's not like any of this is new," adds Klone. "We've been painting abandoned buildings for ages. It's just the first time we invited people to come see."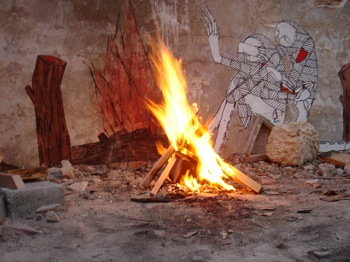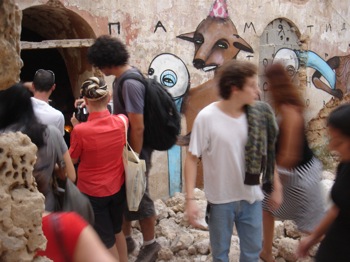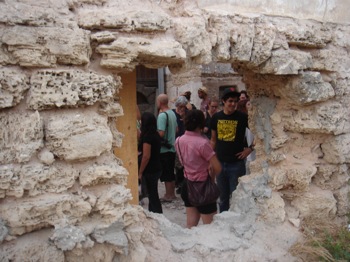 People came. In droves. Some as a result of word of mouth and flyering, others by surprise listings in local magazines and an enthusiastic graffiti geek at the biennale.
"We didn't expect this turnout," Foma says as she surveyed person after person clambering through a hole in the foundations used as the entrance. "Even the scenesters turned up."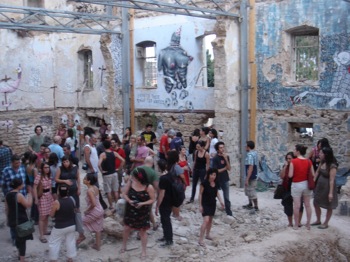 "If it all vanished tomorrow, it wouldn't bother any of us," Zero Cents concludes. "We got somewhere else to go next week."
Know Hope, Klone, Zero Cents, Foma…Kindred Spirits. Spraycan Sabbaths securing Future Goodbyes.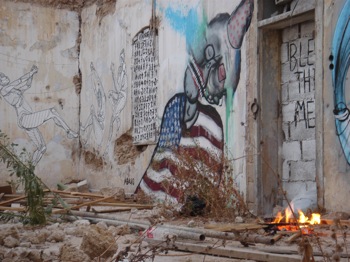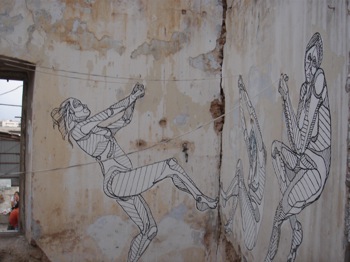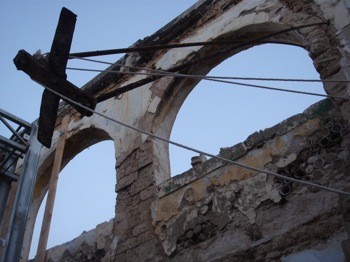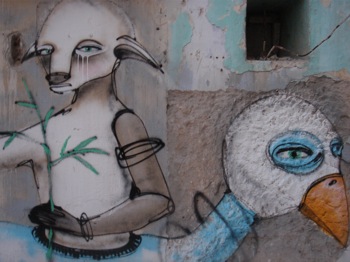 Revel in the sights and sounds of Kindred Times and Future Goodbyes through this video by Leah Borromeo: