JUXTAPOZITION - PSU RIOTS VS OCCUPY CAL PART 2: GOLDMAN BEARS
Juxtapoz // Thursday, 10 Nov 2011
1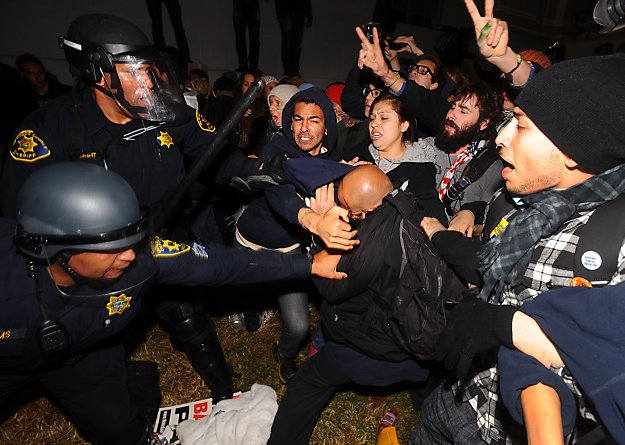 UCPD and imported goons from Alameda County Sheriff cracked down hard on the nascent Occupy Cal movement yesterday, sending dozens and dozens of armed officers in riot gear to prevent the establishment of a student encampment on Sproul Plaza in solidarity with the OWS movement and in protest of next year's proposed cuts and fee hikes. Here is a
list
of officers seen brutalizing students and some still photos of UC's finest in action. If you can stomach it, here's footage of large baton-wielding men hitting diminutive students in the sterna with batons.
Vice Chancellor Henry Le Grande opened his remarks about Occupy Cal with lip service to the students' frustrations, but used the bulk of the address to threaten and condescend to student activists. The Daily Cal, UC Berkeley's student newspaper,
reports
Le Grande giving students a warning that "police would be called if protesters set up an encampment on campus property...[and] proposed that protesters remain on site 24/7 for a week as long they avoided setting up tents or sleeping on-site." This was just the beginning of the Administration's antagonism of the Occupy Cal movement, as riot cops rolled in, two vicious waves sweeping over the encampment and brutalizing Cal students.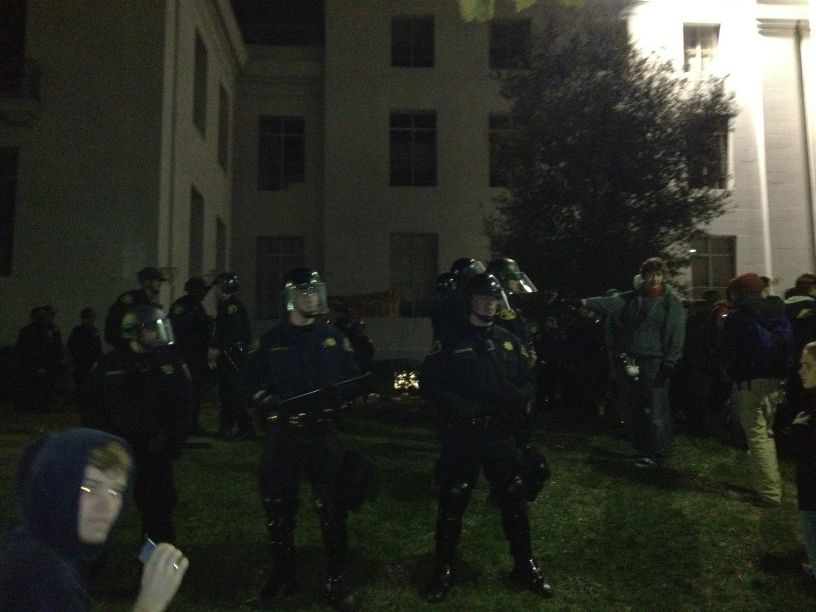 Some on twitter report
that English Dept. PhD candidate Joshua Anderson is in urgent care. This has not yet been verified, but the brutality of these crackdowns is plain to see, and much like Occupy Oakland and the tragic figure of Scott Olsen, this police aggression has already resulted in greater attention for and participation in the Occupy Cal movement.
* * *
While events unfolded at Cal, the Penn State horror show rolled on, with student rioters causing more destruction in one evening than the entirety of the Occupy Movement since its inception. The incomparable Davey D was on Sproul last night and wrote about his experience of the student protests contrasted with the disturbing reports coming out of Penn State
here
.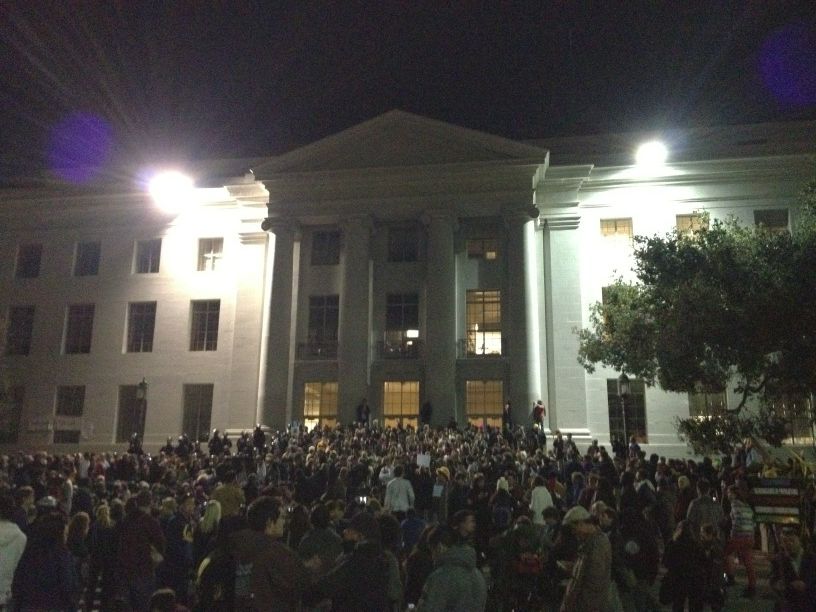 The crowd last night was lively and determined. Cal sweatshirts abounded, and though there was a clear Occupy Oakland presence, this had the feel of a genuine student movement, led by faculty members including many from my own beloved English Department (it's where I gots my good writing skills at). There were some alumni there, veterans of the
Wheeler occupations
and older radicals, perhaps some of Mario Savio's very own cohort.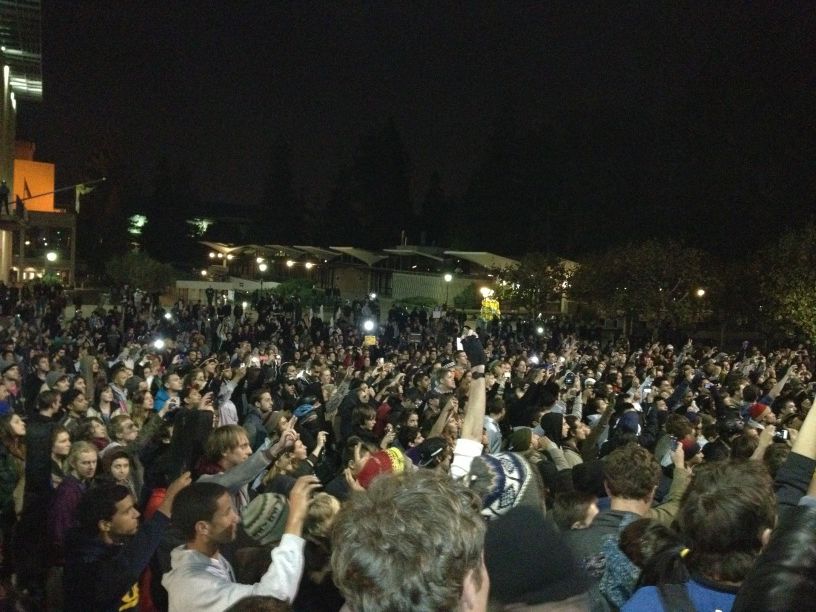 Thanks to the Regents' callous crackdown, the movement was galvanized, girls in Ugg Boots and boys in Lacrosse hoodies looking closely at the stony faces of the riot cops, supposed guardians of their privilege now menacing them for simply BEING IN A PLACE THEY WALK BY EVERY DAY at the wrong time, in support of a disapproved cause. Though admissions policies and 1000% tuition hikes have changed the face of Cal since te 1960's, the young students of Cal are answering the call once again, much to the chagrin of a greedy and craven administration.
A student strike
has been announced
on November 15, next Tuesday. University brass will learn their lesson the hard way: do not rouse a hibernating bear.