Juxtapoz x Scion: What Moves You?
Juxtapoz // Tuesday, 18 Dec 2007
1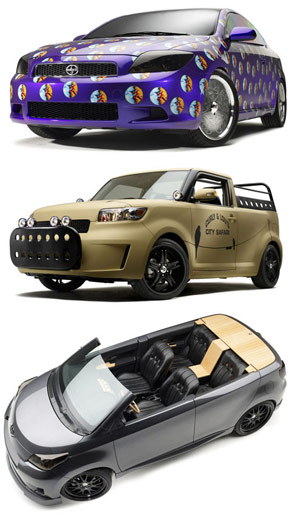 Juxtapoz and Scion present an opportunity to vote for your favorite Scion Custom Car from this year's selected artists: Ron English, Sage Vaughn, and Dalek. And its not just voting; its voting and winning. For you, we mean.

In early 2007, Scion picked their favorite artists to conceptualize and design their ideal Scion tC or xB. From an Illuminated Yang Banger, a Safari touring vehicle, and a James Bond-themed tC, the dream car was taken to a whole new level. Pick your favorite Custom Car from either English, Vaughn, or Dalek, enter your name and email address, and you can win a free subscription and t-shirt from Juxtapoz. It's like voting in a presidential election and actually getting something of interest in return. It's win-win. Vote for your favorite Scion Custom Car, check back for the results on January 22nd, 2008, and good luck.

To vote for your favorite, and enter to win a free subscription and Juxtapoz Artist Series t-shirt of your choice, send email to scion_contest@juxtapoz.com with the name of the artist in the subject line.
Ron English
, a New York-based painter, has exhibited in galleries and museums worldwide for over 20 years. His unique sensibility reflects the familiar through funhouse mirrors into something startlingly new. He was featured in the hit movie Supersize Me, and has appeared on television in the United States, Canada, Europe, and Japan. He is also the subject of an award-winning documentary,
POPaganda, The Art and Crimes of Ron English
. This fall, expect two new art books showcasing his work,
Son of Pop
and
Abject Expressionism
.
Ron English says, "When Scion gave me the chance to design one of their cars, I took the opportunity to create something well beyond the bounds of oil painting (my normal medium). I wanted to create something with light. Scion was able to hook me up with a company that had a new electro luminescent light technology that could be applied to thin panels. I designed a version of my Yin Yang character that was lit with different colors from two sides. We painted the car purple, and created a uniform dot pattern of yin yangs over the car's surface using the new technology. We then designed the yin yangs so that the individual dot panels would light up separately, but the light effects on the two sides of the creatures would also light up separately. These lights would go off in succession across the car, creating the illusion of movement.
"We caught a second lucky break when the guys who do my art posters cut a licensing deal with a company for a brand new, unseen, three-dimensional animation technology that could be applied to glass. The concept was to create the illusion of a cave inside the car. I created a 12-inch by 5-inch by 4-inch model of the cave and populated it with my three-eyed rabbits, then shipped the piece to Canada where an animated 3-D glass version of the cave was created and installed in the Scion's windows. When the car is lit properly, it appears as if the interior of the car is a cave lit by multi-colored lights."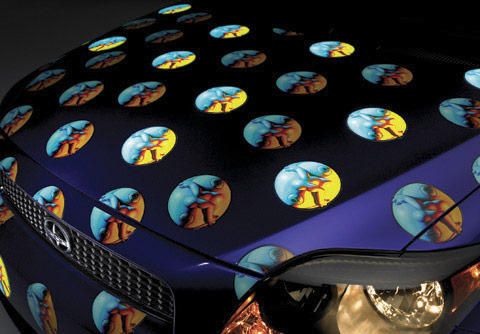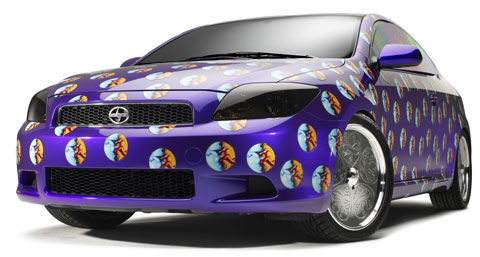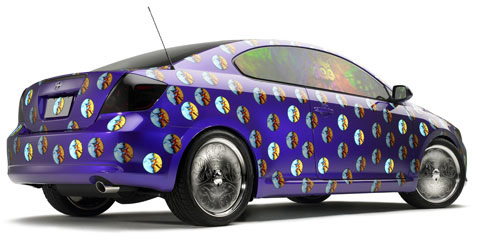 Sage Vaughn
was born July 5, 1976, in Jacksonville, Oregon. He attended Mendham Junior High School for the Arts, where he received the Governor's Excellence Award for Nature Painting. He went on to graduate from the University of Eastern Maine, where he majored in Ethereal Philosophy and Bronze Casting. Sage has exhibited his artwork in Los Angeles, New York, Philadelphia, Milan, Miami, Austin, Chicago, Stockholm, Atlanta, Verona, and Geneva. He currently lives and works in LA with his wife and four cats.
Sage Vaughn says, "My main inspiration for the vehicle came when I was introduced to fabricator Louie from L-Con. I had a general concept of making a vehicle to navigate the areas where wilderness and the city overlap, something that would let people witness the wildlife constantly surrounding them while they live their lives in a metropolis. Here is where Louie came in; we had a meeting at my studio and began discussing the elements we wanted to incorporate to make this concept complete. We wanted it to be a voyeuristic machine, a vehicle for gazing, a car for the passenger, and we wanted it to be durable and solid. The car had to be able to interact with its environment.
"We had a huge list of ideas, and Louie made all of them realities. He completely transformed the entire vehicle. Even though we added so many components to the car, the amazing thing is it still feels like something that could come out of a Scion showroom. This is a true testament to craftsmanship and dedication. Making clean lines and forms is always harder than making flashy spectacles."

Somewhere between head injuries and Space Monkeys,
Dalek
found time to become a respected graffiti artist and work extensively in the skateboard industry. As for his future with the Space Monkeys, nothing is certain. "That's kind of the beauty of it: I don't have a clue. They always transform rapidly from me drawing the same thing repeatedly. They switch up in undetermined ways. Where it goes depends on a lot of things, but as long as people are interested in seeing them I will be able to pursue them, grow them out, and work with them. Obviously, I would love to be 90 years old and cranking out some form of the space monkeys."
Dalek says, "I wanted the car to look and feel like a 1960s Aston Martin, James Bond-inspired vehicle with hidden compartments and all sorts of buttons. I also wanted this James Bond theme to incorporate a modern 1960s living room, with lounge chairs and a backseat defined by hidden compartments for cell phones. I basically envisioned a rolling living room. I like taking road trips in a homey-quality type car, and I like the idea of things popping up and having rollback fronts to everything. I also wanted everything in black leather and chrome. In the end, it was all about Bond movies and mid-century furniture.
"I researched photos of old Aston Martins and looked at various furniture and architecture books for the dashboard, center console, and backseat designs. And watched a lot of Chitty Chitty Bang Bang for the ideas to use red leather and a wooden steering wheel. In the end, my Scion was an amalgamation of a bunch of design books, television, and movies. I didn't want to just slap graphics or my Space Monkey on a car; I wanted to be involved in the whole process of designing it. If I had the money to customize a car, I would want.