Image Gallery
Juxtapoz @ Nuart: Lucy McLauchlan's Lighthouse for Nuart
Juxtapoz // Saturday, 01 Oct 2011
1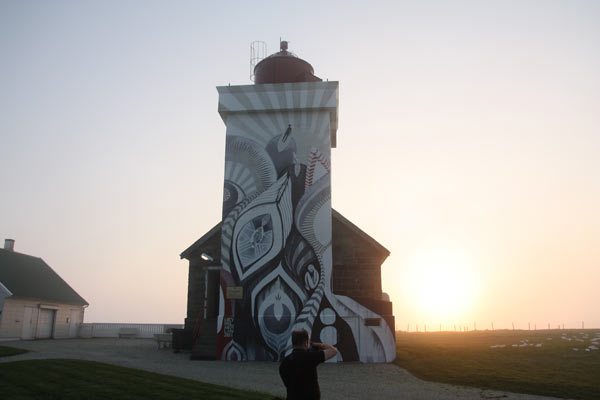 Late in the afternoon, Herbert Baglione, Juxtapoz and the McLauchlan crew headed out to the Obrestad Lighthouse, west of Stavanger, for the opening celebration of Lucy McLauchlan's mural on the heritage-site. In short, the experience was out of a Viking movie, with an amazing fog bank and rural environment.
Needless to say, this place felt like the beginning of European civilization. There beautiful coastline vista points, cows grazing, farmhouses strewn about, and this incredible lighthouse that just sort of stood out admist the fog and waning sunlight. Not to overstate, but it had a magical feeling (mostly becuase they don't get many sunny days here). Lucy McLauclan's work fit in really well, with the aged surface really making the whole mural appealing and aged even when its brand new.
There is also this interesting story about when the Germans occupied the lighthouse in WWII, and the chef who worked in the basement was a tad stir crazy and began drawing these portraits of seductive women on the walls of the lighthouse. A few remain today. 
Here are a few shots from our trip to the coast...