Juxtapoz Issue 109: February 2010 with Josh Keyes
Juxtapoz // Wednesday, 13 Jan 2010
1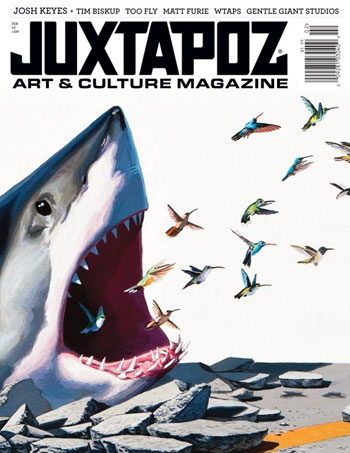 Certain artists just have that unexplainable thing. Josh Keyes, the cover artist for the February 2010 issue of Juxtapoz (#109 for those of you counting at home), has that thing. That wow thing. That awe thing. That beauty thing. That talent thing.

With clean, stark white backgrounds and sometimes gentle sometimes ferocious animals inhabiting the human space we robbed from nature, Josh Keyes creates a mood unlike many we have ever shown on our covers before. He's just got that thing we were talking about.

We also like to take this opportunity to tell you we have a wonderful interview with longtime Jux-friend Tim Biskup, we speak to now new friend Matt Furie, Japanese fashion house W)Taps, NYC graffiti and fine artist Too Fly, and we get a lesson in viral art from YouTube Creative Director, Jeben Berg.

Plus, we have an extensive interview with 3D studio Gentle Giant Studio owner Karl Meyer, where we talk about all things 3D and toys in the world of Harry Potter, Fight Club, Lord of the Rings, Avatar, Star Wars, Matrix, and Alice and Wonderland (yes, they worked on all these films). We round it out with BNE, Haze, Barry McGee, Tim Burton, Michael Leon, Slamxhype, and a Jeff Koons watch. Read on.
Available now in our online shop or subscribe and save a nice 58% off the newsstand price!
Can't get enough of Josh Keyes? Read a recent online interview with him HERE and his answers to our 20 Back Talk questions HERE and snag info about his solo show opening this weekend, January 16th, 2010, in NYC HERE.